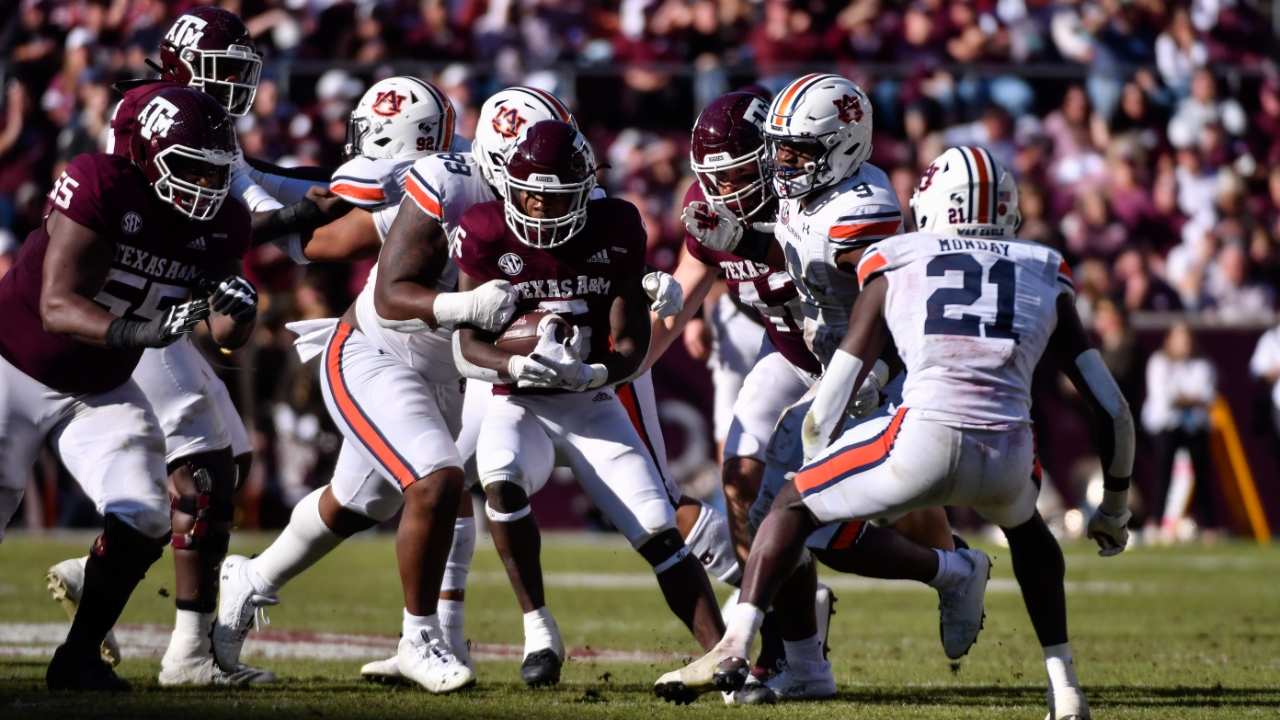 Jimbo Fisher
Kenyon Green
Ainias Smith
Tyree Johnson
Edgerrin Cooper
Texas A&M Football
Texas A&M's blinders remain on despite four-game win streak
---
Early-season holes in the Texas A&M offensive line have been sufficiently patched up.
The Aggies' running game struggled with consistency in the first half of the football season.
But the offensive line has solidified.
Kenyon Green moved from tackle back to left guard, where he earned All-American acclaim in 2020. Layden Robinson recovered from injuries. Freshman Reuben Fatheree has settled in at right tackle.
Consequently, the Aggies (7-2, 4-2 in the Southeastern Conference) have gained considerable traction and a lot of yards.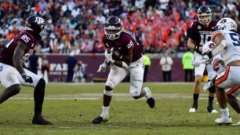 Jamie Maury, TexAgs
The Aggies were averaging 155.3 rushing yards per game and were ranked 81st nationally in rushing offense after five games.
But they've exceeded 200 rushing yards in consecutive victories over Missouri, South Carolina and Auburn. They're now averaging 191.3 yards and rank 38th in the nation.
"I feel like we can get better," Green said on Monday. "You can always improve. We're doing a great job. Two hundred yards in three games. I feel like if we just keep building on that and keep progressing, you never know how many yards we can get then."
That's a promising trend leading into a Saturday's game against Ole Miss (7-2, 3-2). The Rebels are next ranked 108th in the nation in rushing defense. They've allowed more than 200 rushing yards in five of their past six games.
That seems to indicate A&M running backs Isaiah Spiller and Devon Achane will have productive performances behind the Aggies line, which is now hitting its stride.
Coach Jimbo Fisher acknowledged the line is playing well but suggested the Aggies are only approaching their potential. He said the line could've played much better in a 20-3 victory over Auburn.
"I don't think they're at the top," Fisher said. "Go watch that (Auburn) film. There's still a lot of mistakes we can clean up. I don't mean that in disrespect to them. They're playing well.
"But there's still a lot of things we can do better, and we're learning to do better. Some of our young guys are learning to see things quicker. Getting that extra step.
"I thought we blocked the last two weeks really well downfield. Last week, I wasn't as happy with our perimeter blocking. Our screen game, there was some balls out there on the perimeter we usually make more yards on. We got beat on; that was really shocking. I think our line still got a lot of room to improve."
"There's still a lot of mistakes we can clean up. I don't mean that in disrespect to them. They're playing well."
Improved line play against Ole Miss probably results in marked improvement in the rushing offense national rankings.
Blinders on
The No. 11 Aggies still have an outside shot at winning the SEC West Division, getting into the SEC Championship Game and perhaps landing a spot in the four-team College Football Playoff field.
That will require some help, even if A&M finishes 10-2.
Alabama (8-1, 5-1) would have to lose one of its remaining regular-season conference games against Arkansas and Auburn.
To get into the playoff, several teams ranked ahead of A&M would also need to lose.
Alabama was in jeopardy of losing to LSU last week before prevailing 20-14. Oregon, Ohio State and Cincinnati also struggled to win.
Although there are more key matchups that could benefit A&M this week, the Aggies apparently aren't paying attention to them.
"We're just focusing one game at a time. We're focused on Ole Miss," Green said. "We've got a great opponent. We're going into their stadium. It's a hostile environment. We've got to prepare good this week. It's going to be a great game. I can't wait."
Receiver Ainias Smith echoed that message.
"I haven't been worried about what other people are doing," he said. "I've just been focused on our opponent."
An 'A' in chemistry
Leading 17-3 in the fourth quarter against Auburn, running back Devon Achane broke loose for a 46-yard run.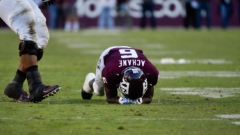 Jamie Maury, TexAgs
But as Achane neared the Auburn 30-yard line, the football was punched out of his grasp from behind. The fumble rolled inside the 10-yard line and was recovered by Auburn.
Achane knelt dejectedly on the ground following the turnover until Robinson lifted him to his feet.
Then, defensive players Demani Richardson, DeMarvin Leal and Jaylon Jones converge to console Achane. Richardson said, "We've got you."
That example of team chemistry is part of the culture Fisher sought to build when he arrived at A&M four years ago.
"That's something we try to develop in a family atmosphere," Fisher said. "I try to make our guys understand I don't care how great you play defense (or) how great you play offense, if you don't play together and don't compliment each other, it doesn't work.
"You've got to be one family. There's too much to divide us in the world today. You've got to unify, understand and appreciate your teammates."
Fisher said others could learn a lesson from the Aggies' reaction to Achane.
"That's the thing about sports people just don't understand if you don't ever play," Fisher said. "Being part of something bigger than you. Being part of a support system. Being an example.
"There's nothing in this world provides the family of a team except being a part of your own family. That's the only thing like it. Teams can become tighter than families if it's done right and they believe in each other.
"That's the thing about sports I think people truly miss."
In appreciation of veterans
Fisher concluded his weekly press conference by giving his opinion of the significance of Veterans Day.
The national holiday is Thursday.
"I don't feel like we do enough for our veterans. We need to find ways to do more for them."
Both of Fisher's grandfathers were in the Army and fought in World War II. His father was also in the Army and fought in Korea.
"To me, that's as important a day as there is this year," Fisher said. "What people have done for us to have the freedoms and the things we have in this country …
"I know what it means to this school. The people who have put their lives on the line and not come home. Some that have come home. Freedom is not free. That's why this is the greatest country in the world.
"For us to remember our veterans and honor our veterans … there's is not a greater day to me that should be celebrated throughout this world each and every year.
"I don't feel like we do enough for our veterans. We need to find ways to do more for them."
Never miss the latest news from TexAgs!
Join our free email list
PRESENTED BY