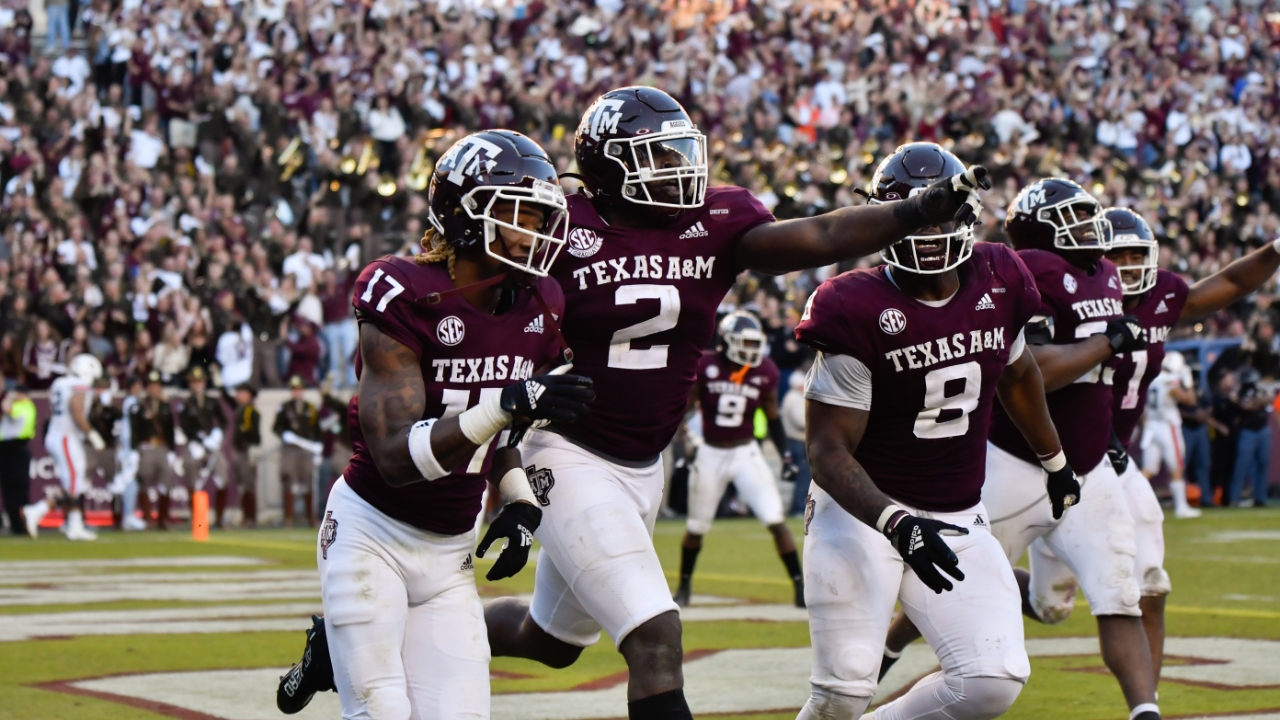 Jimbo Fisher
Jayden Peevy
Isaiah Spiller
Kenyon Green
DeMarvin Leal
Ainias Smith
Texas A&M Football
Crew-cial victory: Texas A&M's defense shines in 20-3 win over Auburn
---
Mike Evans, perhaps the greatest receiver in Texas A&M history, was among the 109,835 at Kyle Field on Saturday afternoon.
His presence was enthusiastically celebrated, but on a postcard-perfect, sun-splashed day, it would have been hugely appropriate if the likes of Quentin Coryatt, Dat Nguyen or Sam Adams had been in the crowd.
On the day before the clocks are to be set back, the Aggies defense seemed to turn back time to Wrecking Crew days of yore.
In vintage Wrecking Crew fashion, the Aggies defense terrorized, victimized and demoralized the 13th-ranked Auburn Tigers (6-3, 3-2) in a crew-cial 20-3 Southeastern Conference victory.
"It was a heck of a win. That was a lot of guts. That was physicality. That was toughness. That was competitiveness, which it took in this game to do the things we had to do. I couldn't be more proud of those guys."
The No. 14 Aggies (7-2, 4-2 in the SEC) denied more than a guilty suspect on the witness stand.
Auburn quarterback Bo Nix completed fewer than half his passes. He was sacked four times. One resulted in a decisive fumble that Micheal Clemons returned for the game's only touchdown.
The Tigers managed just 226 yards of total offense — exactly half their season average. They were held to their lowest point total since falling to Alabama 49-0 in 2012.
"It was a heck of a win," Texas A&M coach Jimbo Fisher said. "That was a lot of guts. That was physicality. That was toughness. That was competitiveness, which it took in this game to do the things we had to do. I couldn't be more proud of those guys.
"Our defense was absolutely outstanding; controlling the line of scrimmage and doing it with discipline. We tackled well in space. We knocked balls down. We covered well. We rushed well."
Defensive tackle Jayden Peevy was a little more blunt.
"I knew we were capable of stopping this offense," Peevy said. "Shout out to (Defensive Coordinator) Mike Elko for the game plan, but the D-line, linebackers and safeties … We all played our ass off today."
The Aggies needed their stellar defensive effort to compensate for their own sputtering offense.
Four times drives stalled and the Aggies settled for field goal attempts. Seth Small made three of them. The Aggies dropped multiple passes. They committed costly — and controversial — penalties. They lost a fumble.
"This is what the game is supposed to be like," defensive end DeMarvin Leal said. "Sometimes the offense has the defense's back. The defense has the offense's back. Just shows that we're here to play as a team. We came out and did what we're supposed to do."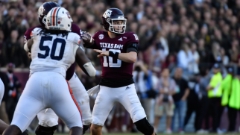 TexAgs
The Aggies also had to sweat out a dislocated shoulder that forced quarterback Zach Calzada out of the game late in the third quarter.
It was popped back into place, and he returned to action.
"I can tell he was in a lot of pain," All-American guard Kenyon Green said. "(We were) Just encouraging him to keep going and everything. I understand he had to go out. I respect that. He came back…tough, very tough.
"(He) Did the same thing (against) Alabama. Got hit in the knee and came back even stronger. That's the type of quarterback I want to play for and protect."
Fisher would like Calzada to protect himself. Calzada was hurt when hit by Auburn safeties Smoke Monday and Donovan Kaufman at the Tigers' 13-yard line with the score knotted 3-3 with just under four minutes left in the third quarter.
"I wish he would slide," Fisher said. "Get (Houston Astros manager) Dusty Baker up here and teach him how to slide.
"To come back and do what he did … unbelievable respect for that young man and how he competes."
Calzada was replaced by walk-on freshman Blake Bost. He handed off to Isaiah Spiller, who gained one of his 112 yards. Then, Small kicked a 29-yard field goal for a 6-3 lead.
The Aggies defense forced a three-and-out on Auburn's ensuing series.
One play into A&M's next series, Calzada returned to the game. He even completed a clutch 18-yard pass to Ainias Smith on third-and-eight. That led to Small's third field goal and a 9-3 lead with 13:40 left to play.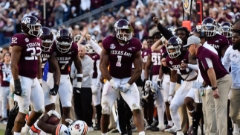 Jamie Maury, TexAgs
Uneasy feelings of concern permeated Kyle Field after the third field goal. In its last two games, Auburn had scored 38 and 31 points in consecutive victories over Arkansas and Ole Miss. One touchdown would have given the Tigers, who had never lost at Kyle Field, a 10-9 lead.
There was really no need to worry. The Aggies allowed just 29 total yards and did not let Auburn pass the 50-yard line in the fourth quarter.
The defense even put the game away with the decisive score.
Nix was looking to pass on second-and-10 and saw the 6-foot-6, 310-pound Peevy bearing down on him. Panicked — or maybe out of self-preservation — Nix fumbled.
Clemons, a high school running back, scooped up the football at the 24-yard line, picked up a block from Antonio Johnson and raced into the end zone for a 17-3 lead.
"Mike Elko drew up a great play for me," Peevy said. "Had me on outside contain. Bo is a great quarterback. He likes to scramble a lot. I took my shot on him. Touchdown."
The victory meant so much. A&M finally beat Auburn at Kyle Field. The Aggies remained on track for a possible 10-2 season. They're also still in contention to win the SEC West Division.
The win could have an impact on recruiting, too. Fisher had already gotten commitments from five-star defensive line prospect Walter Nolen‍ and four-star receiver Chris Marshall‍.
Could more be coming?
"Just watch," Fisher said.
A lot of eyes are watching the Aggies. They liked what they see, especially from a defense that looked like the old Wrecking Crew.
Never miss the latest news from TexAgs!
Join our free email list