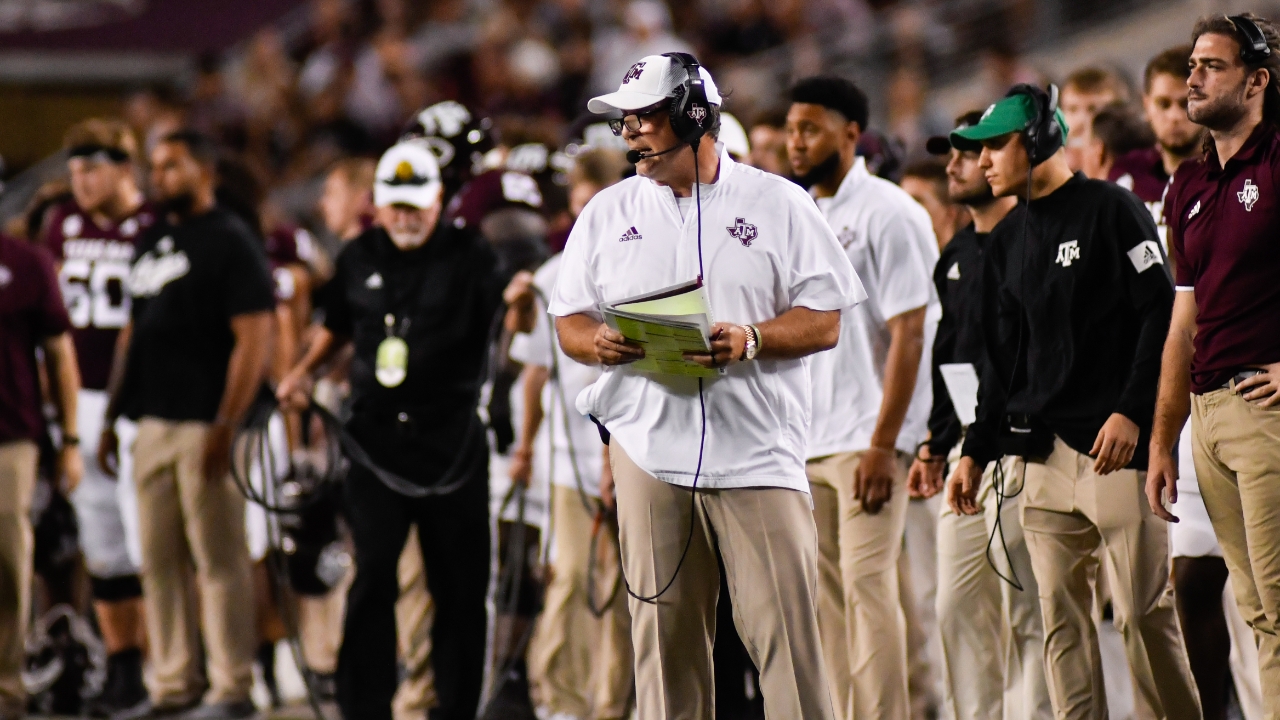 Photo by Jamie Maury, TexAgs
Texas A&M Football
Landry: A&M's gradual progression indicative of well-coached team
---
Key notes from Chris Landry interview
It was fun to watch A&M's defense. We talked last week and said South Carolina is in bad shape. They're in the same conversation with Vanderbilt. The quarterback situation is in bad shape. They were very fortunate to beat Vanderbilt, and watching the tape, that was like a pillow fight. I knew this was going to be an ugly game and reach the point where A&M could pick where they wanted to be. It was not a contest.

I see this all the time. A&M's offensive line has four new guys on it, and a few are young guys. You would expect them to get better as the year went on. This team is well-coached, and the position is well-coached. I expected them to get better. They've progressed gradually. You see more of a comfort level with each guy. The coaching staff has helped the offensive line out at times, too, changing what they've done. A young quarterback and a young offensive line are a recipe for struggling early in the season.

The strength of this offense is its running game and the two backs. Let's run the football. That takes the pressure off the quarterback because defenses have to respect the run if you're a good running game.

You don't have the same team from week to week. This team has played better and gotten better. We need to be aware that they've played two weak teams in back-to-back weeks, and as we go into the bye week, they need to get ready for Auburn and Ole Miss, who will bring different challenges. You have to bring your best because these teams are capable of beating you if you're not on your game.

Against Auburn, that's a game you have to press the pocket on Bo Nix. They want to run the football, so you have to play well up front and do a good job on early downs. You can be a little aggressive in coverage because you can hold up against those receivers. They don't have guys who can consistently win in their routes. I expect Mike Elko to be aggressive because if you give Nix time, he can hurt you. Defensively, Auburn is a good team and will provide some challenges for A&M's offense. You're going to have to run it and might have to use two tight ends. A&M has to run the football so they can work the play action.

The Ole Miss game is a little more dangerous because they're going to attack your defense with their tempo. If you're going to make switches presnap, you're going to get misaligned. You don't want to give away points. I think A&M can run the football against Ole Miss, but their defense is playing better. I think that's the key because you don't want to get into a shooting match with Ole Miss because that's one you probably lose, especially if Matt Corral is healthy. Control the football, make them impatient. You better defend that quarterback run because if Corral is healthy, we saw him run for 200 yards a couple of weeks ago.

Jalen Wydermyer is an outstanding talent. As you run a lot of two tights, he's going to be in most sets. With the run game being so successful, he can run a little check block and release. That's difficult to defend with a safety over the top. You want to jam him off the line of scrimmage. Jalen has had so much success because of how they've used him and because he is so talented.

Ainias Smith has a lot of ability. He's a playmaker as a returner, and with the ball in his hands, he can make a lot of things happen. Those decisions are personal, and a lot goes into them. I think he could use more seasoning and more polish before heading to the NFL. He's a playmaker, but he could be a more consistent guy in the offense if he came back. Get good advice. Take the advisory board's information. Jimbo Fisher will call guys like us and ask for independent rankings. Don't listen to Uncle Leroy, who read on the internet that you're going to be a first-round selection. I tell guys that they have to be happy in the worst-case scenario and to listen to the football people who know.

Ole Miss-Auburn is a curious matchup because it's a contrast in styles. Auburn is more like what A&M is. They're working the tight ends at Auburn, which was never the case under Gus Malzahn. They have good backs. Can they run the football consistently against Ole Miss and not get into a shootout? I think Auburn has a chance, but Ole Miss is on a roll. The Rebels' offense is playing well. If you can corral the quarterback and the running game, it will frustrate them a little bit.

Oklahoma absolutely could stumble down the stretch. They always fair well against Oklahoma State, but OSU and Iowa State are going to challenge Oklahoma. They're not consistent offensively. Defensively, they're not that good. I know they're banged up in the secondary, but they don't have depth there. You could make excuses for the Kansas game, but that's how Oklahoma has looked all year long. They were fortunate to beat Nebraska. Oklahoma is not a team that is going to do damage in the playoff if they get there.
Never miss the latest news from TexAgs!
Join our free email list