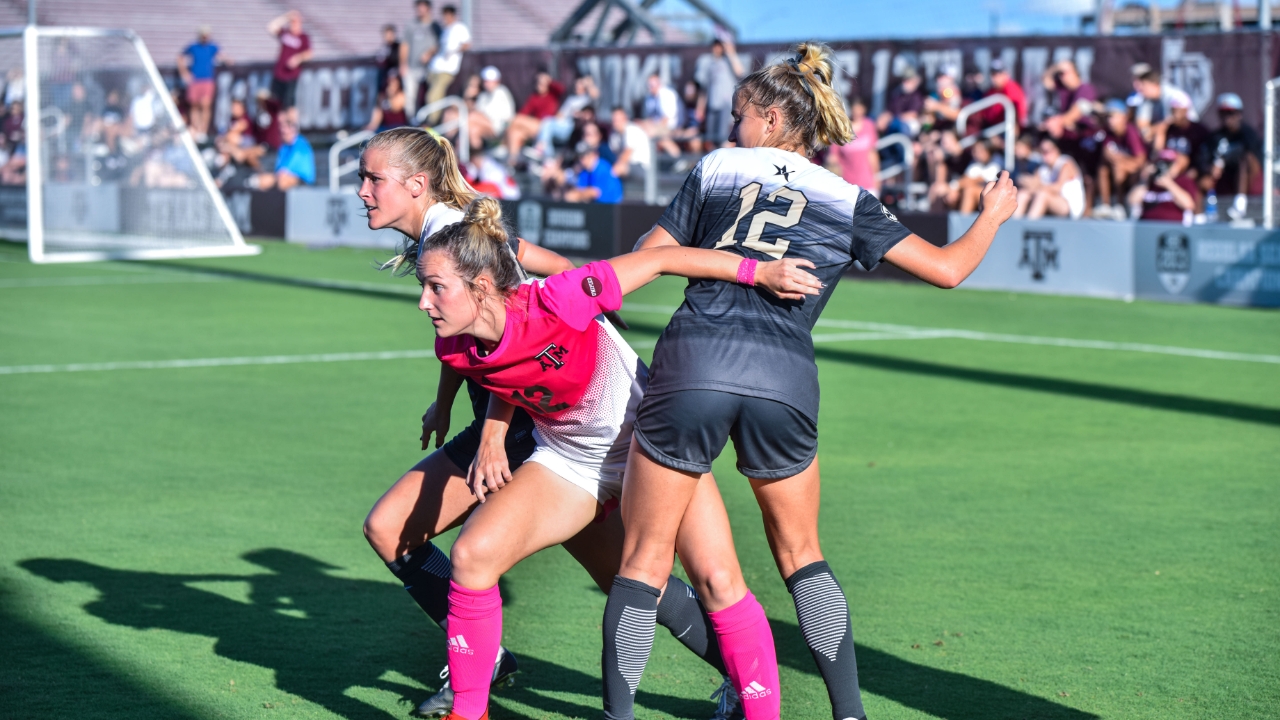 G Guerrieri
Barbara Olivieri
Karlina Sample
Texas A&M Soccer
Aggies claim 2-1 victory over Vanderbilt in final home game of season
---
Texas A&M wrapped up the home portion of their 2021 campaign Sunday afternoon with a commanding 2-1 victory over Vanderbilt.
The Aggies' hustle and determination was showcased throughout today's match as the team countered a tough Commodore defense with fast-paced individual charges up midfield and dominating play on 50-50 balls.
"The winning of 50-50 balls and winning balls in the penalty area was pure determination by our players, it's something that we've lacked in past games," said A&M head coach G Guerrieri. "They were challenged at halftime that if they didn't do that, this Vanderbilt team was good enough to take us apart. I thought that especially for the last 20 minutes of the match, our possession picked up and we were able to keep Vanderbilt on their heels."
Last time out A&M dropped a contest against Mississippi State after allowing two goals in the final five minutes of the match. The Aggies were wrestling for a spot in the SEC Tournament coming into the game being tied for 10th place with Mississippi State and Florida. With today's win, A&M positioned themselves into good standing for the Tournament with one game remaining.
TexAgs
"Our backs have been up against the wall and we've got to go in and find a way to win similar to today. Our players played hard, they were together, they fought for each other and they knew that they had to win this game, this was a must-win game for us, and we're going into the Missouri game the exact same way."
Senior Jordan Burbank started in her second consecutive match defending the goal for the Aggies (third start of the season) in place of starting lineup fixture Kenna Caldwell.
A tough defensive match ensued in the opening minutes of the match with both sides determined to establish control. Vanderbilt fired first off a deep slant from Alex Kerr with Burbank able to secure a diving save.
In the 19th-minute mark, the Aggies broke the ice off a high header from senior Karlina Sample after being served off a corner kick from Barbara Olivieri. The score registered Sample's first goal of the season and also marked the thirteenth Aggie to tally a goal in this year's campaign.
"It feels great, I'm just proud of the team for all the handwork we've been putting in this season, all the challenges and adversity that we faced that we don't usually face and it just speaks volumes to our focus and our drive. I'm glad to have their support and glad we were able to celebrate today."
The Commodores found an equalizer in the 29th-minute as they played underneath an unset Aggie defense with Madison Elwell linking a short slant to a running Hilary Schroeder.
Schroeder then slipped one just in between the woodwork and a high-positioned Burbank to diminish A&M's lead.
With the Aggie defenders failing to make a stop in the last sequence, A&M's press was heightened in the defending third with ball pressure from all sides.
No team came out with the first-period lead as the score remained deadlocked after 45 minutes of play.
Kenna Caldwell took command of goalkeeping duties for the Aggies with the start of the second half as Burbank returned to the bench. Caldwell would go on to maintain a scoreless period for the Aggies' defense.
A chance opportunity almost put the Aggies on top as sophomore Lauren Geczik fired a missile from about 25 yards out that swung just outside of the goal.
"It feels great, I'm just proud of the team for all the handwork we've been putting in this season, all the challenges and adversity that we faced that we don't usually face and it just speaks volumes to our focus and our drive."
The offensive momentum A&M was building culminated in a score at the 66th-minute mark with Barbara Olivieri finding a goal with an impressive high winding shot from deep off an assist from Maile Hayes and Geczik.
Olivieri offered some insight on her confidence to shoot from way out with no hesitation as her goal would go on to win the game for A&M.
"It's a lot from my teammates and coaches hyping me up and just telling me keep going, if it's not going your way don't get frustrated and just go," said Olivieri. "I just got that from the coaches and my teammates and I saw the open shot and was like 'I'm just going to take it, hope it goes in and makes solid contact.'"
The Aggies will close out their regular season on the road this coming Thursday against Missouri in Columbia as they look to secure their place in the SEC Tournament.
Never miss the latest news from TexAgs!
Join our free email list