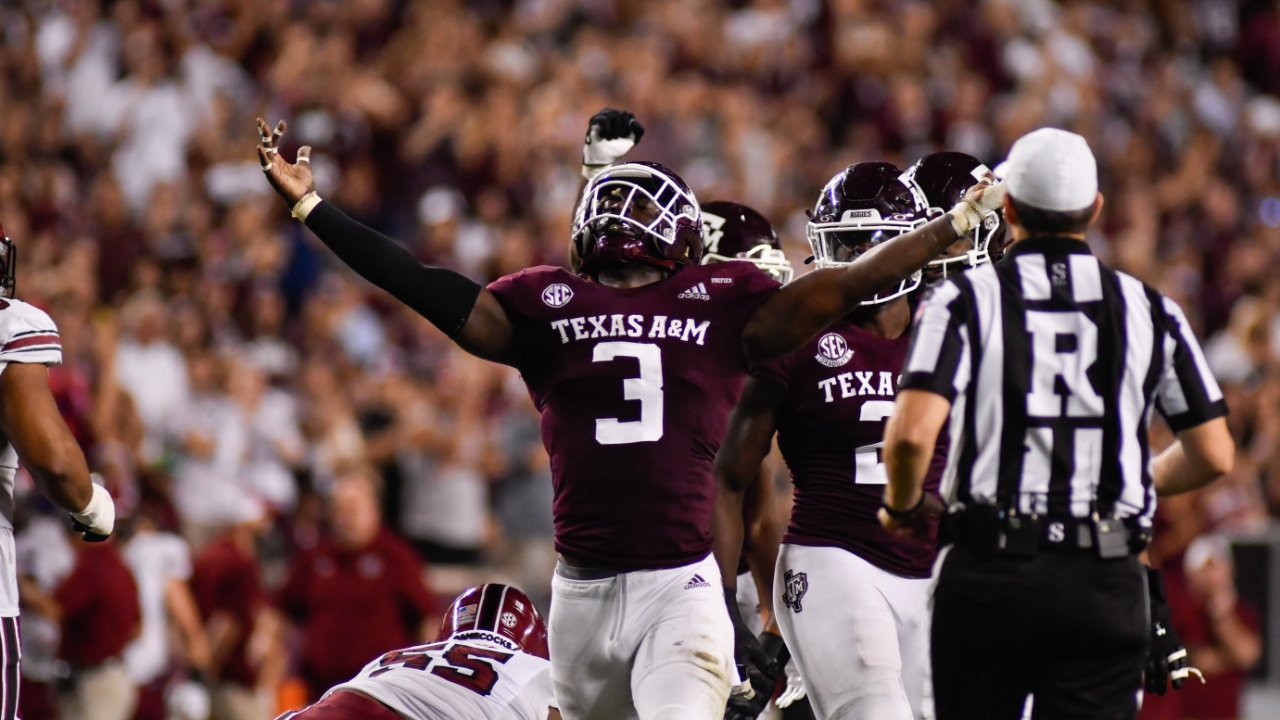 Jimbo Fisher
Jalen Wydermyer
Demani Richardson
Ainias Smith
Tyree Johnson
Texas A&M Football
With bye week on-deck, No. 17 Aggies dominate South Carolina, 44-14
---
The War Grackle didn't make an appearance for the 103,889 at Kyle Field on Saturday night. The Aggies' avian adversaries barely showed up, too.
Like a hungry old country boy, No. 17 Texas A&M chased down the South Carolina Gamecocks, wrung their necks, plucked, roasted and devoured them in a 44-14 Southeastern Conference football victory.
Ainias Smith returned a punt for a touchdown, Jalen Wydermyer caught two touchdown passes, Isaiah Spiller and Devon Achane each ran for scores and the Aggies defense limited the Gamecocks to six total yards through three quarters.
"Going into the game, basically, my whole message to the team was let's start fast, start strong and let's get an edge on them real quick. It just so happened that my opportunity came. I was like, shoot, I'm going to be that guy."
Winner winner, chicken dinner.
The Aggies (6-2, 3-2) did almost whatever they wanted in posting their most decisive victory of the season, their third straight victory, and their eighth consecutive over South Carolina (4-4, 1-3).
They jumped out to a quick 7-0 lead on Smith's perhaps ill-advised but incredible 95-yard punt return and never looked back.
Conventional wisdom says punts are not to be fielded inside the 10-yard line, but Smith doesn't play on that team. He fielded a punt on the 5-yard line, weaved through South Carolina's coverage and then broke out for a 95-yard score. It was the third-longest punt return in A&M history.
"Going into the game, basically, my whole message to the team was let's start fast, start strong and let's get an edge on them real quick," Smith said. "It just so happened that my opportunity came. I was like, shoot, I'm going to be that guy.
"When I saw the ball in the air, I looked down for a second, and I was like, 'Yeah, I might get a return here.' I caught it. I had a little bit of room. I just took off."
The early bird didn't just get that touchdown. The Aggies got Zach Calzada touchdown passes of 25 and 28 yards, a 1-yard Spiller score and the first of three Seth Small field goals to take a 31-0 halftime lead.
The issue was obviously settled at intermission, just as it was last season when A&M took a 21-0 halftime lead en route to a 48-3 lead.
These were pretty much the same Cocks but a different A&M team than the one that suffered consecutive losses to Arkansas and Mississippi State four weeks ago.
Since then, A&M has knocked off then No. 1 Alabama and outscored Missouri and South Carolina by a combined 79-28.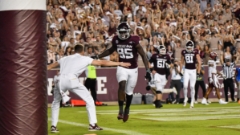 TexAgs
"I think we're starting to mold," coach Jimbo Fisher said. "We'll find out. We've got a heck of a run (upcoming). You've got Auburn. You have Ole Miss. You've got Prairie View. And then you've got LSU. Two of those four on the road. You've got a big stretch coming.
"I like the development and our ability to go back and refocus and go back to the details. I like where we're at."
He should.
The Aggies are ironing out wrinkles and making major progress in several areas.
For instance, a week ago, Calzada could not complete simple swing passes that were set up for potential big gainers. He was much more accurate this time.
Indeed, Wydermyer turned one of his short throws to the right flat into a 28-yard touchdown as he followed center Bryce Foster down the sideline.
Calzada had a solid showing with 187 passing yards and his two touchdowns.
"Still a couple of plays in there I wish we could clean up," Fisher said. "And we didn't help him a couple of times on routes, but he still made good decisions on third down."
The Aggies were 6-of-10 on third down with Calzada steering the offense.
Also, A&M's running game was at near peak performance. Achane rushed for 154 yards, including a 35-yard touchdown. Spiller had 102 yards.
The offensive line paved the way for the Aggies to average 5.5 yards per rush and did not allow a sack.
Meanwhile, the terrorized South Carolina quarterback Zeb Noland. He was sacked three times — two by defensive end Tyree Johnson.
A&M allowed South Carolina 71 rushing yards, but almost all of them came against backups in the fourth quarter. In fact, South Carolina managed15 total yards through the first three quarters.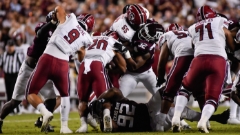 TexAgs
"Our defensive line was outstanding," Fisher said. "Running, passing, sacking the quarterback, effecting the quarterback and playing the run."
That line play was the primary reason South Carolina was 0-for-10 on third down before the fourth quarter.
The only bad news was Johnson suffered an injury to his right leg in the second half. He was in a walking boot after the game.
Don't worry. The boot is precautionary. Besides, he'll have plenty of time to recover.
The Aggies have an open week before next facing Auburn on Nov. 6. By then, A&M will have climbed into the top 15 and might even be flirting with the top ten.
Even though Aggies are idle next week they won't be … well, idle next week.
"We ain't going to change," Fisher said. "We'll get Monday off. Practice Tuesday, Wednesday and Thursday. Go back to fundamentals. They're going to be physical, tough, practices."
That's the way the Aggies want it.
"Throughout the off week, we're not going to be able to let off the gas," Smith said. "I'm not taking it as an off week. I'm making sure that all the guys know that we have to come out and get better next week. There's no going back to where we used to be. We can only go up."
Which, of course, would make the Aggies fans as happy as a lark.
Never miss the latest news from TexAgs!
Join our free email list