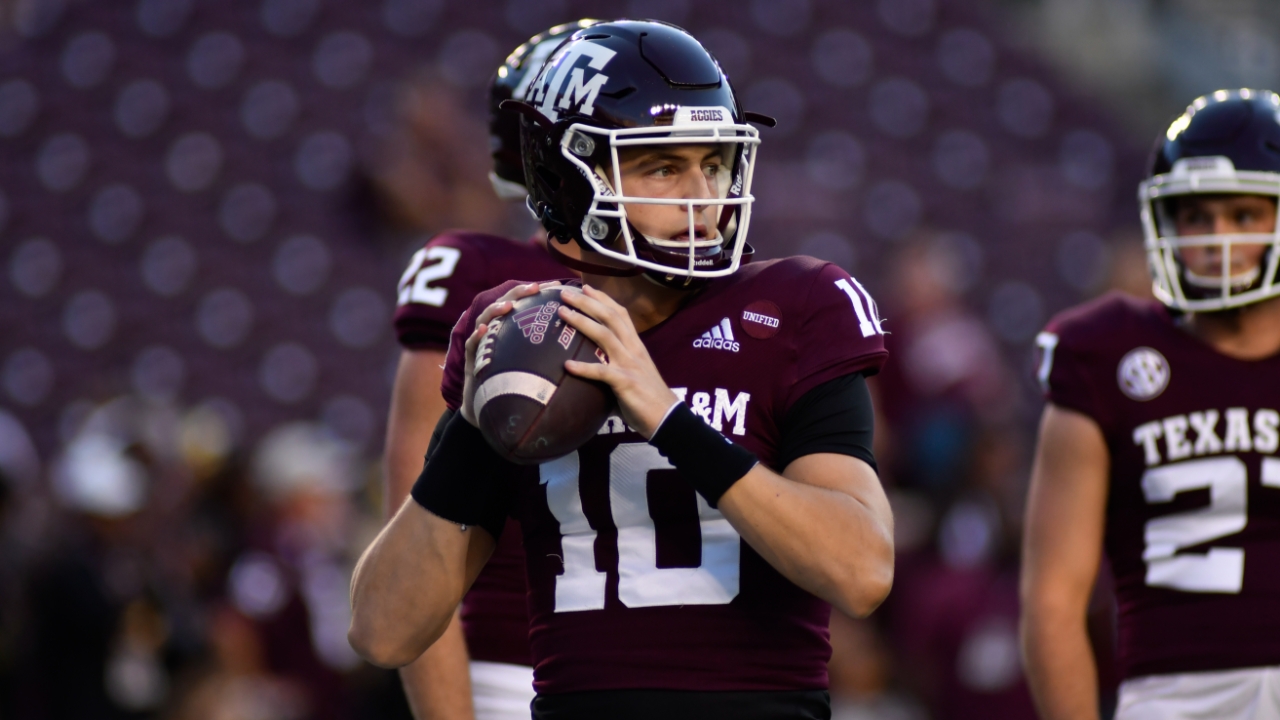 Photo by Jamie Maury, TexAgs
Texas A&M Football
Zach Calzada's father Hector reacts to the family's rollercoaster week of emotions
---
Key notes from Hector Calzada interview
As a parent, it has been quite a rollercoaster. We're at a high right now, no doubt. So many friends and families and strangers have been reaching out. We're so proud of Zach, the team and this coaching staff, so it has been a wonderful week.

I would be telling a fib if I said I wasn't talking to God quite often. That has been consistent over the last couple of weeks. As a parent, you have to take it play by play, and that's nothing new as I've gone through this with him quite often. You never expect something on the next play, but you do hope. Somethings I've learned by watching Zach and his teammates, amazing things happen when their backs are against the wall. We were fortunate to see that play out.

My relationship with my son has changed as he moved on to college. He has his coaching relationships and other people he confides in. I think I do a better job of emulating what my father did: Being the consummate uplifting parent and waiting. I used to swim in college, and my dad would always let me say as much or as little. I try to be there for him as a parent.

Zach handled the criticisms much better than I would have. The coaching staff did a great job of helping them block out the noise. I tend to hear the negative voices more than he does, but for every negative voice you heard on-air or on social media, there have been ten voices reaching out with something positive to say. There are many, many Aggies that have been extremely supportive. It's something that myself, my wife and my daughter, who will be signing to play soccer at Texas A&M soon, have come to love about the Aggie nation.

We're in a different environment. I'm not around him every day. It's very difficult. The number of hours the players put into practice and schoolwork and film study is incredible. Zach is doing everything the coaches are asking him to do. This team is extremely tight, and it's not just the first team guys. That bond is critical. His connection to Haynes King is special. Everyone wants to push this element of competition, and I understand that. He's extremely tight to King and the King family. I'll include the Bost family in that as well and Zach's relationship with Blake. They're tremendous backgrounds and relationships.

I was born in the United States, but my parents left Cuba in the 60s. They left the country at the last minute as Castro was taking over Havana. It was extremely dire circumstances and had to stuff cash into a shampoo bottle. We actually had a David Nuño in the family who stayed in Cuba. My parents were sponsored by a church group in St. Louis and helped them on their journey. They ultimately moved to Atlanta years later to reconvene with the rest of the family. My father was very much an advocate for athletics and academics together. I ended up swimming at Tulane, and having my parents there for the entirety of that journey was very special.
Never miss the latest news from TexAgs!
Join our free email list