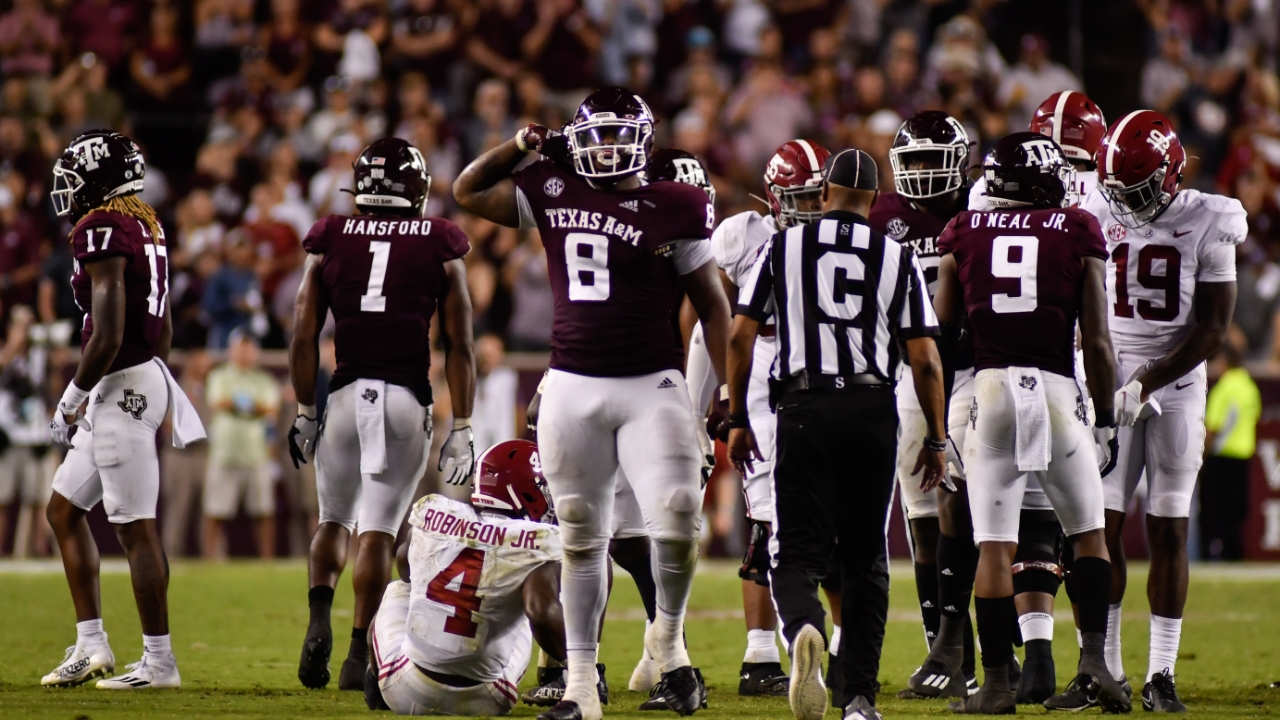 Photo by Jamie Maury, TexAgs
Texas A&M Football
Landry: Aggies' gameplan vs. Alabama featured number of "unscouted looks"
---
Key notes from Chris Landry interview
The scene was good. For people who don't know, the Aggie fans are a special, passionate group. They show out all the time, and the nation got to see it. On a great day in college football, what a way to end it. I was glad to see this game was competitive to begin with.

I always have a saying: You never stay the same. As a player, coach or as a team. You either get better or you get worse. The Aggies were very aggressive, and it was almost as if they played with nothing to lose. They made some changes in what they did and how they did it.

When you're struggling with something in Week One or Week Two, you get better with it in Week Three or Four. I've learned that a lot in the NFL. Teams will be different in November because you build on each of your practices. It's common sense that you'd be better in November than September, but there are circumstances that can change that; particularly injuries, especially catastrophic ones.

I thought A&M did a good job moving the pocket with Zach Calzada and getting the ball out quickly. They made some adjustments on their offensive line and personnel, but they did a good job with their angle blocking, which helped them with a lot of problems. They caught Alabama in some run blitzes and the backs ran hard.

Defensively, I thought they increased their pressure. They went in with the idea that Alabama's tackles, particularly Chris Owens, could be beaten. They got their defensive ends upfield, and it caused a lot of problems for Alabama. All of those mistakes were schematically and pressure-induced. They kept Alabama on their heels quite a bit.

Alabama defensively did a tremendous job at halftime and shut down A&M in the entire second half. I thought it would be a tough loss for A&M. The offense and a quarterback gained a lot of respect nationally, showcasing their toughness and getting off the mat with a few big plays towards the end to win it. It's what you teach and what you coach.

It was impressive to see Texas A&M outplay Alabama for much of the game, and even when the Aggies were outplayed, they found a way to come back and finish.

With Calzada, what's different is that they did some things to simplify it. They moved the pocket. The ball came out quicker. Why didn't they do that sooner? Teams can scheme around it, and it limits what you can do. The biggest difference is that he's not making his first or second start. He's getting more and more reps. Teams will throw more at him, and he'll need to adjust. What was different was how they played him and how he reacted to it. He was comfortable and aggressive. The confidence was increased by what they put him in. You're not going to be as good at anything the first or second time you do it as you keep doing it. It's a constant evolution. Sometimes it evolves negatively, and sometimes it's positive. Now let's see what happens now that the narrative has changed.

I didn't think that Texas A&M was a sure-fire second-best team in the West type. I also didn't think they were going to lose to Arkansas or Mississippi State. It's all about how you deal with adversity. People might say they have it figured out. You never have it figured out in football.

The first half of this game was a chess match. They changed an awful lot in every series. I thought Alabama changed their look defensively. Once it got to halftime, you saw Alabama was able to slow it down and give A&M some trouble.

There are still some areas where you can continue to get better, and if you don't practice with the same energy and continue to get better, then there are other landmines on the schedule.

The game plan was really, really good. What they put together against Alabama was what we call "unscouted looks." There were things on the offensive line that they were doing personnel-wise and schematically that Alabama couldn't scout on film because they hadn't done them. It was a bit of cat-and-mouse, and once you saw Alabama figure it out, the offense was stimied a little bit.
Never miss the latest news from TexAgs!
Join our free email list