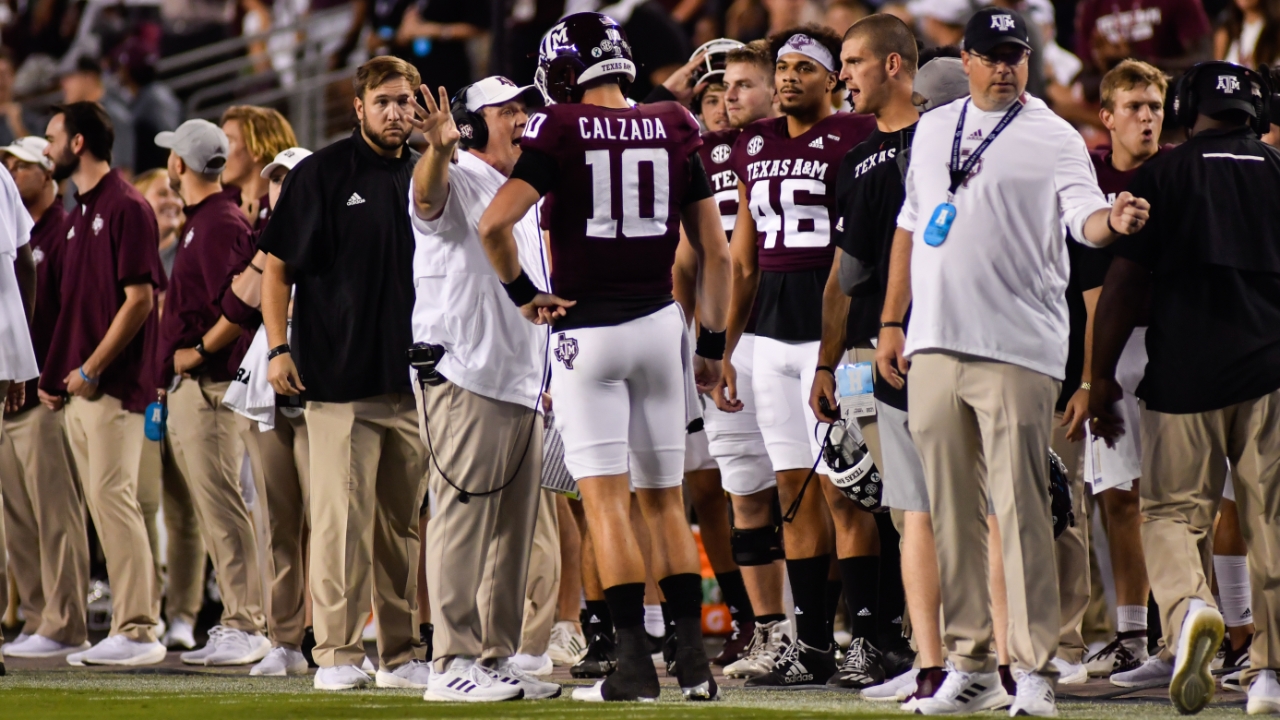 Jimbo Fisher
Antonio Johnson
Kenyon Green
Isaiah Spiller
Edgerrin Cooper
Pleased with progress, Fisher refuses to let Aggies dwell on Alabama win
---
Hands on a clock always move forward.
That's common knowledge, but Texas A&M football coach Jimbo Fisher was ready to offer a reminder on Monday.
His message was to not live in the past. Even if that past was just 48 hours ago. And even if that past included a thrilling 41-38 victory over defending national champion and top-ranked Alabama.
"This game is over with," Fisher said at his weekly press conference. "I'm tired of talking about it. It's over."
Fisher understands the temptation to look back at such a monumental victory. However, if the Aggies (4-2, 1-2 in the SEC) are to surge to an excellent season, they must look forward.
But only to the game against Missouri (3-3, 0-2) on Saturday.
"The lessons we learned (against Alabama) are wasted lessons unless we carry them on this week," Fisher said. "They (Missouri) play really well at home. They always have. They're going to be waiting for us to knock us off. This is the trap game. (Don't) listen to all the stuff all week and live in the past. That's over with."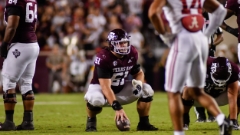 Jamie Maury, TexAgs
However, Fisher couldn't completely fight the urge to peek in the rearview mirror.
A plague of injuries to starting quarterback Haynes King, the offensive line and receiver contributed to the Aggies' lethargic start this season.
Some players — like freshman center Bryce Foster, tackle Reuben Fatheree and cornerback Tyreek Chappell — were thrust into action ahead of schedule. Others, like quarterback Zach Calzada, struggled when moving into the starting lineup.
Injuries are a part of the game. But Fisher pointed out they can be more problematic when occurring early in the season.
Players moving into the lineup because of injuries late in the season at least have had more practices and time to comprehend what's required for success.
Younger guys thrust into the lineup early in the season may struggle with on-the-job training.
"You do it at the beginning of the year with young guys. Sometimes that's very difficult," Fisher said. "Then you have to get playing time and understanding the level which you have to compete at week in and week out.
"I think that's what you're starting to see. Some of our young guys are growing. We're getting better. They're understanding the standard of which you have to play to have success.
"We're growing. Now, there's a lot of growing still left to do because there's still a lot of mistakes out there on that field. We won the football game and all that, but there's still a lot of things we have to clean up."
Calzada did some heavy-duty cleaning against Alabama. He'd struggled since replacing King in the first quarter against Colorado four weeks ago.
In the previous two losses to Arkansas and Mississippi State, he was erratic while passing for 286 yards and just one touchdown.
"He got banged. He got bruised. He got off the mat. He found out everything was fine with his leg and came out and leads us to a two-minute (winning) drive. I'm very happy for him to stay in the saddle."
But Calzada had the best game of his career against Alabama. He completed 21 of 31 passes for 285 yards and three touchdowns.
In the last five minutes, he led the Aggies to a game-tying 25-yard touchdown pass to Ainias Smith and then to a game-winning 28-yard Seth Small field goal.
"He did a good job of keeping his eyes up," Fisher said. "He read coverage and got the ball out. He was being decisive in his decisions. He was throwing the football well. We had a good mix of run and pass. He played with great toughness. He competed in the game.
"He got banged. He got bruised. He got off the mat. He didn't know he threw a touchdown when he got banged up. He found out everything was fine with his leg and came out and leads us to a two-minute (winning) drive. I'm very happy for him to stay in the saddle."
Injury report
Fisher indicated the leg injury Calzada sustained while throwing the touchdown pass to Smith was superficial. It won't keep him from playing against Missouri.
Fisher also said tackle Jahmir Johnson, who was apparently suspended from the Alabama game for violating team rules, is reinstated.
Fisher said he could neither confirm nor deny a report that King would not play again this season.
"I don't know that," Fisher said while pretending to look into a crystal ball. "I've had guys they say it's going to be a four-month deal, and it's a three-month deal.
"That depends on how you heal. It's a significant injury, and it's going to be a significant time to heal. I don't know the answer. If he's one of the guys who is a fast healer …
"But if he's not, I always would rather err on the side of preventing him from playing for whatever is the safest to make sure he's on the field for the right reason. This guy has a lot of ball ahead in his lifetime."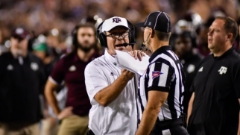 Jamie Maury, TexAgs
Defensive delay of game penalties
Fisher was irked by a pair of rare defensive delay of game penalties in the game against Alabama.
At least in one instance, the Aggies were penalized for safety Demani Richardson using hand signals to communicate through the crowd noise, which was at deafening decibel levels.
"They (officials) said before the game we can't clap because that's (Alabama's) cadence," Fisher said. "They didn't use a clapping cadence. They were just tapping on the guard, so I don't understand. I've never had that said to me ever.
"Two, Demani was trying to get somebody's attention because it was a little bit loud. I promise you you couldn't hear from me to this (hand-held) bottle."
Fisher wasn't finished.
On the second penalty: "We were not clapping. We did this," he said while making a chopping gesture. "We were not clapping. We're doing this (chopping gesture) as a signal. That's not clapping. On third-and-eight at the 20-yard line going in at a critical of the game? And you're doing this (chopping gesture)? That ain't clapping. We'll find out."
Going home
The clash with Missouri will be a homecoming of sorts for sophomore safety Antonio Johnson. He's from East St. Louis, Ill., just on the east bank of the Mississippi River.
East St. Louis is about three hours from Columbia, Mo., so Antonio Johnson will have his own cheering section.
"That's pretty much the closest game to home," Antonio Johnson said. "There's going to be a lot of people supporting us. I have some high school teammates that go (to Missouri) as well as some just friends that go there. It's going to be very personal for me to go there and play."
Never miss the latest news from TexAgs!
Join our free email list
PRESENTED BY