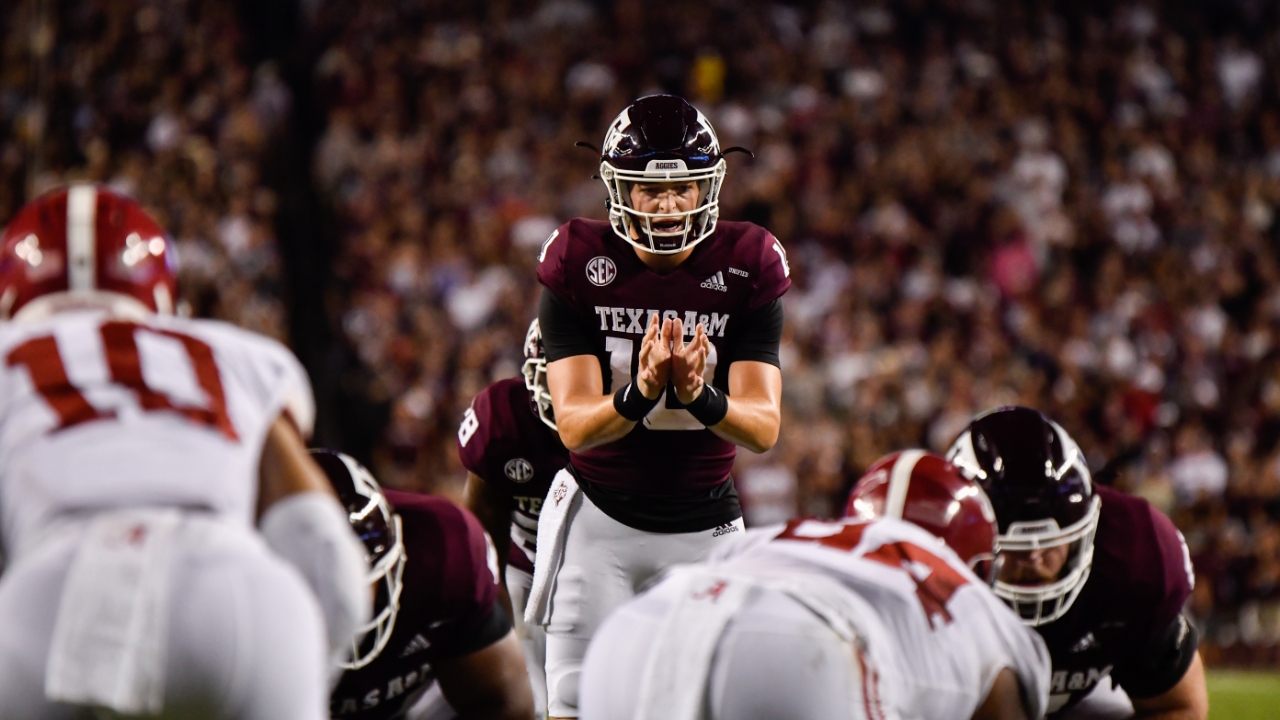 Jimbo Fisher
Devon Achane
Tyree Johnson
Antonio Johnson
Seth Small
Ainias Smith
Texas A&M Football
Legendary showing by Calzada leads Aggies to upset of top-ranked Tide, 41-38
---
Zach Calzada became a Texas A&M football legend on Saturday night.
He went from reviled to revered with an incredibly clutch performance that should earn him a place in A&M lore.
Trivia question: Who are the quarterbacks to lead Texas A&M to Southeastern Conference football victories over top-ranked Alabama?
Answer: Johnny Manziel and Zach Calzada.
Manziel was among the frenzied Kyle Field crowd of 106,815 that flooded onto the field in celebration when Seth Small kicked a last-play 29-yard field goal to give A&M a 41-38 elephantine victory over the top-ranked Tide.
It was a celebration that was probably shared all across the country. Well, except in Alabama and Austin.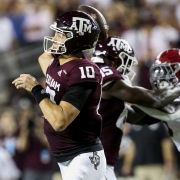 Gary Cosby Jr.-USA TODAY Sports
Indeed, the general populace of Austin must have been in Longhorn Hell after the Aggies pulled off the upset of the season just a few hours after Texas squandered a huge lead and in a loss to Big 12 arch-rival Oklahoma.
Nobody saw the Aggies' upset coming … not after consecutive uninspired losses to Arkansas and Mississippi State.
Well, perhaps nobody but coach Jimbo Fisher, who last summer promised the Aggies would "beat (Nick Saban's) ass" before the Alabama coach retired.
Plenty among the national media scoffed at such blasphemy. They can't scoff anymore.
Indeed, national media might even stop trying to push the tired narrative that Fisher is underachieving and overpaid as he became the first former Saban assistant to defeat his former boss. It happened on Fisher's 56 birthday. A helluva present.
Fisher can largely thank Calzada for that.
Calzada had struggled mightily since taking over for injured Haynes King last month. His difficulties had become the subject of message board fodder. He was relentlessly criticized and scrutinized and largely blamed for the Aggies' two losses.
"To be put in situations he's put in, things that are happening, and not with a full team around him, with three receivers missing, two linemen missing, backs, timing, people hurt everywhere, it's hard to go in there," Fisher said.
"We had some unfortunate injuries. People don't care, and I don't care. That ain't an excuse, but at the same time, that's reality. And you have to understand there's a difference of what your results are and what the reality of why those results are there."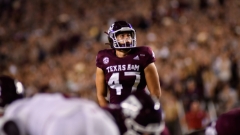 TexAgs
A different Calzada showed up at Kyle Field. That was apparent from the outset as he completed his first ten passes to propel the Aggies to a 17-3 first-quarter lead.
He ultimately completed 21-of-31 attempts for 285 yards and three touchdowns.
Despite that, the Aggies trailed 38-31 after Alabama quarterback Bryce Young threw his third touchdown pass with just five minutes to play.
Then the A&M quarterback that some once-frustrated Aggies felt could do nothing right suddenly couldn't do anything wrong.
Calzada completed 4-of-5 passes on the ensuing drive. The final one was a 25-yarder to Ainias Smith in the north end zone — the same end in which backup quarterback Reggie McNeal threw clutch touchdown passes to Terrence Murphy and Greg Porter in a stunning upset of No. 1 Oklahoma in 2002.
The Crimson tied, A&M then went for the jugular on its next series, which started on the Aggies' 35-yard line with 2:08 to play.
Calzada completed a 17-yard pass on second-and-15, ran for 11 yards and completed another pass for 12 yards to move the Aggies to the Alabama 11-yard line.
After a timeout, Small kicked the game-winner as time ran out. He did the same thing last season against Florida to give A&M a victory by the same score.
Though Calzada was clutch, he was by no means a Texas lone star.
Demani Richardson intercepted a Young pass in the end zone to deny Alabama points in the second quarter. Leon O'Neal Jr. recovered a fumble by Alabama running back Brian Robinson Jr. to set up an A&M touchdown. O'Neal later made a jarring hit in the end zone to jolt the ball loose from tight end Cameron Latu, preventing a touchdown.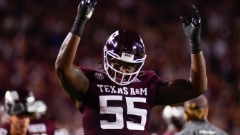 TexAgs
Micheal Clemons, Tyree Johnson and DeMarvin Leal led a pass rush that sacked Young four times and flustered him several other times.
Jalen Wydermyer hauled in a touchdown pass. Isaiah Spiller ran hard and made big catches. Devon Achane returned a kickoff 96 yards for a touchdown.
The patchwork offensive line also did its part. Blake Trainor started at guard in place of Kenyon Green, who shifted back out to tackle. Yet, the Aggies did not allow a sack.
All Calzada needed was time. That's what Fisher was saying all along.
Never miss the latest news from TexAgs!
Join our free email list