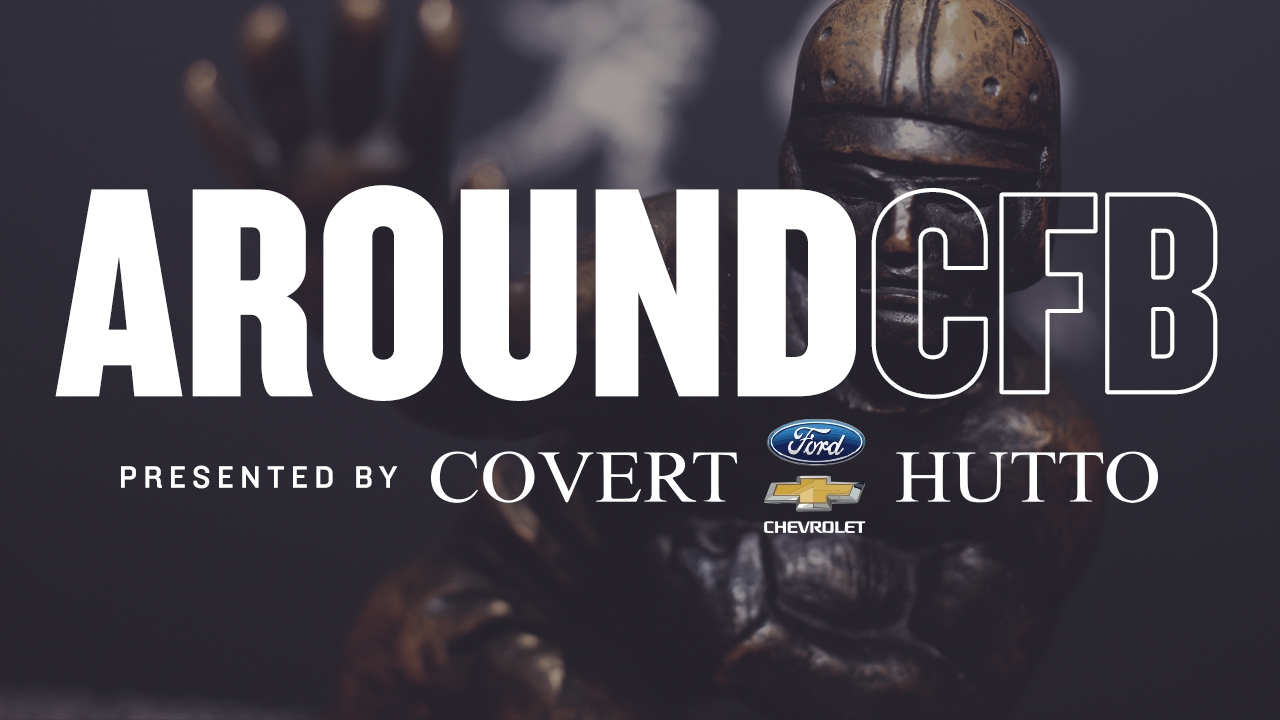 Photo by Brad Penner-USA TODAY Sports
Texas A&M Football
Around CFB: BYU or Cincinnati, which 'Group of Five' team is more impressive?
---
As the halfway point of the college football season approaches, it's time to accept the very real possibility that a Group of Five team will reach the College Football Playoff.
But which one?
The idea of No. 5 Cincinnati as a legitimate playoff contender is widely accepted after the Bearcats defeated Notre Dame, 24-13, last week. Cincinnati also has a victory over Indiana of the Big Ten. No. 24 SMU and Tulane, which came tantalizingly close to upsetting Oklahoma, remains on the schedule.
However, No. 10 BYU might have an even better case at season's end. The Cougars would already have an inside track to the conference championship game if they were in the Pac-12 South Division.
BYU has victories over Arizona, Utah and Arizona State. Four more games remain with Power-Five foes Baylor, Washington State, Virginia and USC as well as this week's clash with Boise State.
That would potentially give BYU seven victories over Power Five opponents as well as a win over Boise State.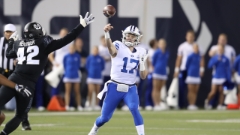 Rob Gray-USA TODAY Sports
If the Cougars finish unbeaten, they'd have a better argument for the playoff than Cincinnati, especially if USC defeats Notre Dame on Oct. 23.
Of course, no Group of Five team has been selected for the playoff. Therefore, suggesting two could get in would be preposterous.
In fact, it's controversial enough to suggest three Power Five champions could be left out.
Outside of monumental upsets, No. 1 Alabama and No. 2 Georgia of the Southeastern Conference will be included in the playoff field. They've unquestionably shown to be the two best teams in the nation.
Expect the Big Ten to be included. Five of its teams are currently ranked among the nation's top 11. Four of them are unbeaten.
The rest of the Power Five has been more of a power outage.
The ACC is weak. Really weak. No. 19 Wake Forest and No. 23 North Carolina State are the only ranked teams in the ACC. NC State already has a loss. Wake Forest is unbeaten but hardly appears powerful.
The Deacons close with North Carolina, NC State, Clemson and Boston College. Two losses wouldn't come as a surprise.
The Pac-12 was dealt a blow with Oregon losing to Stanford. The No. 8 Ducks are still in good position, but their narrow win over Fresno State and a loss to Stanford — which lost to Kansas State — shows they are vulnerable.
Oklahoma and Oklahoma State are both unbeaten, but neither has been impressive. The Sooners defeated Tulane, Nebraska, West Virginia and Kansas State by a touchdown or less.
Oklahoma State survived Tulsa and needed two touchdowns in the final 2:10 to beat Boise State, 21-20. Not only do they play each other, but they both have to face Texas, which is now back after consecutive victories over Rice, Texas Tech and TCU.
Maybe one of them emerges unbeaten. But based on the underwhelming state of the Big 12, both BYU and Cincinnati arguably are facing more challenging schedules.
Heisman watch (If my ballot was due today)
1. Bryce Young, Alabama, QB: The first-year starter took an undeniable lead in the Heisman race with a strong effort in a 42-21 victory over Ole Miss. He completed 20 of 26 passes for 241 yards and two touchdowns. Thus far, he's passed for 1,367 yards and 17 touchdowns with two interceptions.
2. Matt Corral, Ole Miss, QB: His candidacy suffered a setback in a 42-21 loss to Alabama, but he wasn't bad. Corral completed 21 of 29 passes for 213 yards and a touchdown. He also ran 10 yards for a score. Through four games he's passed for 1,219 yards and 10 touchdowns. He's also rushed for 161 yards and six TDs.
3. Desmond Ridder, Cincinnati, QB: Ridder had his best outing of the season in a 24-13 victory over Notre Dame. He passed for 297 yards and two touchdowns. He also ran six yards for another score. Overall, he's passed for 1,045 yards and nine touchdowns and has rushed for 98 yards and three scores.
4. Kenneth Walker, Michigan State, RB: Walker exceeded 100 rushing yards for the third time. He gained 126 yards and scored three touchdowns in a 48-31 victory over Western Kentucky. He continues to lead the nation in rushing with 680 yards. He has eight rushing touchdowns and one on a reception.
5. C.J. Stroud, Ohio State, QB: Stroud was injured a week ago, but came back to throw for 330 yards and five touchdowns in a 52-13 victory over Rutgers, which had allowed just one touchdown pass in its first four games. Stroud has passed for 1,293 yards and 13 touchdowns with three interceptions.
Predicted Playoff Participants
1. Alabama: The Tide has already cleared two of its biggest hurdles with victories over Florida and Ole Miss.
2. Georgia: The Bulldogs have allowed just two touchdowns. Both came in the fourth quarter of blowouts.
3. Ohio State: Big Ten rivals Penn State and Iowa are ranked higher. Expect the Buckeyes to overtake them by December.
4. Cincinnati: The win over Notre Dame will carry a lot of cachet. It also helps that the Pac-12, ACC and Big 12 are woeful.
This week's best matchups
No. 4 Penn State at No. 3 Iowa: A clash of top five teams that may or may not belong there. The winner definitely gets the benefit of the doubt.
No. 21 Texas vs. No. 6 Oklahoma: Longhorns are on a roll, but OU is better than Rice, Texas Tech and TCU. At least, I think they are.
No. 2 Georgia at No. 18 Auburn: Georgia is seeking its third victory over a ranked opponent. Here's betting the Bulldogs find it.
No. 13 Arkansas at No. 17 Ole Miss: Last week's darlings are battling to remain relevant.
Stanford at No. 22 Arizona State: The Cardinals hope to post consecutive wins over the Pac-12's only ranked teams.
Never miss the latest news from TexAgs!
Join our free email list
PRESENTED BY