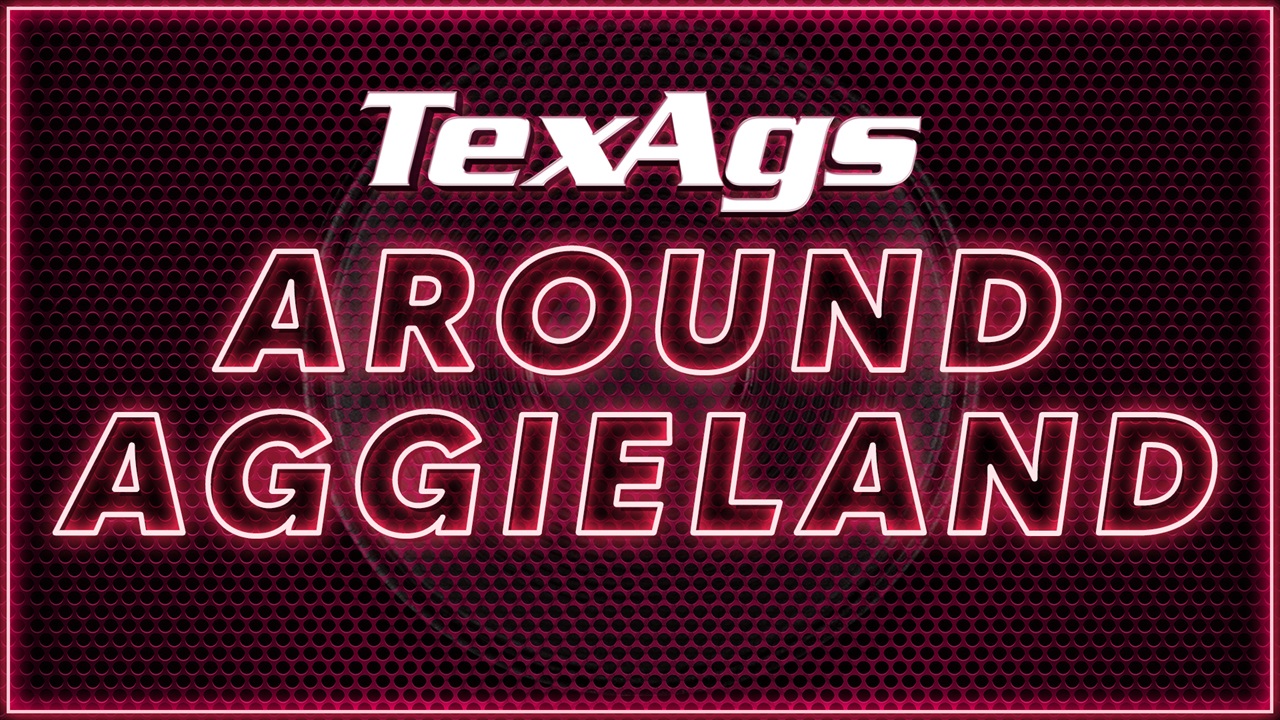 Texas A&M Football
Around Aggieland (10/1)
---
During Friday's edition of TexAgs Radio, the fishbowl's own Richard Zane joined to share updates from the latest in Aggie Athletics as a busy weekend is on tap in College Station with football, soccer and volleyball all in action.
---
Football (3-1, 0-1 in SEC)
No. 15 Texas A&M returns to Kyle Field on Saturday night for what could be a wet contest with Mike Leach and the Mississippi State Bulldogs.
Kickoff is set for 6:00 p.m. CT on the SEC Network.
Aggies in the polls...
Next week's contest with No. 1 Alabama has been announced as a 7:00 p.m. CT kickoff on CBS.
It will make the first time the Aggies have played in the primetime slot on CBS since joining the Southeastern Conference in 2012.
Soccer (5-5-1, 1-2-0 in SEC)
G Guerrieri and the Aggies look to snap a three-match losing streak as they take on the No. 15 Tennessee Volunteers on Friday night at Ellis Field.
Kickoff is set for 7:00 p.m. CT and will stream on the SEC Network+.
The match is "Hispanic Heritage Night," and the first 500 fans will receive a "Las Aggies" t-shirt.
Volleyball (9-3, 2-0 in SEC)
Bird Kuhn and the Aggies travel to Rocky Top this weekend for a pair of matches with No. 20 Tennessee in Knoxville.
Saturday: 4:00 p.m. CT, streaming on the SEC Network+
Sunday: 12:00 p.m. CT on the SEC Network
Texas A&M enters the weekend coming off wins over Alabama and South Carolina.
Cross Country
Texas A&M ran in the Gans Creek Classic on Friday morning in Columbia, Missouri.
Eric Casarez won the men's 8K, setting the course record at Gans Creek with a time of 23:36.5. As a team, the men finished seventh.
On the women's side, the Aggies took home the team title in the 6K, with Julia Black (fourth place, 21:17.2) and Gemma Goddard (sixth place, 21:17.3) leading the way.
Men's Tennis
Pierce Rollins finished second in the Pro Tennis Tour stop at the Mitchell Tennis Center.
Rollins posted a 3-1 record in pool play before defeating former Texas A&M All-American Harrison Adams in the semifinals.
Rollins ultimately fell in the final to Baylor's Juan Pablo Grassi Mazzuchi in straight sets, 6-3, 6-4.
Women's Tennis
Playing in the H-E-B Invitational at the Hurd Tennis Center in Waco, the Aggies posted six victories on day one of the tournament.
All three Aggie doubles pairings won their matches against duos from Arizona.
Jeanette Mireles defeated Arizona's Parker Fry (6-2, 6-3).
Renee McBryde defeated Arizona's Khim Iglupas (4-6, 6-3, 1-0).
Isa Di Laura defeated Arizona's Kayla Meraz (7-6, 4-6, 1-0).
The tournament continues on Friday morning in Waco.
Women's Golf
The Schooner Fall Classic concluded on Monday in Norman, Okla., and the Aggies finished second behind last year's national runner-up Oklahoma State.
Texas A&M finished 4-over on the weekend, while Oklahoma State finished 16-under.
Two Aggies finished inside the top ten with Blanca Fernández Poggio-García finishing third and Zoe Slaughter finishing tied for seventh.
Gerrod Chadwell's team is now ranked No. 8 in the nation according to Golfweek.
A&M will be back in action the middle of October as they travel to San Marcos to play in the Jim West Invitational.
The tournament will be held from Sunday, Oct. 17, and will run through Monday, Oct. 18.
Men's Basketball
Television designations and tip-off times for all 18 of Texas A&M's conference games as well as the Aggies' neutral-site clash with TCU have been announced.
The Aggies will play the Horned Frogs on Dec. 11 in Houston. The game will air on the SEC Network, and tip-off time has not yet been announced.
A&M's road trip to face Georgia in Athens on Jan. 4 will tip-off at 6:00 p.m. CT and air on ESPNU, while the second meeting (Feb. 22) between the Ags and Dawgs in Aggieland will tip at 6:00 p.m. CT also on ESPNU.
A&M's Feb. 5 home game with Missouri at Reed Arena tips at 3:00 p.m. CT on ESPN2.
Texas A&M's other 15 SEC games will air on the SEC Network.
Women's Basketball
Gary Blair and the defending SEC regular-season champion Aggies will play 12 nationally televised games this season.
11 games will air on the SEC Network, including Texas A&M's Dec. 5 contest with Texas at Reed Arena.
The Aggies' Feb. 6 road contest with Kentucky will air on ESPN2.
Baseball
Jim Schlossnagle & Co. received a verbal commitment from 2024 RHP Michael Dudolski on Tuesday.
The Whitehouse product has already hit 90 mph on the radar gun as a 15-year-old.
Softball
On Thursday, Jo Evans and the Aggies announced a seven-game fall schedule as they continue to prepare for the 2022 season. All seven games will be played at Davis Diamond in Bryan-College Station.
Oct. 17: vs. Texas - 2:00 p.m. CT
Oct. 20: vs. Temple College - 4:00 p.m. CT & 6:00 p.m. CT (Doubleheader)
Oct. 24: vs. A&M-Commerce - 1:00 p.m. CT & 3:00 p.m. CT (Doubleheader)
Oct. 29: vs. Texas State - 6:30 p.m. CT
Nov. 1: vs. Blinn College - 4:00 p.m. CT
Never miss the latest news from TexAgs!
Join our free email list