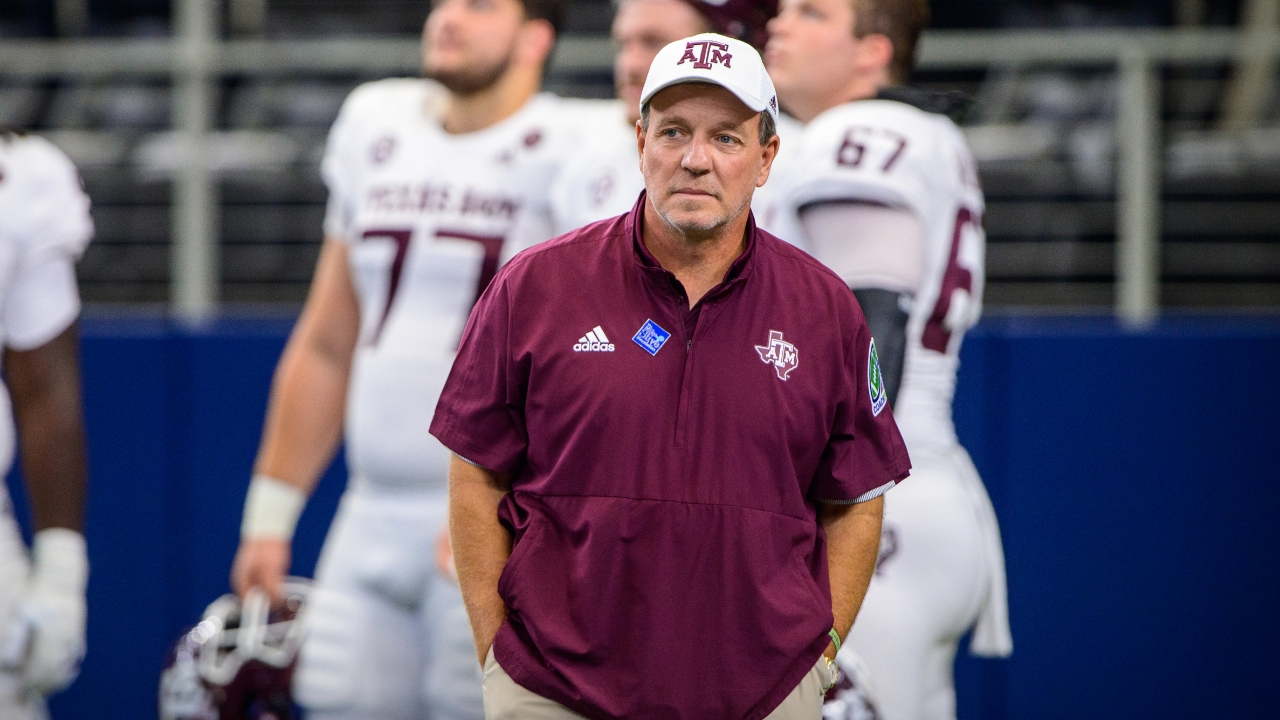 Jimbo Fisher
Ainias Smith
Demani Richardson
Texas A&M Football
Fisher knows Aggies must boost execution, confidence to win SEC games
---
That great football mind — Albert Einstein — once said the definition of insanity is doing the same thing over and over and expecting different results.
The remainder of Texas A&M's football season might determine just how sane — or unstable — the 15th ranked Aggies are.
Football teams tend to follow a blueprint for success. Therefore, expect many of Texas A&M's remaining opponents to mimic Arkansas' defensive strategy in a 20-10 loss last Saturday.
The Razorbacks typically rushed three, dropped eight into coverage, invited the Aggies to throw short passes and then swooped in on receivers. The result was A&M was held to a season-low 272 yards of total offense.
So what's A&M's plan the next time it faces that strategy, which could be next Saturday against Mississippi State?
Well… apparently, it's the same way the Aggies attacked Arkansas with the execution A&M displayed in a 42-31 victory over the Razorbacks in 2020.
"Same stuff. Same thing. We executed," Texas A&M coach Jimbo Fisher said "Hit those short routes and caught and ran. You've got to execute."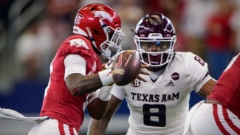 USA Today
"It makes long drives. They keep an umbrella and don't give (quarterbacks) any long throws. We took about six shots in the game (on Saturday). Got one or two decently down the field, but they played them. We have to hit intermediate things and run them. That's the way you have to play that."
"Or you can dictate the run and be in control of the game. If you're not behind, you can control the game with the run and you can force safeties down to play the run. Then you can throw over their head."
Controlling the game seems like an unlikely option at this point. In their two games against Power-5 opponents Colorado and Arkansas, the Aggies have held a lead for just two minutes and 41 seconds.
That takes the Aggies' plan back to hitting short routes and running.
On the surface that seems like a wise move. Those are high percentage passes. A&M receiver Ainias Smith, tight end Jalen Wydermyer and running backs Isaiah Spiller and Devon Achane can turn short passes into long gains.
Except, it's not working. Quarterback Zach Calzada is completing just 52.8 percent of his attempts and many of his short throws have gone nowhere.
"Our main job right now is making sure Zach is back there comfortable," Smith said. "He should be able to know that he can get the ball to us, just get it in our hands and we're going to be able to do something with it."
Calzada, who was thrust into the lineup because of an injury to starter Haynes King, has struggled with accuracy. He's also struggled with indecision…waiting too long to deliver a pass or opting to run.
However, against Arkansas, he was without starting receivers Caleb Chapman and Chase Lane. He's also behind an inexperienced and ailing offensive line. Starting guard Layden Robinson has missed the last two games due to injury. The Aggies started two true freshmen in center Bryce Foster and tackle Reuben Fatheree.
That's made his difficult job even tougher. Fisher said the veteran Aggies have to do more to help.
Smith leads the Aggies with just 15 catches for 170 yards. Wydermyer and Spiller have 13 catches. Achane has 12. But most of those catches came against overmatched Kent State and New Mexico.
"We've got to play better around (Calzada)," Fisher said. "Zach is a new guy. We've got experienced receivers, backs, tight ends and all that. We've got to play well around him."
"We have some young linemen, too. That's the other thing. (Calzada is) the eraser. When you have those experienced guys they can clean up everybody's messes. Zach can do that. He did it some. But he has to do it more."
"We have to build that confidence in them in practice. We have to build that confidence in them on Saturdays. Do the fundamentals to make sure we can handle those situations all the way through."
Fisher said the coaches must do more, too.
"(I'm) Not blaming those kids at all," Fisher said. "At the end of the day, we're coaches. We're responsible. We have to do that. We have to build that confidence in them in practice. We have to build that confidence in them on Saturdays. Do the fundamentals to make sure we can handle those situations all the way through."
Smith admitted he's stunned A&M has struggled offensively. Despite a couple of injuries, A&M's skill players are among the best in the Southeastern Conference.
"You always go in with the expectation that you're going to do big things, especially with the great players we have," Smith said. "We just have to raise our standards to a whole other level. Obviously, higher than what they were. And we have to demand those standards when it comes to practice. We're not able to get by with the high-lows that we have throughout practice. We have to do better in practice."
He said the Aggies also have to manage their frustration so it doesn't affect their play.
"You have to stay level-headed," Smith said. "Always be encouraging. Never give a sense of doubt with what's going on on the field. You just have to flush it down the toilet and go to the next play and continue to get better."
The Aggies must get better fast, or their hopes of a successful season may be flushed.
---
NOTES:
• Fisher indicated he expected Layden Robinson to return to practice this week and to the starting lineup on Saturday.
• Tackle Jahmir Johnson left the game against Arkansas in the second half with an undisclosed injury. Apparently, it wasn't serious. Fisher said he would be back in practice.
• Receivers Caleb Chapman and Chase Lane remain day-to-day.
Never miss the latest news from TexAgs!
Join our free email list
PRESENTED BY