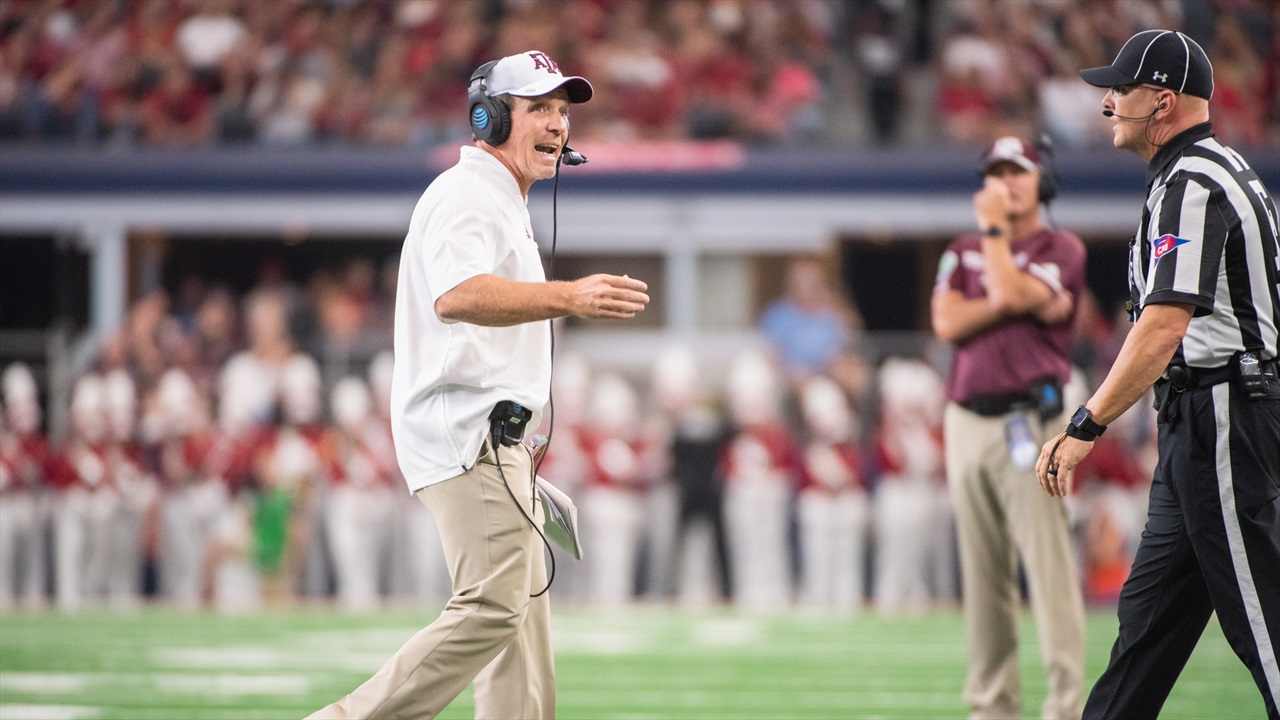 Photo by Rey Romo, TexAgs
Texas A&M Football
No. 7 Texas A&M prepared for another roller-coaster game in Arlington
---
For Aggies, September trips to Arlington typically result in a day of steep climbs, breathless plunges, dramatic turns and even the sensation of being turned upside-down.
That's not because of the thrill rides at the famous theme park nearby.
Texas A&M has endured more than a few roller coaster experiences when facing Arkansas at AT&T Stadium.
Seventh-ranked A&M (3-0) expects another white-knuckle experience against No. 16 Arkansas (3-0) on Saturday at 2:30 p.m. as the Aggies hope to emerge unscathed for the 10th consecutive year.
Winning won't be easy there. It seemingly never is.
"They're coached very well, and they're playing very well. We're definitely going to have our hands full. We're going to have to play a great football game."
Since A&M joined the SEC, five of the six games against Arkansas at AT&T Stadium have been decided by a touchdown or less. Three went to overtime.
"We've had some battles on some teams they've had," said Texas A&M coach Jimbo Fisher. "We've had some great games up there that have all come down to the wire. They've all been very tough, in my opinion.
"I think this game is a rivalry game. They do a great job getting up for it, and they play very hard in it. This team is playing very well. Their team is very talented. Their team is very seasoned. They're coached very well, and they're playing very well. We're definitely going to have our hands full. We're going to have to play a great football game. They're No. 16 for a reason."
The Aggies' top priorities are quite clear.
Their offensive line must make a steep climb in performance, and the defense cannot allow the Arkansas running game to roll downhill on them.
A&M's offense has been woefully inconsistent. Quarterback Zach Calzada threw early touchdown passes in a 34-0 victory over New Mexico last week, but the offense soon became stagnant.
The line's inability to pave the way for the running game or sufficiently protect Calzada has been a major issue.
Fisher insisted those problems are close to being solved.
"There are things they can do, and they're very technical," Fisher said of the line's issues. "Sometimes those last parts where you're trying to get that perfection are the hardest parts because they're very technical and they're small minuscule adjustments.
"Those are the parts we've got to get to. I know they're very fixable, and I know why those things happen. I think that's the thing that's encouraging."

A&M seems to have fixed any early problems it had with its run defense.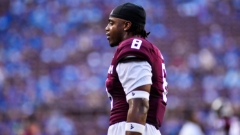 Jamie Maury, TexAgs
The Aggies are now ranked ninth in total defense, have allowed just 120 rushing yards over the last six quarters and have a streak of seven scoreless quarters.
However, the defense faces its greatest challenge against the Razorbacks. They're averaging 282 rushing yards per game to rank eighth in the nation.
Containing Arkansas starts with trying to contain 6-foot-3, 245-pound quarterback KJ Jefferson.
"They can make a lot of plays if they out-physical us," said Texas A&M senior safety Leon O'Neal. "We can't let that happen. With a big quarterback — 6-3, 245 — a guy like that has got a lot of Cam Newton about him. He's a big-time leader on that team. We have to be able to stop him in everything we do.
"He's 6-3, 245. You see that running at you. You say, 'OK, I've got to get ready for that.' That's alarming, right. They do a lot of things that make you do eye violations and then attack you on the weak side you didn't expect them to get to.
"I'm ready for the competition. I'm fired up."
Preparing to ride a roller coaster can have that effect.
Never miss the latest news from TexAgs!
Join our free email list
PRESENTED BY