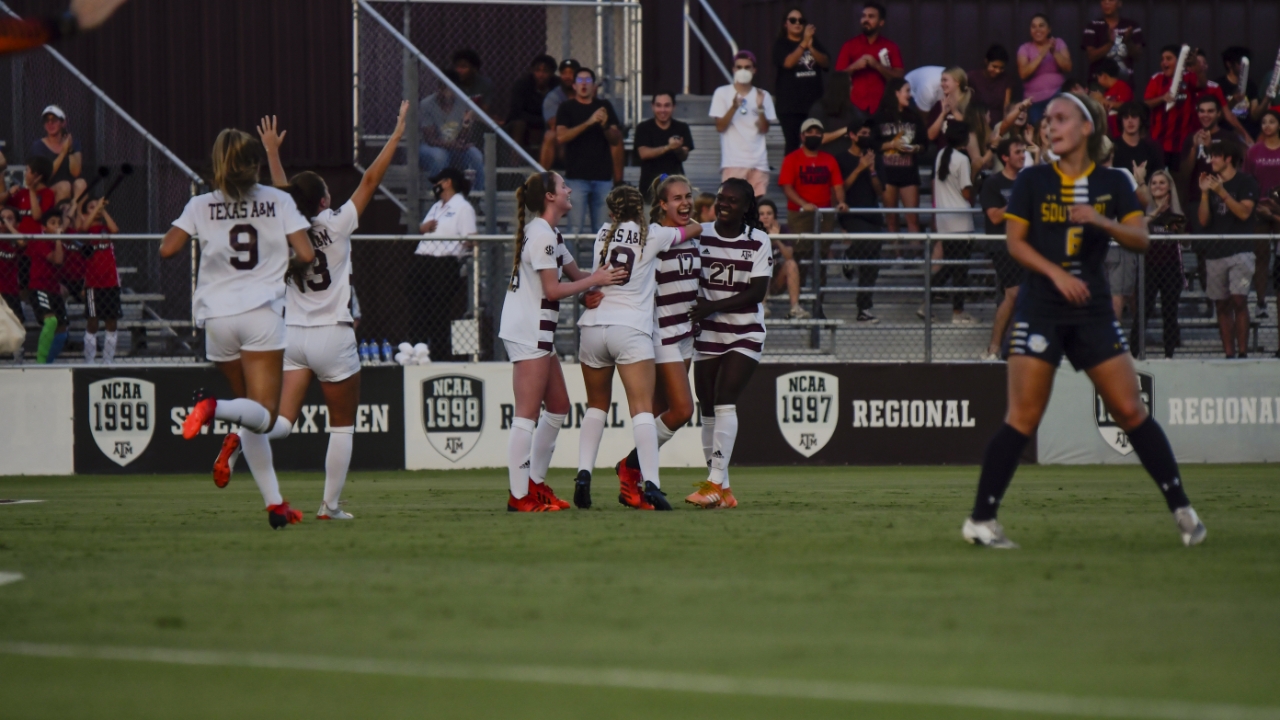 G Guerrieri
Lauren Geczik
Daria Britton
Texas A&M Soccer
Texas A&M soccer completes perfect homestand with 5-0 win over Southern
---
The Aggies defeated Southern University, 5-0, on Wednesday night to finish a perfect four-match homestand, boasting a now 14-match winning streak at Ellis Field.
With nine different Aggies tallying goals through the first five games of the season, A&M's dynamic team has made it difficult for opponents to scout as the squad possesses an impressive number of offensive threats.
Both teams started the match aggressively with back-and-forth advances towards the box.
A&M began controlling possession but failed to convert on two early shot attempts by forward Taylor Pounds and defender Lauren Geczik, respectively, as both were saved by Southern.
"We know we're good. It's just looking back and seeing what we've done and building upon that throughout this season."
Geczik was finally able to convert in the 15th minute after netting a free-kick from 20 yards out to give the Aggies an early lead. It was Geczik's first goal of the season.
"We know we're good," said Geczik. "It's just looking back and seeing what we've done and building upon that throughout this season."
The Aggies dominated the shot count 10-1 just 20 minutes into the first period.
But even though the Maroon & White held a consistent attack, Southern's goalie Chioma Eriken managed to hold down the Jaguars' defense with eight first-half saves, icing any chance for A&M to run away with the match.
Five minutes into the second stanza, freshman Maile Hayes scored her third goal of the season after finishing off an exciting pass-and-go series off Mia Pante and Makhiya McDonald in the 50th minute.
Texas A&M wasted no time getting back up on the board as Daria Britton pounded a header home off an assist from Geczik four minutes later to give the Aggies a 3-0 advantage.
Southern continued to stay silent offensively as they struggled to find a spark.
Freshman standout Natalie Abel weaved past multiple Southern defenders to earn her second goal of the season off an assist from Kate Colvin with just 12 minutes remaining in the match.
Despite A&M's already cushioned lead, sophomore Natalie Yoo tacked on another goal for the Aggies in the 79th minute off a pass from forward Ali Russell to extend the lead to 5-0.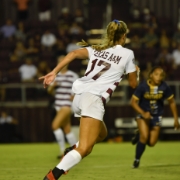 Victoria Ramirez, TexAgs
The Aggies' dominated on both ends and won with four second-half goals, a new season-high 38 shots and earned their second clean sheet of the campaign.
After the game, Britton elaborated on how closing out this homestand offered new insight into the rest of the season.
"Just how awesome our team is; how close we are. We're truly a family, and it's really awesome to celebrate everyone's goals and have everyone's backs," said Britton. "And to just keep on fighting, keep on winning here at Ellis. It's a great feeling, and we just want to continue it for the rest of the season."
The Maroon & White head to Stillwater, Okla., where they will take on Oklahoma State on Sunday afternoon to begin a two-game road trip.
"I think that every game we've played, we've steadily improved from one match to the next," said Texas A&M head coach G Guerrieri. "Oklahoma State is going to be on the quality side, so we just got to continue with our progress and being able to play within ourselves but also understanding what the opponent is going to do."
Never miss the latest news from TexAgs!
Join our free email list