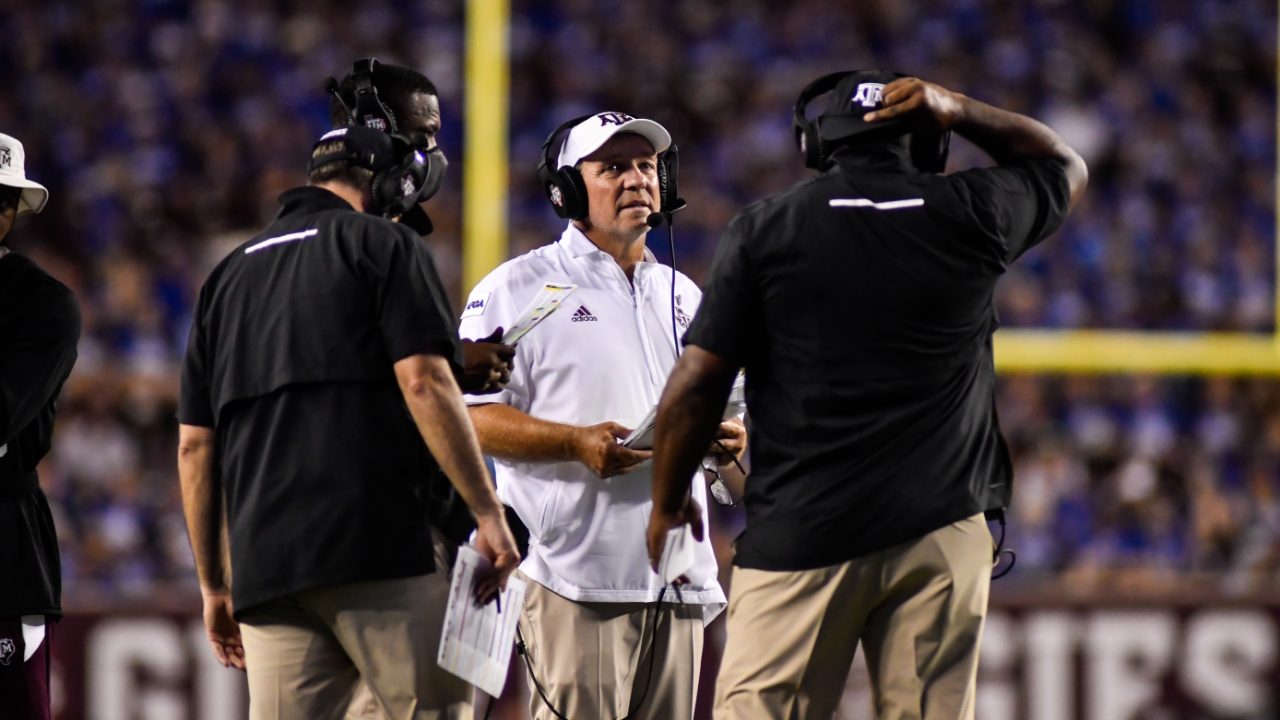 Jimbo Fisher
Demani Richardson
Devon Achane
Jalen Wydermyer
Texas A&M Football
The Mr. Clean approach: Fisher aims to correct A&M's Week One issues
---
Though wearing no earring and having on a black shirt rather than solid white attire, Texas A&M football coach Jimbo Fisher is taking on the role of Mr. Clean.
Well, that's the message that could've been interpreted from his weekly press conference on Monday.
A few details from the Aggies opening 41-10 victory over Kent State must be "cleaned up."
That will be Fisher's top job as the Aggies prepare for a clash with Colorado on Saturday.
"Typical first game," Fisher said. "A lot of really good things, and some things that need to get cleaned up in some areas."
"Typical first game. A lot of really good things, and some things that need to get cleaned up in some areas."
Those primary areas are eliminating turnovers and bolstering the run defense.
The Aggies committed five turnovers against Kent State. Three of those were interceptions by redshirt freshman Haynes King, who made his first start.
"When you're the quarterback, and you have turnovers, it's ultimately your fault," Fisher said. "What we have to do is continue to play well around our quarterback and not put him in situations because other guys don't do what they need to do at certain times.
"The moment was not too big at all. (He) was totally in the game. If something went wrong, he could walk off and tell you what went wrong, why it went wrong."
King also passed for 292 yards and two touchdowns to Ainias Smith. He also ran five fives for 22 yards. That included a sideline-to-sideline 14-yard scramble that evoked imagines of Johnny Manziel.
Despite the interceptions, his teammates are bullish on him.
"I was just very impressed to see him come out there and take control of the game, especially in the second half," said junior tight end Jalen Wydermyer. "Just being able to improvise and move around the pocket and stuff like that. I was very impressed."
Conversely, the run defense was almost depressing.
Last season, the Aggies allowed an average of just 92 rushing yards per game to rank second in the nation. As of Monday, they are ranked 106th after allowing 226 rushing yards to Kent State. That was more than any opponent managed last season.
Fisher implied that could be an easy clean-up. He said much of that yardage was surrendered because some players were overanxious to make tackles.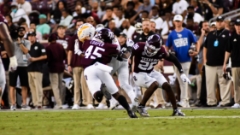 Jamie Maury, TexAgs
Redshirt freshman linebacker Edgerrin Cooper made his first start. Super senior Aaron Hansford, a second-year starter, is looked to replace some of the production of the departed Buddy Johnson.
Hansford notched eight tackles. Cooper had five.
"They (linebackers) we're fitting, but we have to be more physical when we fit," Fisher said. "We've got to play with better leverage, and we've got to pull the pin a little quicker. And we can't, as I say, stick our nose in the honey.
"We've got to fill the A gap, B gap or C gap. We've got to fill it, plug it, play it with the right shoulder free, and let the ball bounce to where it's got to be.
"Sometimes on defense, you think, 'I want to make a tackle.' That's not always true. I've got to do my job, and then if the tackle comes my way, then I chase the football."
Fisher said the defense is choreographed to take away running lanes. Over-aggressive play can be counterproductive, he said.
"If you're an A-gap fitter, for instance, and you jump over the center to make the tackle. All of a sudden, that ball cuts back. You've got to do it from within the framework of how it's constructed on defense," he said. "That's from wanting to make plays. That's not from not wanting to make plays. It comes from a good place, but it can be just as dangerous as not wanting to make plays."
Junior safety Demani Richardson said there were some communications issues, too.
"I feel like some part of it was communication," Richardson said. "We have younger linebackers. The noise (from the Kyle Field crowd) messed with them a little bit. I just feel like (with better) communication, everybody will be on the same page, and we'll be good."
They will need to be cleaner against Colorado.
The Buffaloes rushed for 281 yards in their season-opening 35-7 victory over Northern Colorado. Sophomore running back Jarek Broussard rushed for 94 yards to follow up a strong 2020 campaign in which he gained 895 yards in six games.
Never miss the latest news from TexAgs!
Join our free email list
PRESENTED BY