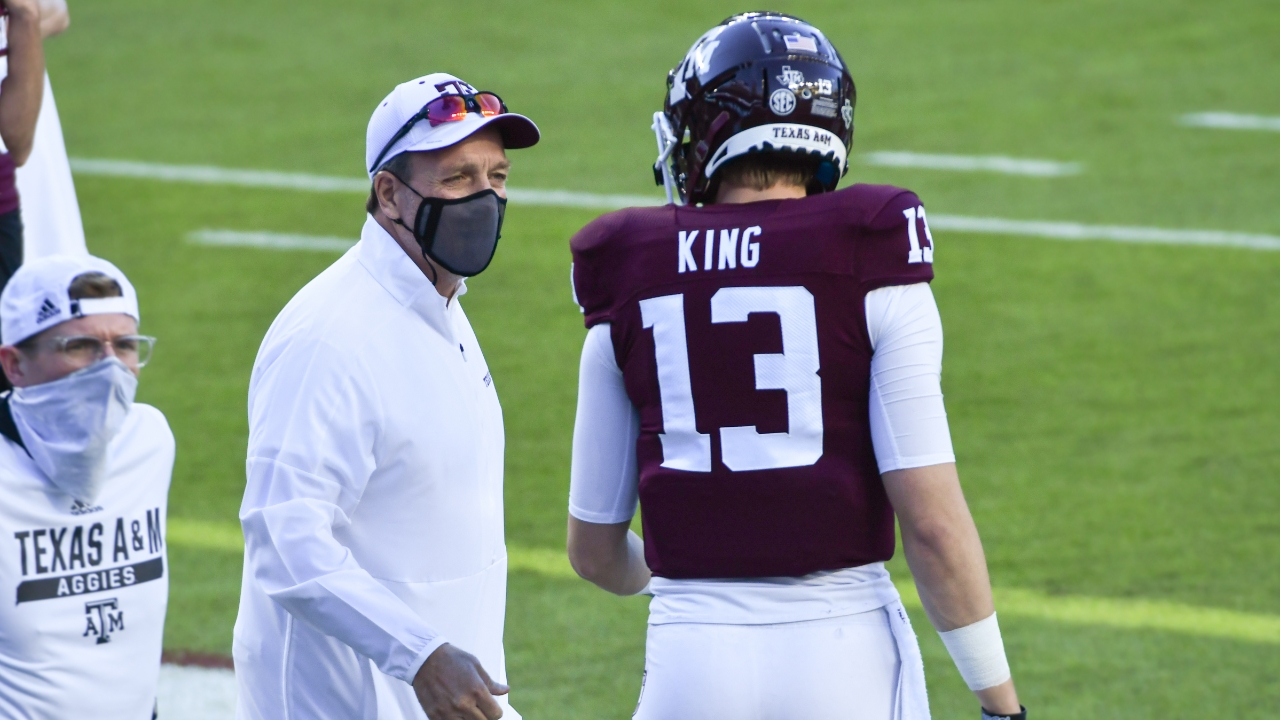 Photo by Lia Musgrave, TexAgs
Texas A&M Football
Like in chess, protecting the King key for No. 6 Aggies in season opener
---
2020 record: Texas A&M 9-1, Kent State 3-1
Kickoff: 7 p.m. CT
Television: ESPNU
Line: Texas A&M -29.5
Forecast: 76 degrees, south winds 5-10 MPH, 10% chance of precipitation.
---
Strategy in a football game is often compared to a chess match.
That's certainly the case for Texas A&M coach Bobby Fis … er… Jimbo Fisher, who must protect his King in the season-opener against Kent State at 7 p.m. Saturday at Kyle Field.
Redshirt freshman Haynes King, who replaces three-year starter Kellen Mond, makes his first-team debut behind a rebuilt offensive line with four new starters.
"You want to dot your I's and cross your T's as a coach to make sure you've done everything possible to put him in the best position to be successful."
That's a reason for concern even against a Kent State, a Mid-America Conference opponent which last year had one of the weakest run defenses in the country.
"I had just as many worries about Kellen," Fisher said. "It doesn't matter if you've had them one year, two years, three years or four years.
"Is this guy going to put too much pressure (on himself)? Is he going to try too hard? I've done it long enough that no matter what the first games are, there's always those jitters and those concerns. You want to dot your I's and cross your T's as a coach to make sure you've done everything possible to put him in the best position to be successful."
King's teammates anticipate he'll have a successful showing.
"He's going to have a very big year for us," junior running back Isaiah Spiller said. "He's athletic. Very fast … probably one of the fastest players on the team. He can throw it. He can do anything. He can scramble. I think he's going to make a very big impact on our team this year."
Senior safety Leon O'Neal knows firsthand from practice that King's 4.45 speed can pose problems for a defense.
"He is super fast. He actually made a play not too long ago where he kind of made me take that wrong angle," O'Neal said. "You don't expect that from him because he obviously can pass the ball, but when he gets out of the pocket, he's a problem. Oh my goodness, he's a problem."
Kent State has a quarterback who poses a problem, too.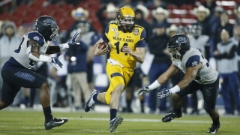 Tim Heitman-USA TODAY Sports
Senior Dustin Crum passed for 1,181 yards and 12 touchdowns while completing 73.5 percent of his attempts in four games in 2020. He also rushed for 240 yards and four touchdowns.
However, he wasn't tested by a defense as strong as that of A&M, which returns nine starters from a unit that ranked ninth in the nation a year ago.
That defense aims to keep Crum in check.
"We need to forget about last year and just go out there and do what we need to do the whole season and prove we're the No. 1 defense," junior safety Demani Richardson said.
The Aggies offensive line is out to prove itself, too. Last year, Spiller rushed for 1,036 yards. He could post gaudy statistics against the Kent State defense if the rebuilt line is sound.
"I just can't wait for everybody to see all the work we've put in," Spiller said. "I can't wait for everybody to see the O-line. They've really been working hard. I can't describe how the game is going to go, but we're going to be ready."
Never miss the latest news from TexAgs!
Join our free email list