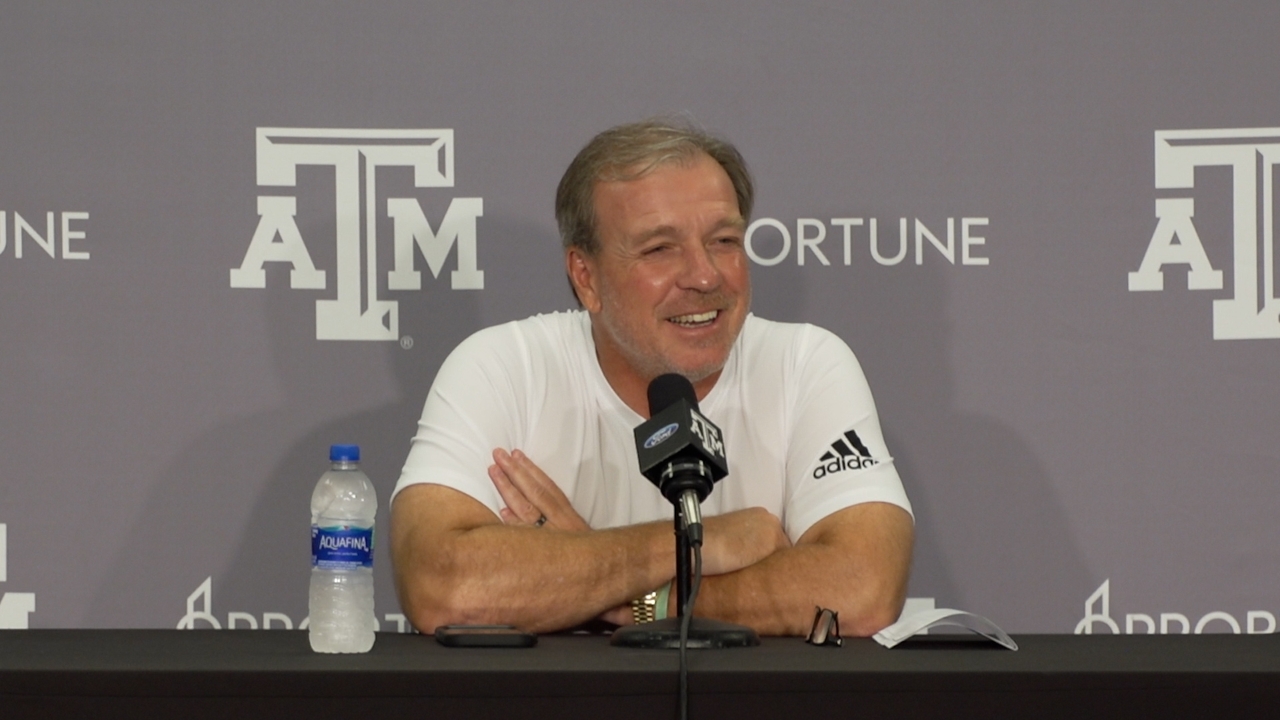 Jimbo Fisher
Devon Achane
Jaylon Jones
Nik Constantinou
Texas A&M Football
Press Conference: Texas A&M football wraps up second week of Fall Camp
---
Texas A&M will hold their 13th fall practice this afternoon, but before the Ags hit the field on Friday evening, a handful spoke to the media. Head coach Jimbo Fisher along with Devon Achane, Jaylon Jones and Nik Constantinou took the stand on Friday afternoon.
---
The following are live, paraphrased notes from Jimbo Fisher's Friday afternoon media availability.
We're plugging along in camp. A lot of good things. A lot of learning. Veterans are teaching young guys. Practice has been physical. Guys are asking how much they love this thing. They're banged, bruised and tired, but they're all pushing through. That's what camp is about. We're getting better at everything. The key in today's game is the young guys being key contributors, whether they're starters or not. You have to count on them. These practices are different than what they did in high school, and it's a grind. We pound into situational football and how you have to think. It's been fun, and I still love it. You push the young guys, and it's fun to watch them grow. I'm very proud. The older guys are doing a good job of keeping them under their wing. Our last scrimmage is on Sunday. The team is progressing nicely.

Bryce Foster is great. We didn't miss on any of those young linemen, and I like them all. Bryce can contribute early. Most guys that are freshmen aren't built like that. He's very intelligent and picks things up very well.

Haynes King can run. If Devon Achane wants to run, it's not a race. Achane can fly. Football is not a 100m dash. It's a 15, 20, 35, 40-yard dash. Some of our guys can run. Haynes can run.

Achane's unbelievable productivity is what caught my eye in high school. You saw the long runs. He looks so smooth. I knew he could run, and then I saw his world-class track times. I've coached a few of some of the top sprinters in the world. Achane was so smooth that you didn't realize he was that fast. What amazed me is that sometimes track guys are sometimes out of control. He was so natural and smooth. Also, the toughness part. He'd block and hit you and break tackles. He also had great ball skills. As good as I thought he was, he was better in person. He has a chance to be a really good football player.

We're going back and forth with the quarterbacks. They both get their time with the 1s. I've been pleased. Occasionally they'll throw a pick, but I want them to take their chances and find out what they can and cannot do. They feel very comfortable out there. We'll make a decision here relatively soon.

Hez Jones banged his shoulder. He fell on one. We think it'll be a little bit of time, but it shouldn't be long.

With identity, you have to get to games and see how guys play when the lights are on. In that Florida game, we had a plan, but we changed it. We wanted to run the ball and settle it down. We had success with it.

We're going to have balance. We're going to throw it, and we're going to run it. You hope the things in camp translate to when people are in the stands. Identity is an ever-changing thing, and you have to be willing to adjust. You have to adjust because of the volume and personnel we have. If guys don't pan out like you think, you cannot get stuck in something you can't get out of. We're still evolving and analyzing our players.

Muhsin Muhammad III has had some great days lately. He can catch the ball, put his foot in the ground, and he's strong. He has a chance to be a good player for us. He had some nicks and snacks last year. Hopefully, he can stay healthy this year and help us. He can help us in the slot and outside.

We'll get through the second scrimmage and evaluate where the quarterbacks are. I also grade every rep in practice, not just in scrimmages. It's getting evaluated daily, so they're not a certain timeline. Hopefully, we'll know in a week or so.

Aaron Hansford is becoming the leader to be Buddy Johnson's replacement, but we have a really good group of linebackers. We put in different combinations at times, and they've all played very well. You'll see different combinations, and we'll feel comfortable putting different guys in the game.

At center, Luke Matthews is doing things. We're moving him around. Foster has been outstanding, and Matthew Wykoff has been group. They've done a good job of making calls. They've all done a good job. Smart Chibuzo has worked at center. Remington Strickland has worked in that group as well. You learn from your past, and one time, I went through six centers in a camp. The starter got his first rep on the Wednesday before the first game. That team played in the SEC championship. All of those guys have a chance to play for us.

McKinnley Jackson is an outstanding guy who practices very hard. It was the status with the school, and we can't talk about it. That stuff is checked off by the school, not by us.

We've moved guys around at fullback. If you're a running back, you've got to split time doing those duties too. Darvon Hubbard, Isaiah Spiller, even Ainias Smith, who is a terrific blocker. We have a lot of options in our two-back sets.

I was very happy with how we communicated during our first scrimmage. There were times where we had hardly any miscommunication, so I was very pleased with that.
Never miss the latest news from TexAgs!
Join our free email list