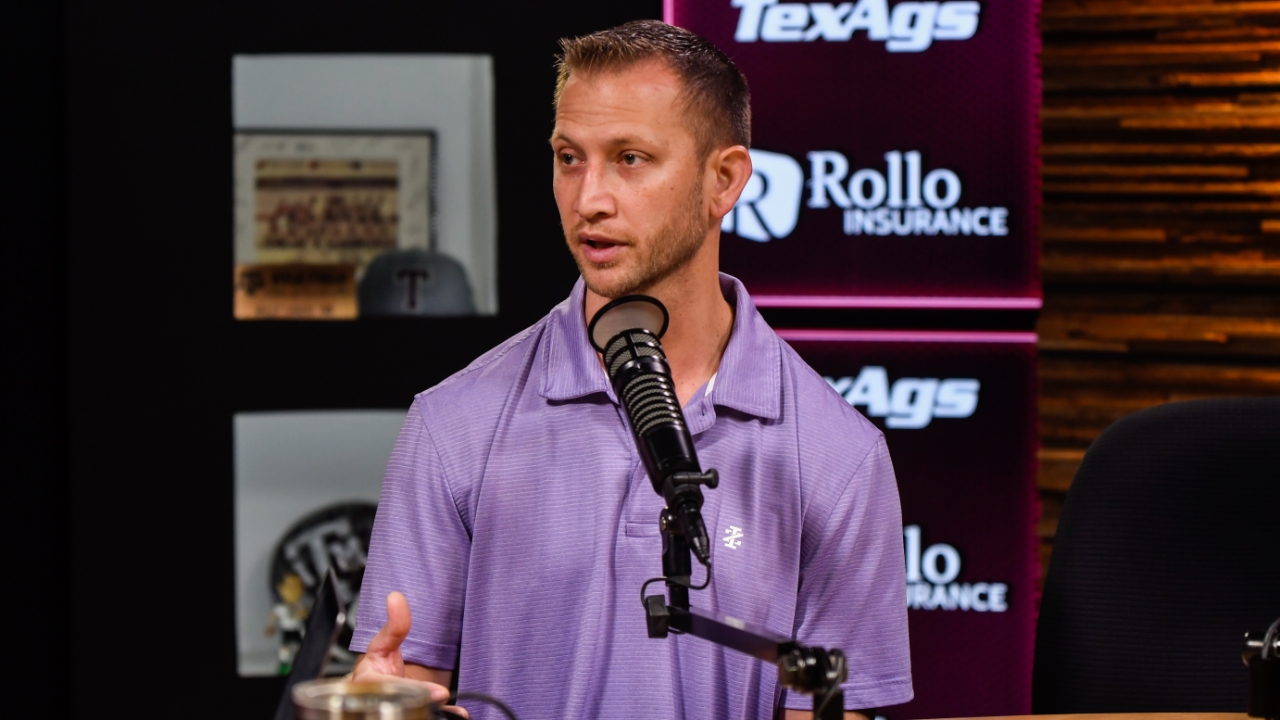 Photo by Jamie Maury, TexAgs
Texas A&M Basketball
Lee: Tyrece Radford's addition makes entire Texas A&M roster better
---
Key notes from Logan Lee interview
It has been a long while, but A&M has finally finished out the roster by getting a transfer from Virginia Tech in Tyrece Radford. I was excited about this when we heard it was a possibility. This is a player we thought could be one of the better ones on the roster. This guy is going to make the team better on the court and off. Everything I've heard about him from friends in the business and online, you can tell he's so intense in all facets of life. He's a Buzz kind of guy. He is the example. A Buzz guy with game. You put him on the court, and he will guard anybody and try to make things happen. He'll do it in the right ways.

He didn't dominate the ball last year, but he was very efficient when he got his touches. When he doesn't get his touches, he's trying to find the ball off the rim and get things done in the paint. He loves to attack the paint and be physical. He scored double digits in all eight games in the postseason last year. He's so aggressive and isn't going to be stopped. He also takes shots at the right time.

The 22 percent 3-point percentage doesn't really show who he is. When you put him on this roster, he isn't going to take a ton of 3-point shots. He's only going to have to take the open looks. Everybody is better when they have time to set their feet. I think his percentage will go up because of the quality shots he's going to be getting.

I think that the relationship with Buzz is what ultimately won him over. Buzz recruited him to Virginia Tech and signed him there, but he didn't get to play for Buzz. Virginia Tech very much wanted him to come back. He's from Louisiana, and Will Wade is putting together a pricey team at LSU, so they're always going to be a threat. The relationship with Buzz is what ultimately got him to Texas A&M.

The overall impact is going to not just be on the court in games. He's going to push everybody in practice. I have a feeling that people are going to learn very quickly that if they're not going full force in practice against Radford, they're going to get hurt. He's going to bring the intensity level up, and that's going to make everybody better.

He might not know Buzz's system, but he knows what type of coach Buzz is. He is going to be the guy that A&M can give the ball to and say, "Go get one." He'll find a basket.

Think about Radford on defense with Quenton Jackson on the perimeter. You'll have Marcus Williams and Ethan Henderson out there as well. There is a number of different options that Buzz can go with, and he's not afraid to switch up the lineup depending on the opponent. We'll see a lot of different lineups, all with Radford in them.

Buzz has a lot of the players he wants. He did a pretty good job with the transfer portal. Coming off a 2-8 season in the conference and missing all of February is tough. Year One was a success. Year Two, I'm not sure it was a wash, but it was tough. It's hard to say anything was normal during COVID, and I don't think A&M reacted well. They didn't play for a month and struggled to have enough bodies to practice for even longer than that. If they can show signs of improvement this year with a cohesive offense and an understanding of the defense with an all-out effort to the end of the game with the style that Buzz wants to play, that will be a win because they'll win games. They won't overpower opponents, but if you're not prepared, they will sneak up on you.

Jordan Hall's situation was a tricky one. He was enrolled at Texas A&M, but the transfer rules are stated a little differently. If you don't attend a class, you're not considered to have both feet in the boat or at Texas A&M. That's what happened here.

They've got to be better this year. They lost Emanuel Miller, and that's really it. Savion Flagg had his bright spots, but he was already a senior, and you were already expecting him to leave anyway. Cashius McNeilly is a guy everyone heard was really good, but it was never proven to us in games. Is it a huge loss? On paper, maybe. You don't really know. Every piece of the puzzle that Buzz has added this year is an improvement. It's still too early to tell, but I think they're an NIT team and a bubble team, maybe if the ball bounces the right way. That could change. If they have a really good year, they could find their way into the NCAA Tournament.
Never miss the latest news from TexAgs!
Join our free email list