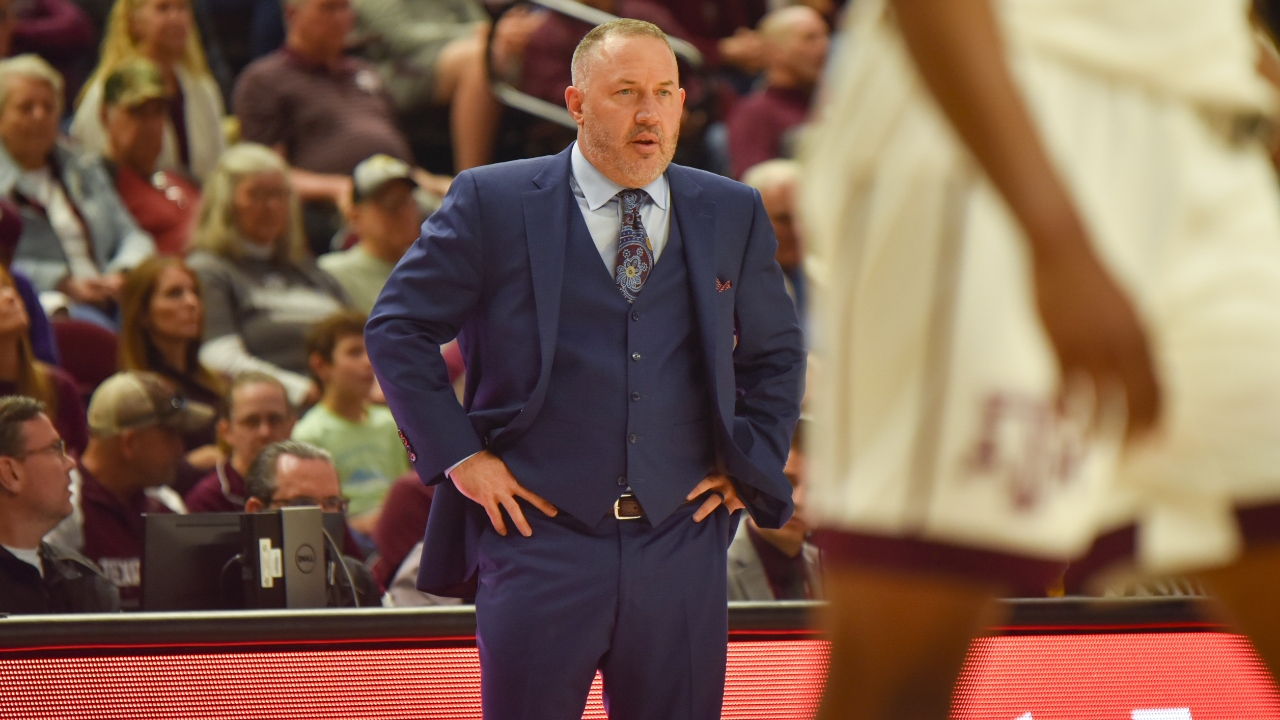 Photo by Jamie Maury, TexAgs
Texas A&M Basketball
NCAA suspends Texas A&M coach Buzz Williams two games for violations
---
The NCAA announced on Friday a two-game suspension for Texas A&M basketball coach Buzz Williams along with several other penalties stemming from several NCAA violations related to contact with prospects and workout rules.
The violations listed including impermissible contact with a prospect by the head coach and an assistant coach, issues related to impermissible workouts conducted or coordinated by the assistant coach and excessive noncoaching staff participating in on-court instruction.
A statement from Texas A&M Athletics read, in part:
On August 20, 2021, the NCAA Division I Committee on Infractions announced that it approved a negotiated resolution jointly submitted by Texas A&M University and the NCAA enforcement staff concerning the men's basketball program.
Texas A&M Athletics and the men's basketball program are pleased to have this matter concluded. We support Coach Williams and will continue to move forward in a positive direction.
The NCAA listed the penalties as:
Two years of probation.
A $5,000 fine.
A reduction in men's basketball official visits for the 2021-22 academic year by five.
A suspension of unofficial visits during the first three Southeastern Conference men's basketball games during the 2021-22 academic year.
A reduction in men's basketball recruiting days by 5% (7 days out of 130) during the 2021-22 academic year.
A two-game suspension (during the regular season) for the head coach at Texas A&M or any school that employs him.
A suspension of the assistant coach, self-imposed by the university, June 2020 through the end of the 2020-21 basketball season. During that suspension, the program operated with one fewer assistant coach than allowed under NCAA rules.
The release from the NCAA reads, in part:
This case was processed through the negotiated resolution process. The process was used instead of a formal hearing or summary disposition because the university, the involved coaches and the enforcement staff agreed on the violations and the penalties. The Division I Committee on Infractions reviewed the case to determine whether the resolution was in the best interests of the Association and whether the agreed-upon penalties were reasonable. Negotiated resolutions may not be appealed and do not set case precedent for other infractions cases.
Either assistant Devin Johnson or Lyle Wolf likely will coach the Aggies' first two games.
Last season, the Aggies finished 8-10. They did not play the entire month of February because of COVID-19 issues.
Never miss the latest news from TexAgs!
Join our free email list