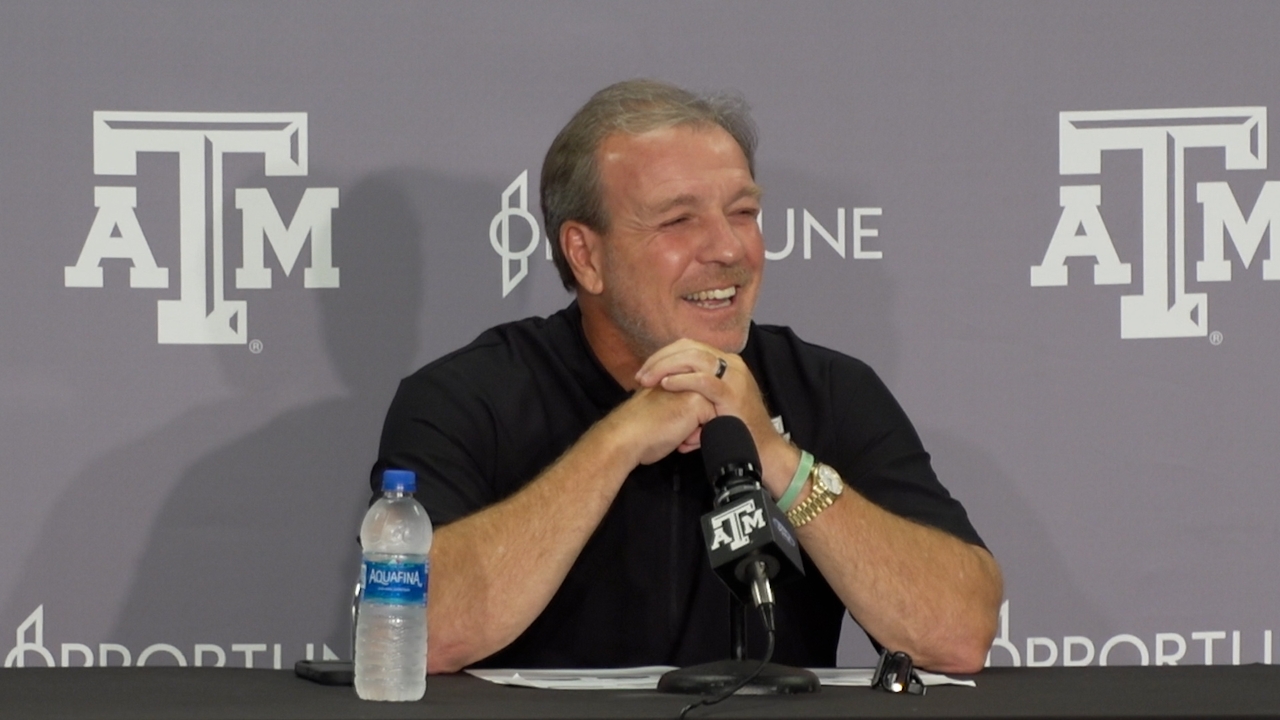 Jimbo Fisher
Myles Jones
Hezekiah Jones
Chase Lane
Texas A&M Football
Press Conference: Fisher, Aggies continue to progress as camp continues
---
Texas A&M is less than three weeks away from opening up the 2021 football season with Kent State on Sept. 4. Before the Aggies hit the practice field on Sunday, Jimbo Fisher, Myles Jones, Hezekiah Jones and Chase Lane addressed the media.
---
The following are live, paraphrased notes from Jimbo Fisher's Sunday afternoon media availability.
It's been exciting to get back in camp, and our guys are continuing to progress. You're starting to find out who loves football because the shine is beginning to wear off. We're continuing to get better. I'm excited about our young guys. We're happy with our freshman. They fit right in, not only athletically but also mentally. They're practicing harder than they've ever practiced before. We're progressing across the board, but it's still early. We're working on third downs, red zones and soon two-minute situations. Our guys are learning and adapting and getting better. We're about where I thought we would be. The guys are working very hard.

Football is a huge priority, but Chase Lane understands there is more to life. He is emerging as a leader on and off the field. He does a great job of setting an example for guys. It has been by far his best camp. You can see him growing.

NIL has not been a distraction. Some guys are making a lot of money, but when it's time for them to do their things, they're doing it.

We're extremely high with the vaccination rate, in the mid-80s or so. Guys are doing a good job. We're in a good situation.

There are training legs and football legs. I worry more about the mind than the legs. It's more important to get the minds right. It's different, but you have to keep that sense of physicality. We can tell from our GPS how their performances and workloads are. They keep going up. It's amazing. Sometimes we can get so caught up in the preservation that you lose your tolerance. I understand it's a tough line to walk, but our GPS is more advanced than anybody in football.

With riding the quarterbacks, it depends on the situation, who they are, and where they're at in their development. All of the great ones are mentally tough. You have to have a feel, but I've been riding our guys pretty good. I want to see who can do it. They're progressing very nicely.

We're right on progression with what we're putting in. Certain groups can be ahead or behind, but we're very similar to where we were last year.

With Myles and Jaylon Jones, experience is the main thing and you can't put a price tag on it. They're big, so their size against big receivers helps. They have the size and physicality to play. They're both gifted. They're athletic and talented, but they're better people than they are players, and they're very high-quality players.

Leon O'Neal has a chip on his shoulder, but he loves ball. I tease him, but at the end of the day, one thing is sure because of his actions. He loves ball, and it's very important to him. Coach Bowden always said faith, family and football. Leon is just like that.

Luke Matthews was back in practice. Demond is healing well and is around the guys. Cupp should be a couple more days, but he'll be back. Chapman has been practicing. He's in a non-contact jersey, but he's playing and practicing. Looking really good. You have some guys banged and buried, but that's part of it.

Devon Achane is short, and that helps him catch passes well. His hands are incredible. He has natural ball skills. He is a football player who plays track. I've been around guys who do both, and his game translates into both. He's a natural athlete. He is a natural runner who has great ball skills. When you teach him something, it doesn't take him long. His body can do so much. He is shorter than I am.

The younger guys realize people care. It was their first experience on Kyle Field. I think they were excited, and anytime you walk in that stadium, it gets your blood pumping.

We'll return kicks, but it'll depend on who the team is and what the situation is. We'll pick our spots. We'll definitely take shots at it, no doubt. I would suspect Achane will be one of the returners.

It was good to see the Bowden family this weekend. There were a lot of tremendous memories. That family is my roots. People used to accuse me of being a Bowden because I was around them all of the time. When you're impressionable and want to do something, to be around them was so special. Going to the memorial reminded me of all those times. I was happy coaching then as I am now. It reminds you of what you got in this business. He had everything in perspective, and that's why he touched so many. It was remarkable, and it wasn't a ton of ball stories. It was the effect he had on people. I don't think anybody ever did more for a school than coach Bowden did for Florida State. You laughed, you cried. It was tremendous, and he was a tremendous man.

I guess NIL affects the 12th Man, but that 12th Man will be the 12th Man for all of the same reason. We take that decision very seriously, and there are a number of great candidates. We'll see who does what they have to in order to earn that responsibility because when you become that guy, you better understand what comes with it.
Never miss the latest news from TexAgs!
Join our free email list