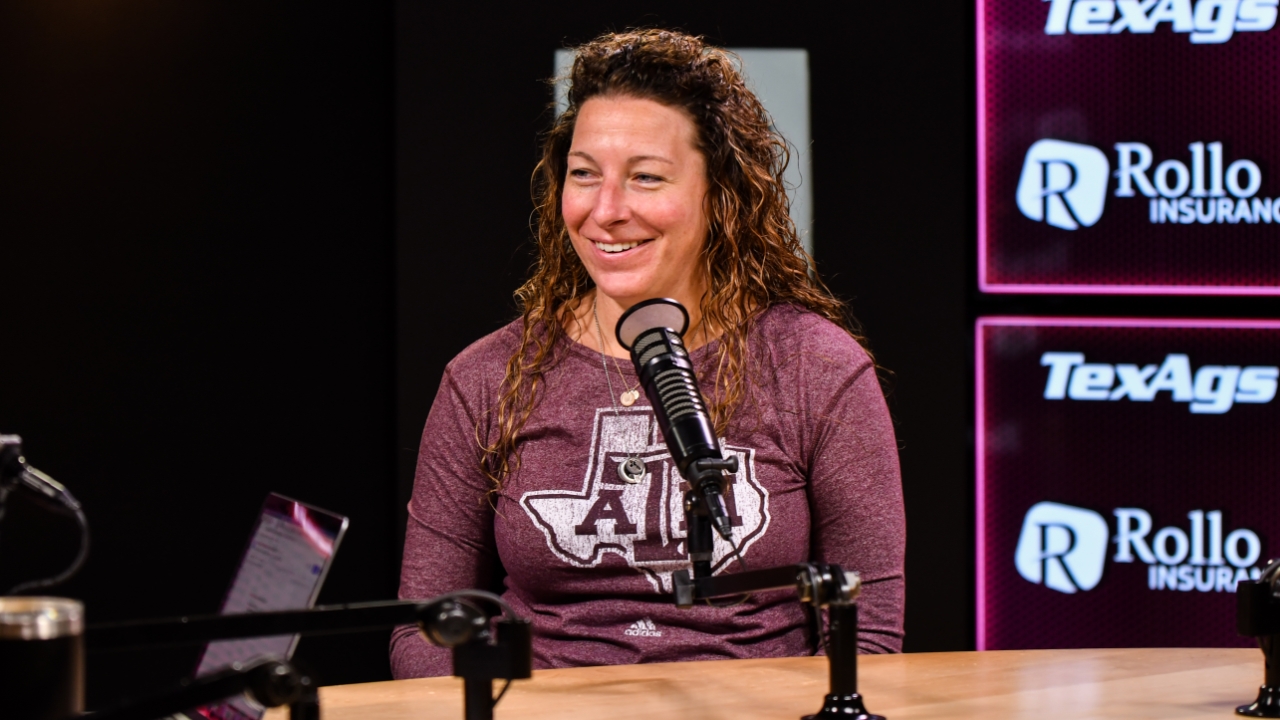 Photo by Jamie Maury, TexAgs
Texas A&M Volleyball
Texas A&M volleyball coach Bird Kuhn excited to start 2021 campaign
---
Key notes from Bird Kuhn interview
The staff at TexAgs greeted me with a warm welcome, and it was good to see they still like me even after not coming in for over a year because everything was all on the phone and Zoom last year.

We were on a dead period until June, and since then, we've been on the road for recruiting. We had camp in July and had a team dinner. The vibe is much better this season because they've actually been around each other. It's cool to feel their vibe.

The SEC was the only league that did a hybrid season, playing in the fall and the spring. It was challenging, and we grew. I love our athletes and appreciate everything they put into it. To be in season that long, it's a mental focus and strain. It was impressive, and I'm proud of our conference and players because they did it. There were a lot of challenges, but they grew from them.

We're excited for this year. The core is back. Camille Conner is back, and she's going to be a stud. She sets the tone.

Being around each other is huge. We have all of the pieces and a lot of competition. To see them at camp is fun because it's natural for them to be competing. The connection they have is impressive because it has come together so fast.

We play Baylor in an exhibition on August 20, and then we go to Hawaii on August 24. That trip was on our schedule for 2020, so we tried to replicate that schedule in 2021. A trip like that is huge for recruiting, but to start a season with a trip helps you bond. You can do team activities and events. It's going to be a great way to start our season. On the road, you're together. It's a special time frame, and it's going to be a ten or 11-day trip.

We're already having conversations about adjusting sleep patterns and practices for the Hawaii trip, but we're just going to stick with the time zone we're in. Every person will have a different response, so we'll adjust and adapt. We'll have a little gap following that trip to gather ourselves, but classes start while we're in Hawaii. So that's another thing we have to take into account.

Camille is hands down our leader, but Allison Fields is coming back from an ACL injury. She is such an impactful person and player. She is killing it, and her presence can be felt. There are several X-factor players that are capable of blowing up this year. The biggest thing for me is the vibe I feel when I'm around them. To see them in their element right now is so fun.

I think we've all grown after last season. Better or worse, you had to make decisions and attempt to manage them. Any time you go through adversity, you grow. We still came together even though it wasn't in person.

I was at Kansas for seven years before I came here. There are bigger reasons why I'm glad to be at Texas A&M, but one of them is to play Texas. We've always had Texas on our non-conference schedule, so those schools joining the SEC is exciting. I welcome it. Our players understand the rivalry. With Oklahoma, we play them a lot in the preseason, but the in-state rivalry with Texas will be fun.

Sunday, we report, and we'll do our meetings and dinner. On Monday, we'll go into two-a-days. We've already been planning our training, and we'll figure out how we want to go forward. We do three days on and one day off, and we'll continue that cycle until we feel we're at the point where something needs to change. I'm excited to get back in the gym with them.
Never miss the latest news from TexAgs!
Join our free email list