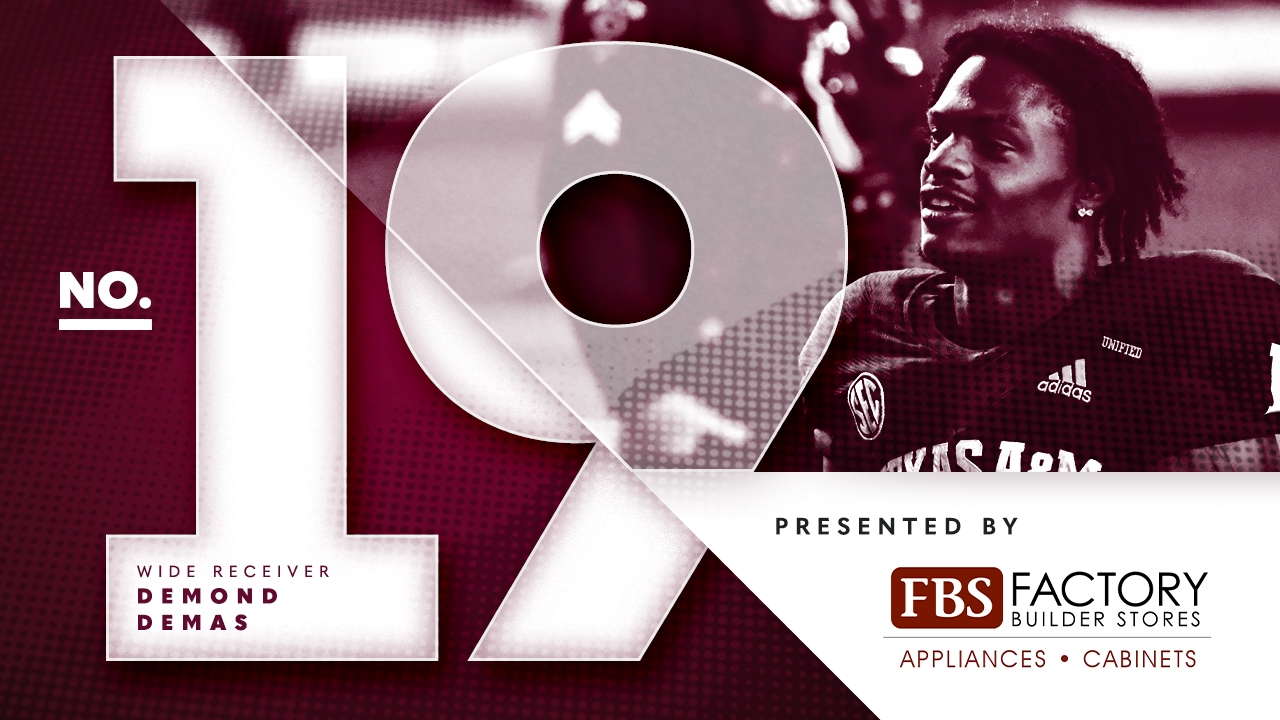 Texas A&M Football
21 Players in 21 Days: #19 Demond Demas
---
Position: Wide receiver
Classification: Sophomore
Hometown: Tomball, TX
Listed Height: 6-3
Listed Weight: 180
Key notes from Olin's analysis on Demas
This is obviously based on potential because Demas didn't catch a pass last year. He struggled to get off of press coverage but got better as the year went on. Here is a guy that was getting better, getting some playing time and beating his man, but he just wasn't getting the ball thrown his way.

It's my understanding that he has gone from 180 pounds to about 215, so he's ready to get off press coverage now.

Oftentimes, you see five-star guys like Myles Garrett or Christian Kirk come in and make significant impacts, so then you wonder why this five-star can't do it immediately. It's minimalizing the greatness of Garrett or Kirk. Sometimes it just takes time.

I think of Demas the way we thought about Caleb Chapman. Early on, we had heard he was going to be a great player, and then he didn't play. You saw what Chapman could do last year, and before he got hurt, it looked like he was going to have a special year. I think Demas can burst on the scene, and I think he will have a significant impact on this team.

I've seen the highlights from high school, which doesn't always say a lot because of the caliber of competition. However, I've seen him jumping what looks like four feet in the air. I saw him in that Hawaii all-star game after he didn't play his senior year. Demas has all of the ability in the world, but it's just a matter of putting it together.

He's going from playing in inner-city Houston to sitting out a year to the SEC. It's understandable why he struggled as a freshman. I expect that he will get all of that raw ability harnessed. This year, I think he makes an impact. It's the future — 2022, 2023 — where he becomes an all-conference player.

Those that are questioning A&M's receivers aren't looking close enough. I don't think anybody would look at Ainias Smith and say they don't have a receiver there. Chase Lane has shown he can be special in his first year as a starter. Then you saw Caleb Chapman before he got hurt. Demas is probably the most talented guy. Then you can mix in Hez Jones and Muhsin Muhammad, who I'm really excited about. Devin Price is also here, and I think he can establish himself as a great receiver before leaving Texas A&M.
Follow the entire 21 players in 21 days series here.
Never miss the latest news from TexAgs!
Join our free email list
PRESENTED BY