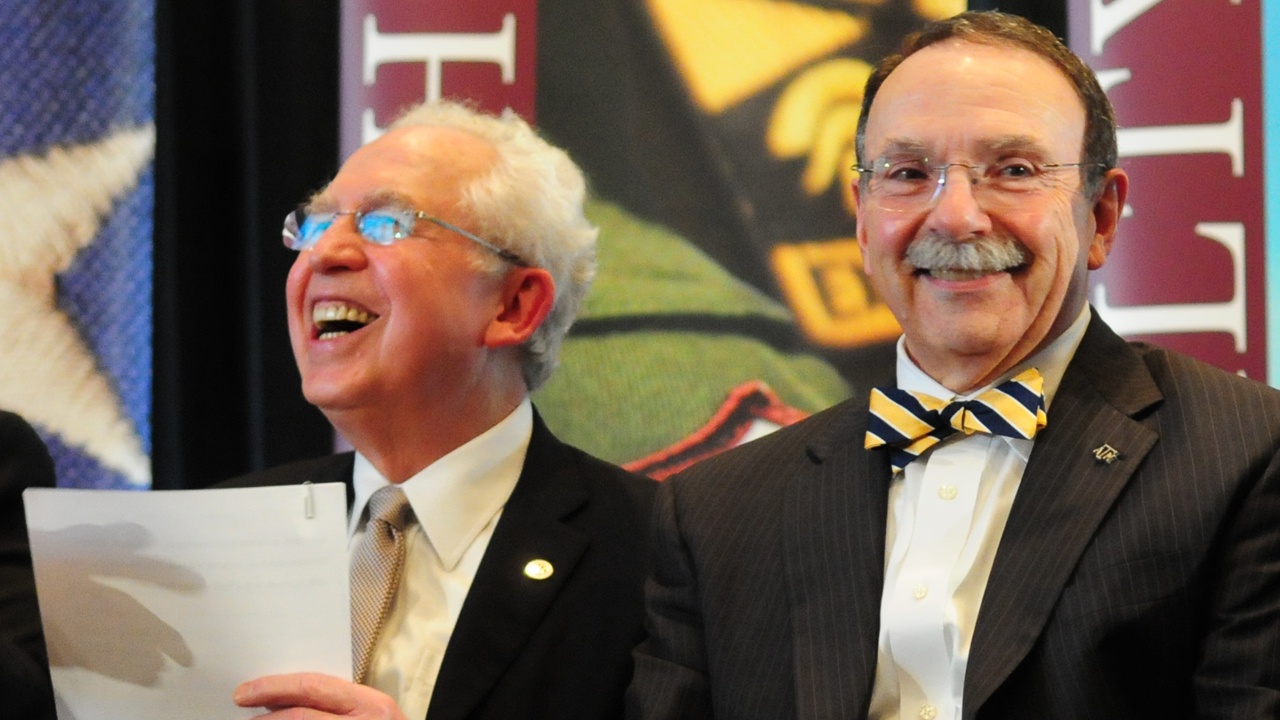 Photo by Andrew Kilzer, TexAgs
Texas A&M Football
Dr. R. Bowen Loftin details the SEC's gentlemen's agreement & more
---
Key notes from Dr. R. Bowen Loftin interview
I took a vacation at the wrong moment.

There were two parts to it. One: Among the presidents and the chancellors from the SEC member schools, it was commonly discussed that if Florida State wanted to join, Florida has veto power. If Clemson wants to join, the same thing for South Carolina. If Georgia Tech wants to join, the same thing for Georgia. That's what I meant by "gentlemen's agreement."

We flew to New Orleans in 2011 when this was coming to a head as Texas A&M joining the SEC progressed. I had regents with me. We met with then-commissioner Mike Slive, the architect of the SEC Network came with us along with other SEC officials. Mike was asked very specifically whether Texas would ever be considered to be a member of the SEC, and the answer was that it would be up to us. Texas A&M would have the ability to say yes or no. That was then, this is now. Mike Slive is no longer the commissioner, and he has also passed away. Almost all of the leadership from the schools are gone from their roles.

It's a new world, as it were. As our podcast title goes: Follow the money. This is really about money, and I'm sure we can all understand that. We can see the gears turning among the SEC and ESPN people.

Going back more than 10 years, I became aware of a six-month or longer effort between Larry Scott, the Pac-10 and DeLoss Dodds about Texas and other schools going with them to the west coast. That was done without other schools being talked about. Larry Scott showed me a complete schedule for all sports for a 16-team conference. It had been going on for months and months without us knowing it.

I feel betrayed here because we thought we would be treated equally. We thought we would all be at the table. If this has happened without that, this represents a fundamental shift in the culture of the Southeastern Conference.

I think this has to be driven by ESPN. They're trying to cut their losses with LHN, which has been an issue for a while. They're trying to capitalize on the CBS situation with the SEC.

This could be the beginning of another realignment of a much larger magnitude than what we saw in 2011. How can the Big Ten sit and not do anything? The Pac-12 will do the same. The Big 12 will essentially become an empty suit. We're not talking about a Power 5 but a Power 4. This isn't just about Texas or Texas A&M but a fundamental shift of college sports.

I cannot judge this. Kirk Bohls thinks this is a done deal. I think our president Dr. Banks has to be strong about this and talk to every single president and chancellor about how they won't want this to be happening to them someday. Can South Carolina say no to Clemson if this goes forward? I don't think so.

Back in the day, we wanted to be in the SEC because we fit. Everybody was treated the same there. All of a sudden, the rules are changing erratically.

This could go larger. When we were talking to Slive and the other SEC leadership, they were talking about the East because they thought the West was shored up with. North Carolina was a hot topic for a while. Virginia and Virginia Tech were discussed a decade ago. This was a surprise for me, but I understand it. I get the money. There is a sense of geography and fit.

Oklahoma is a fit for the SEC. However, Texas? They have never thought of themselves as that kind of school. They've felt they were above that.

Passing laws is not what this is about. It takes too long and is the wrong thing to try and meddle at that level. Look at the 1990s. The governor was clear that A&M was not going to be allowed to go to the SEC. They thought they were going to doom us financially. In 2010, we shut everything down when a phone call was made to Texas and Texas A&M leadership when we were told not to do this. Next year is an election year. Does Greg Abbott really want to tick off the Aggies, Bears, Horned Frogs or Red Raiders? That's a very tough primary to win. What changed between 2010 and 2011 was the Longhorn Network, and the governor's primary was already behind him, so he felt much more comfortable.
Never miss the latest news from TexAgs!
Join our free email list