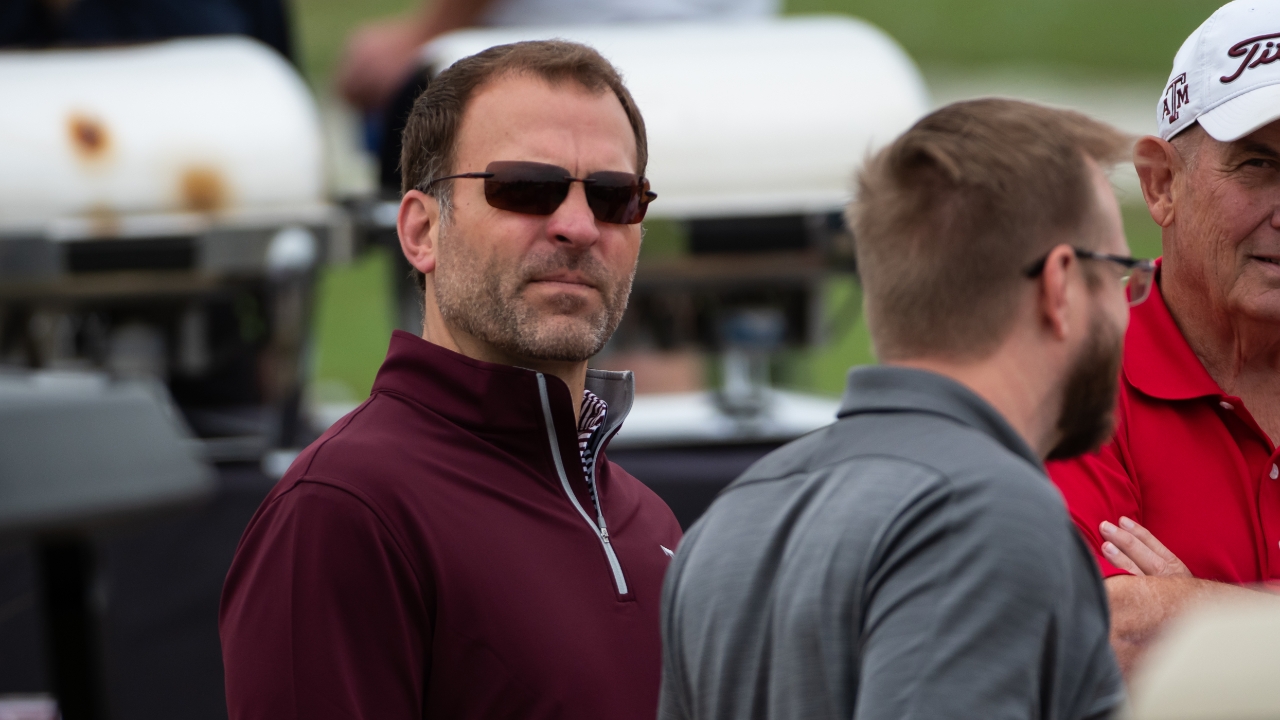 Photo by Jamie Maury, TexAgs
Texas A&M Football
A&M President and AD address Aggies' commitment to SEC
---
Texas A&M President Katherine Banks on Saturday released a statement in which she confirmed Texas A&M's commitment to the Southeastern Conference.
There has been backlash and emotional reactions since last Wednesday when news surfaced that the SEC would add Big 12 refugees Oklahoma and Texas.
Some reports suggested A&M might even look to leave the SEC. In a statement, President Banks made it clear that is not the case.
"That last few days have been challenging in many ways, and I recognize that change in college athletics often is unsettling for those who love their institutions," Banks said in the statement. "Rest assured, the chancellor (John Sharp), our athletic director (Ross Bjork), and I and everyone involved in this matter are focused solely on what is best for Texas A&M University.
"Since 2011, we have been a proud member of the best intercollegiate athletic conference in history, and we look forward to continued success in our SEC partnership of many years to come."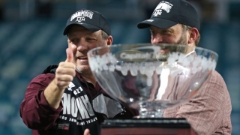 Jasen Vinlove/USA Today Sports
At this point, it's uncertain when Oklahoma and Texas would leave the Big 12 and join the SEC. Speculation is that it could come as early as 2022. However, the additions could be delayed until 2025 because of Big 12 contracts.
The addition of Oklahoma and Texas could substantially boost SEC television contracts and the annual pay-outs to each member institution. Last year, SEC schools received $45.5 million each.
With Texas and OU as members, the payout is projected to soar past the $54.3 million that Big Ten teams reportedly received in their last fiscal year.
The news of the impending additions, which according to reports could happen as early as this week, was met with anger by seemingly the majority of Aggies.
When A&M joined the SEC a decade ago, then-SEC Commissioner Mike Slive and then-A&M President R. Bowen Lofton were said to have a "gentlemen's agreement" where A&M would remain the only SEC institution in the state of Texas.
However, Slive died in 2018, and Lofton is no longer in that position.
"We knew this day could happen and probably would happen," Bjork said on Saturday. "We're all surprised at the speed of it. As far as we're concerned, the process and produces are in place in making sure (A&M's) interests have been brought forward.
"The SEC is in position to lead. College athletics is changing and evolving. I know other people are interested in joining. That's not surprising. We feel like in the state of Texas, we've paved the way for that."
Amid issues primarily with Texas, Texas A&M bolted from the Big 12 and joined the SEC in football in 2012.
A&M had grown weary of Texas' overwhelming influence in the Big 12. Texas had insisted on uneven revenue distribution, created the Longhorn Network and even tried to reach a deal to join the Pac-12 without consulting the other Big 12 programs involved.
"At the end of the day, the bottom line is whoever joins our conference, we're ready. The 12th man is ready."
Bjork said no individual team has that much power in the SEC.
"The culture of an athletic conference is a priority for Texas A&M," Bjork said. "Culture, collaboration, equality, competition … those things make the SEC the best conference in college sports. You've got to protect that and grow that. Being in the SEC 10 years, I've learned that."
Although Texas A&M has previously refused overtures from Texas to renew the football series Texas canceled in 2011, Bjork said the Aggies will embrace the competition.
Last football season, the Aggies finished 9-1, won the Orange Bowl and were ranked No. 4 in the final national polls.
Bjork said the A&M athletic program as a whole is ready for anything.
"We're stronger we've ever been," he said. "We have over 550,000 former students. We're on the cusp of CFP. We have Olympians. Our women's basketball teams were conference champions.
"At the end of the day, the bottom line is whoever joins our conference, we're ready. The 12th man is ready. We're ready to embrace whatever competition that is."
Never miss the latest news from TexAgs!
Join our free email list
PRESENTED BY