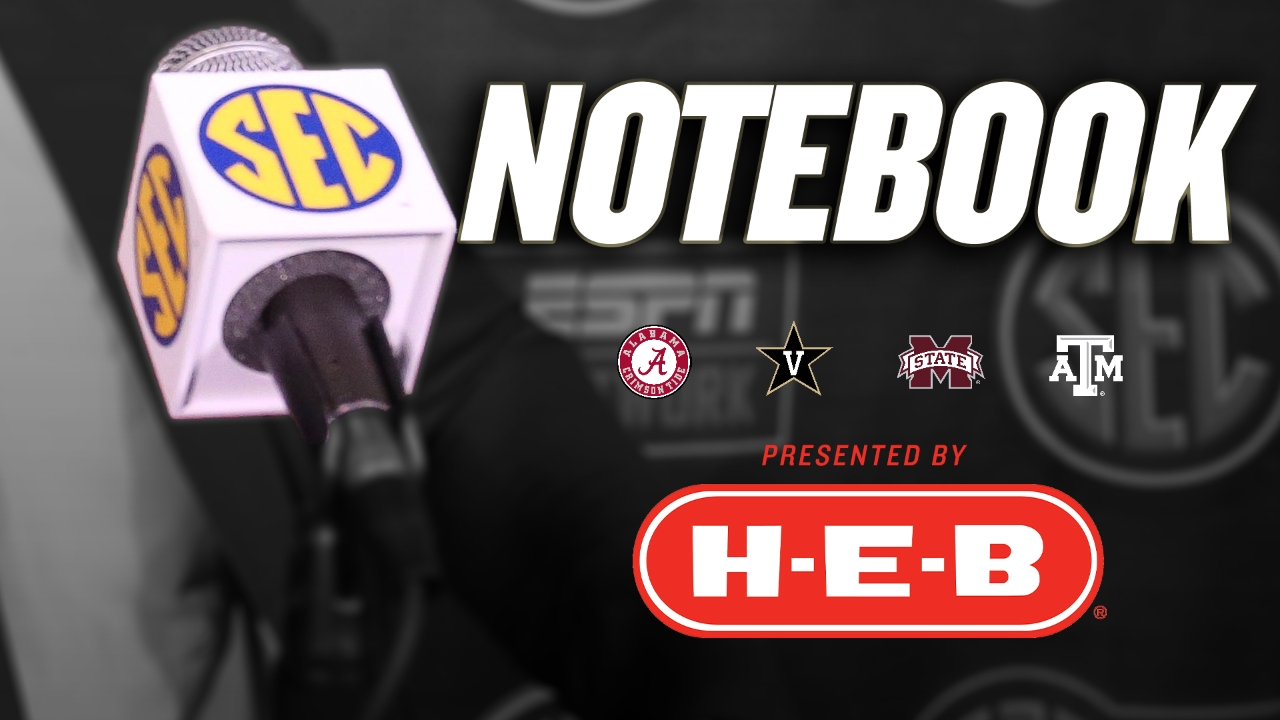 Texas A&M Football
SECMD21 Notebook: Wednesday highlights from Aggies, Tide, Vandy & State
---
Texas A&M coach Jimbo Fisher on Wednesday at Southeastern Conference Media Days expressed sadness and affection for former Florida State coach Bobby Bowden.
Bowden's family announced on Wednesday that the Hall of Fame coach was diagnosed with an undisclosed terminal medical condition.
"I've always tried to serve God's purpose for my life, on and off the field, and I am prepared for what is to come," Bowden said in a statement released by Florida State. "My wife Ann and our family have been life's greatest blessing. I am at peace."
Fisher was an assistant coach under Bowden for three seasons at Florida State before succeeding him as head coach in 2010.
"First is keep Coach Bowden in your prayers," Fisher said. "I think he's one of the greatest — not only greatest football coach that ever lived, he's one of the greatest human beings that's ever lived. The ministry he preaches to his players and what he's meant to not only his players but to me as a mentor."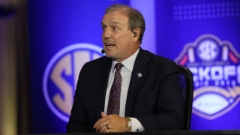 TexAgs
Fisher said he last spoke with the 91-year-old Bowden about a month ago.
"We had a long conversation on the phone," he said. "I call periodically and we stay very close. People don't realize he and I are very close. I've been a part of their family, I guess, as I say, since 1984 when I started playing with Terry (at Samford University), and I used to go to Tallahassee and stay at his house."
"I used to stay at his house and go watch practices. Sit in meetings, sit in the back and watch him organize meetings. I'd sit in the press box and put a headset on when he used to call games, when I became the first offensive coordinator at Samford listened to him call games and how he did things."
Fisher praised Bowden for the way he treated people and for his faith.
"It's sad. It really is," Fisher said. "But if there's anybody ready to be with the good Lord and if things come in time, it's him. There's no one who preaches about the Lord and did more for people in that regard. He's one of the great human beings that's ever coached and one of the great coaches that's ever coached."
Bowden posted 377 victories and won two national championships in his career.
Quarterback confidence
Kellen Mond departed for the NFL after three seasons as A&M's starting quarterback under Fisher.
That leaves seldom-used second-year freshman Haynes King and third-year sophomore Zach Calzada competing to become the new starter.
There's a lot of uncertainty at that position. Except, that Fisher is certain both are capable of flourishing in the offense.
"I think Zach is an NFL talent," Fisher said. "I think Haynes King is an NFL talent. Haynes can really throw the football. He's smart, he's competitive, he can run, just like Zach is."
"Those guys have great minds. I'm telling you, I was extremely pleased with both of those guys in spring ball. They have great knowledge of what we're doing. They can get the ball to all parts of the field, deep, short, understand what we're doing, understand protections. They have escapability. They have creativity."
"But more importantly, they're great decision-makers, they're accurate with the ball, but they have an unbelievable competitiveness to them, and they affect the guys around them. I think great quarterbacks have a great effect on guys around them and they have a great presence. When they get in the huddle you know that guy's on our team, we can win."
Throw the flag
Penalties are already an issue for Alabama. And that's fine with coach Nick Saban.
The Crimson Tide would be disappointed if it wasn't penalized.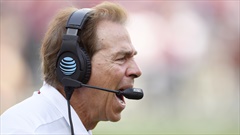 John David Mercer/USA Today Sports
Saban explains: "The penalty for success when you win a National Championship is you won because you had a whole lot of good players," Saban said. "They were well-coached, so you had a lot of good coaches. When you lose some of those players — and we lost six first-round draft picks and 10 guys overall in the (NFL) Draft, and you lose some of those coaches to better opportunities — the challenge is you've got to rebuild with a lot of new players who will be younger, have new roles, less experience, and how do they respond to these new roles? That's why rebuilding is a tremendous challenge. That's why it's very difficult to repeat."
Among Alabama's most significant subtractions from the 2020 team are Heisman Trophy-winning receiver DeVonta Smith, quarterback Mac Jones, running back Najee Harris, cornerback Patrick Surtain and Offensive Coordinator Steve Sarkisian.
Only three offensive starters are back. The Tide has eight defensive starters returning.
Though a lot of holes must be filled, Saban did not seem concerned.
"I've been pleased so far with the way our players have embraced their new roles and new responsibilities, how the new faces on our team have worked hard to develop in a way that they can have enough consistency in performance to have success and develop the confidence they need to be able to have success," he said.
"We're going to be a work in progress as we focus on improvement, and that's going to be critical to our success. We have a lot of difficult games early on the road, new coaches, new quarterback, eight new guys on offense."
The front half of the schedule is challenging. The first six games include road trips to face Miami, Florida and Texas A&M on the road and a clash with Ole Miss in Tuscaloosa.
Getting more than a quarterback
Saban raised eyebrows last weekend when he revealed Alabama sophomore quarterback Bryce Young has already made about $1 million from Name, Image and Likeness (NIL) deals.
That's a lot of money for anybody. Especially a player who has not yet started a game.
Saban seemed reluctant to elaborate on Young's deals because there is still no much uncertainty around NIL.
"Anything that I say now, because there's no precedent for it, you don't really know how it's going to affect things," he said.
"The question is because it's not going to be equal, and everything that we've done in college athletics in the past has always been equal. Everybody's had equal scholarship, equal opportunity. Now that's probably not going to be the case. Some positions, some players will have more opportunities than others. And how that's going to impact your team, our team, the players on the team, I really can't answer because we don't have any precedent for it."
Saban can relax. Defensive end Phildarian Mathis said he didn't foresee Young's deals causing any division.
"Everybody's happy for everybody," Mathis said. "This is something we all think we deserve as players, so I don't think it's jealousy. I think it's more of everybody happy for everybody. We want to see everybody win."
Volunteers needed
In another example of the "rich getting richer," Alabama brought in linebacker Henry To'o To'o from the transfer portal.
To'o To'o led Tennessee with 77 tackles and 10 tackles for loss in 2020.
"I think that there's a lot of positives that he can bring, especially — you always want to have a great signal-caller or quarterback type guy on defense," Saban said. "Regardless of what kind of player they are, those things really enhance the chances of all the other players on defense playing with confidence because they're confident in the call that they're getting, the adjustment that they're making, and I think that's something that Henry can really add to us as well as being a very productive player."
"In my three seasons with him, I learned more football than I ever could have imagined."
The Elko influence
Vanderbilt coach Clark Lea's resume includes jobs as linebackers coach at Bowling Green where he coached with Texas A&M Defensive Coordinator Mike Elko, Wake Forest (where he coached with Elko) and Notre Dame (where he coached with Elko).
Some might say Elko has had a major influence on Lea's career. Lea is among them.
"How long do we have?" Lea mused when asked about Elko's impact on him. "I connected with Mike at Bowling Green, was with him there for 10 months, back to Wake Forest with him, and we left together to go to Notre Dame and we were at Notre Dame for a year together. He obviously left to go (to A&M)," Lea said.
"In my three seasons with him, I learned more football than I ever could have imagined. He's a guy that there's a shared ethos, a respect for people, a respect for the players, a certain style of coaching that has a lifetime impact. I can't say enough good about Mike Elko, who he is as a person, who he is as a tactician. He's the smartest football coach that I know."
Avoided the coup
Four years ago then Washington State coach Mike Leach was among several candidates approached by Tennessee for its coaching vacancy. But a protest by fans against several candidates led to the firing of the athletic director and the hiring of former Volunteers coach Phillip Fulmer in that position.
Fulmer ultimately hired Florida State Defensive Coordinator Jeremy Pruitt. Pruitt was fired last season after managing just 16 victories in three seasons.
Now the coach at Mississippi State, Leach was asked about the Tennessee fiasco.
"I talked to Tennessee, but that thing never — well, nothing ever got nailed down," he said. "Then pretty soon, they had a coup d'etat there. You guys can sort that among yourselves, but that's pretty well-documented."
"So, yeah, I didn't end up in the middle of the coup, so lucky for me."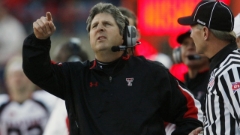 Bruce Thorson - US PRESSWIRE
Good memories
Leach brings Mississippi State to Kyle Field to face Texas A&M on Oct. 2. It will be his first trip there since he left Texas Tech in 2009.
He said he had fond memories of playing at Kyle Field.
"It's one of the greatest places to play on earth, and I said this when I was at Tech," Leach said. "That's one of the Carnegie Halls of football there. I mean that. Kyle Field, first of all, it's gigantic and holds a ton of people. The grass is impeccable, and of course, the Aggies are always highly motivated. It's a fun place to play."
"I've got some great memories of our games at Kyle Field over the years. It helped that we won most of them."
Never miss the latest news from TexAgs!
Join our free email list
PRESENTED BY