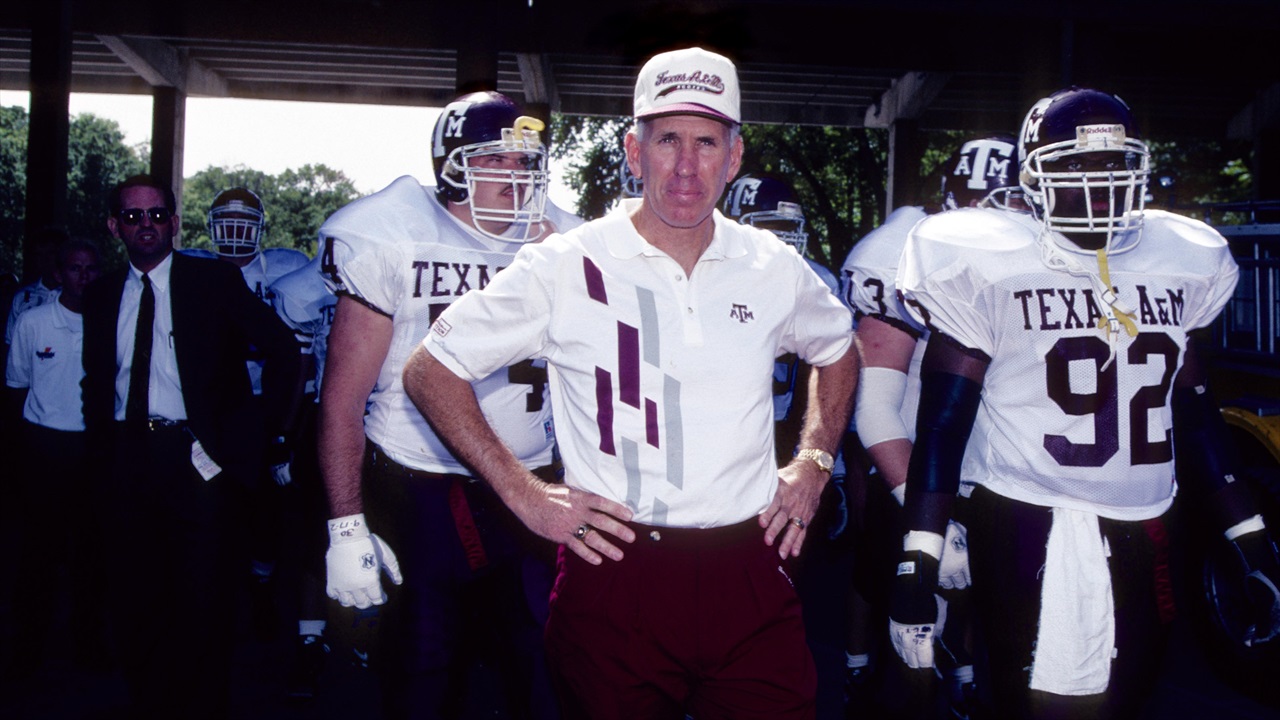 Photo by RVR Photos/USA TODAY Sports
Texas A&M Football
Despite Hodgkin's lymphoma diagnosis, I'm betting on R.C. Slocum
---
Introduced to a new local beat writer, Texas A&M football coach R.C. Slocum offered a quick handshake and walked away.
He took five or six steps and stopped. He turned and came back to the young reporter.
"Where are you from?" Slocum asked cordially.
"East Texas. I've worked in Tyler and Longview," the reporter said.
Slocum's eyes lit up. He said he loved East Texas. He mentioned tall pine trees and scenic lakes. He talked about players he'd recruited from the area. Then, he apologized. He had to leave for an important meeting.
That was late August of 1993. It was my first interaction with R.C. Slocum. He was focused on the task he faced (in that case, a season-opening 24-0 victory over LSU) but would still take time to be friendly.
That first impression was frequently re-confirmed over the next 28 years.
R.C. Slocum was an excellent football coach and a genuinely nice person.
R.C. left Orange, Texas, but Orange, Texas never left him. He maintained small-town Texas values even when he was earning a multi-million dollar salary.
That subtle demonstration of friendliness wasn't limited to me. That's who R.C. is. He treats everyone with dignity, whether they are a reporter or just a random fan.
Often R.C. would be approached by rabid fans of Texas A&M who wanted to talk football. He didn't mind saying "Hi." He'd thank that random fan for his support. Then, he'd gracefully excuse himself by saying he had to go figure out how to beat the Longhorns or whoever was next on the Aggies' schedule.
R.C. left Orange, Texas, but Orange, Texas never left him. He maintained small-town Texas values even when he was earning a multi-million dollar salary.
That's why the painful news that Slocum is facing a battle with Hodgkin's lymphoma hit so hard.
We all have empathy for anyone undergoing treatment for cancer, especially a well-known public figure. The concern is elevated when that public figure is also a friend.
R.C. Slocum is my friend.
That's not to misrepresent our relationship. We've never met for a beer. We don't meet for dinner. We don't hang out together.
Our friendship is built on what I believe is a mutual respect. I admired the way he coached, the way he treats people, and the way he truly loves Texas A&M.
He felt I was fair. He told me he liked the way I approached my job. That doesn't mean he didn't get annoyed with me from time to time.
Once, he took issue with the angle I took on a feature story.
"You're always looking for something negative," he complained.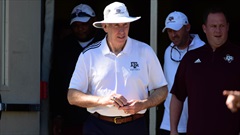 Andrew Kilzer, TexAgs.com
"Well, coach, my job requires me to be critical sometimes, so I guess I have to accept criticism, too," I responded.
"Now … I'm not criticizing you," he said in his familiar drawl. "You do a good job. I just didn't like that article."
A few months later, I got a tip that hard-hitting linebacker Jessie Cox had been dismissed from the team.
So, on a spring Monday night, I waited under the Kyle Field bleachers for a practice session to end. I watched the players file by and did not see Cox.
After asking Slocum several questions about that practice session, I concluded the interview by asking where Cox was.
"Jessie wasn't out there today," Slocum said.
"Will he be out there tomorrow," I asked.
"No, I don't think he'll be out there tomorrow, either," he said.
"What about Wednesday?" I asked.
R.C. sighed heavily and looked at Sports Information Director Alan Cannon and said, "I guess we need to get a press release out."
Then he turned back to me. "Jessie Cox is no longer with the team."
Nine years later, R.C. had posted more wins than any football coach in Texas A&M history. He had led the Aggies to four conference championships. He never had a losing season.
Yet, his job was in jeopardy because the Aggies were struggling with a 5-4 record and No. 1 Oklahoma coming to town.
Now working for the Austin American-Statesman, I was among a dozen or so reporters assembled at Cain Hall for R.C.'s weekly press luncheon. We knew he had to be asked about his job security. No one wanted to be that guy to ask a legend about his job security.
Finally, I piped up.
"Coach, have you thought what this game could mean to your future?"
R.C. looked me dead in the eye.
"What do you mean?"
"Well … uh … there is … uh … speculation that you could … uh … be in danger of losing your job," I stammered. "Do you think the outcome of this game could … uh … have an effect on that?"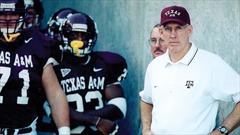 TexAgs
R.C. proceeded to give an honest, well-thought answer. He obviously anticipated the question but just wanted it to be asked directly.
The Aggies upset the top-ranked Sooners, 30-26. That victory might have saved his job, but freshman phenom quarterback Reggie McNeil was injured early in a 33-27 loss to Missouri the following week.
Just like that, Slocum was back on the hot seat.
The next week, I returned to College Station. Slocum made himself available to reporters after Thursday evening practice.
I was one of just two reporters who showed up.
So, I asked him: Since he was the winningest coach in school history, had won championships and had a program abiding by NCAA rules, if he was tempted to say to hell with the ungrateful bastards and walk away.
"No, I wouldn't do that," Slocum said. "That's not the way I'm wired. I would never quit."
The next morning's headline was "Slocum: I'll never quit."
He didn't.
However, he was dismissed following a 50-20 loss to Texas. The move was originally celebrated by many. It was later lamented as A&M's football program declined under his successors.
Previously in his career, R.C. had turned down offers to coach at LSU and for the NFL's Arizona Cardinals. Upon his dismissal, he was approached by Baylor. He turned that job down, too.
"I can't change colors that fast," he told me.
Indeed, R.C. never changed colors at all. Even if he wasn't the head coach, he was a Texas A&M legend.
He was as synonymous with A&M as Bobby Bowden was to Florida State, Frank Beamer was to Virginia Tech or Phillip Fulmer was to Tennessee.
A few years later, I ran into R.C. at a college coaches convention at the Gaylord Opryland Hotel in Nashville.
I was trying to interview then-Arizona State coach Dennis Erickson about some long-forgotten issue facing college football. Erickson seemed hesitant until R.C. walked up.
"It's OK, Dennis," R.C. said. "He's one of the good ones."
R.C. wasn't one of the good ones. He was one of the great ones. He still is.
Slocum's teams posted 123 victories. They were focused, tough and relentless. As the cliche goes, they took on the personality of their coach.
That's also why I'd bet on Slocum to beat the challenge he's now facing.
Never miss the latest news from TexAgs!
Join our free email list