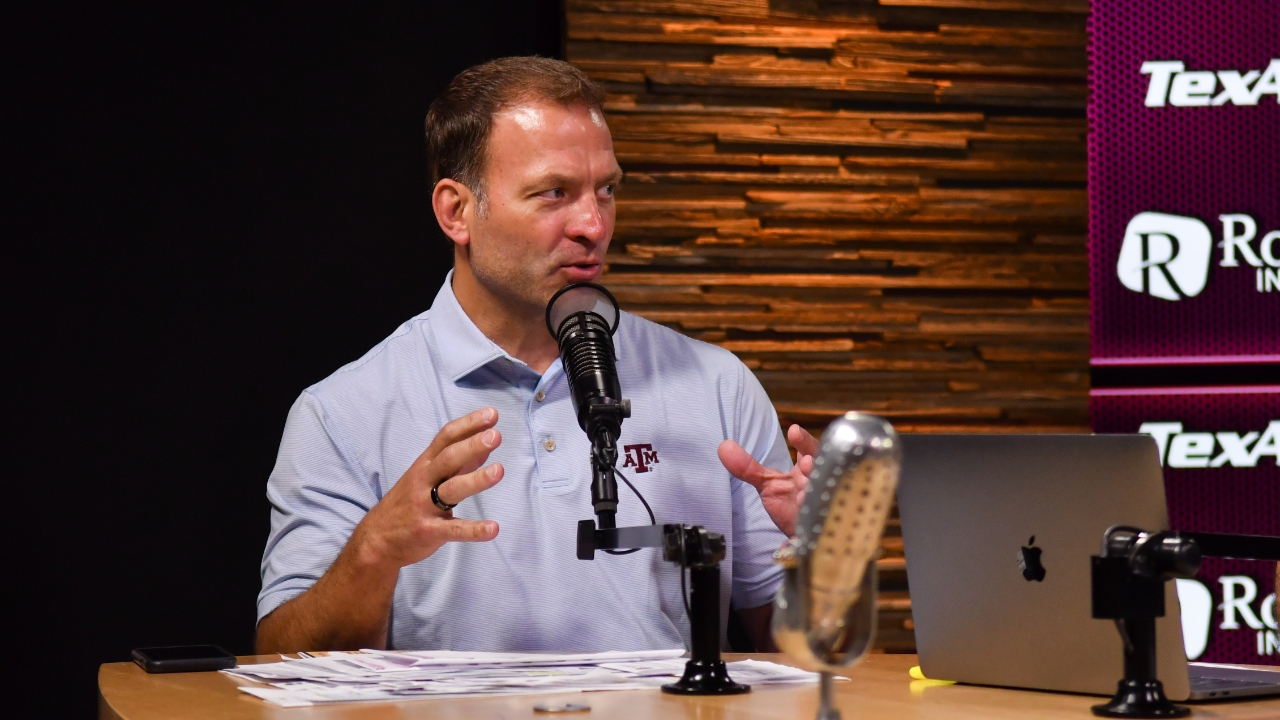 Photo by Jamie Maury, TexAgs
Texas A&M Baseball
Texas A&M Director of Athletics Ross Bjork recaps busy week in Aggieland
---
Key notes from Ross Bjork interview
I guess I'm the second to last guest on Gabe Bock's show. I really appreciate that. This is quite an honor and a privilege.

It has been really busy. Coach Brian Kortan kind of got lost in the shuffle because we announced him last week. Then we had coach Gerrod Chadwell and coach Jim Schlossnagle this week.

With what Kortan has already done for our program, it was easy. The fact that he knows this place, knows how to recruit the next group of Aggies gave us a lot of momentum with him. He knows the national scene and how to compete and win a championship here. I'm really excited about Kortan.

Chadwell has energy. You had him on the show. It's infusive. He knows the game. Golf is really about the culture just as much as the swing. They already have swing coaches if they're elite golfers. JT Higgins never played golf. It's about culture, and that's what coach Chadwell brings.

Look, I didn't want TCU to lose. You never want that to happen. We were talking to other people that were still playing this weekend. When TCU lost on Saturday, I knew we needed to be ready on Sunday because it could go fast. It all rolled out this week, and I've been texting with coach Schlossnagle and been on the phone working on staff and putting that together. It's going to be exciting.

One of the first things we talked to Schlossnagle about was his staff, who he was looking at and what the national landscape looked like. Obviously, a lot depends on what happens at TCU and who they hire as their head coach. It looks like they're going on a national search, so with the two assistants that are there now, what happens? There are 16 teams that are still playing, and there are assistants that are on those staffs. The guys that Schlossnagle is targeting and talking to are game-changers. That's what it's all about.

Schlossnagle did a lot of homework on the Texas A&M program. He did win a Big 12 championship and was a national seed. He was in a regional. His team was still performing, yet he still did lots of studying with us and our program. What that means is he was looking at what he could bring to the program and the potential that we have. Great things are in place, but there is still a ceiling. Part of why I'm here is there is still more to come. We had to recruit Schlossnagle and come to terms, but he knew what he could do here. That's what you want. You want a hire to be mutual. You don't want to chase somebody. He wanted this job, and that's important.

I told Schlossnagle he should get into hunting a little bit because there will be some Aggies that want to take him hunting.

We talked to all of the elite baseball organizations and elite youth programs about what we needed to get better at. We wanted to know the head coaches that were out recruiting. All of them told us Schlossnagle doesn't pawn this off to his assistants. He's actually there, at the ball fields as the head coach, sitting, watching and talking to the parents. That's impressive to hear and amazing when a head coach is that involved. When we talked about recruiting philosophy, he told us that he's there and doesn't have hobbies. That says a lot about his commitment.

I knew how important baseball is at Texas A&M. I had to get this right. You feel that pressure. I told myself to control what I can control. Here's the information we have. We called all of the top five coaches. We did our homework. At the end of the day, it comes down to fit. What kind of person are they going to be here? Can they coach? Can they recruit? Schloss had all of those factors to him.

I think the 12 team playoff proposal is perfect. It's about access. The 12 team proposal has six automatic qualifiers. The Power 5 conferences and a Group of 5. To me, two at large wasn't enough. It had to be bigger than that, so six automatic and six at large makes the most sense. It provides the right amount of access.

Expansion was coming. We're treating college football the right way. There will be some give-and-take. The bowl system is one of them. If you play in an early playoff game and lose, do you still go to a bowl game? What happens to the bowls? Those will all come into play over the next few months. It's not a done deal, but there has been a lot of work to get to this point. I'm excited to look at it and review it.

For us and where we're going, we would have been in that playoff this year as the No. 5 team. We finished No. 4. We're building and recruiting. The buzz that's happening around Aggie football and the recruiting landscape has never been this large scale. Capitalizing on that and putting ourselves in the right position; that is going to happen.

It's the SEC. Every game is tough. Every weekend you have to live through it. We have some tricky road games. We have elite home games against Alabama and Auburn. You have to go week to week. We have the tools, the resources and the right man in Jimbo. It's going to be fun.

We also made history today because we got Billy Liucci in the studio for the first time in 66 weeks. He needs a haircut. Let's get him a haircut next.
Never miss the latest news from TexAgs!
Join our free email list