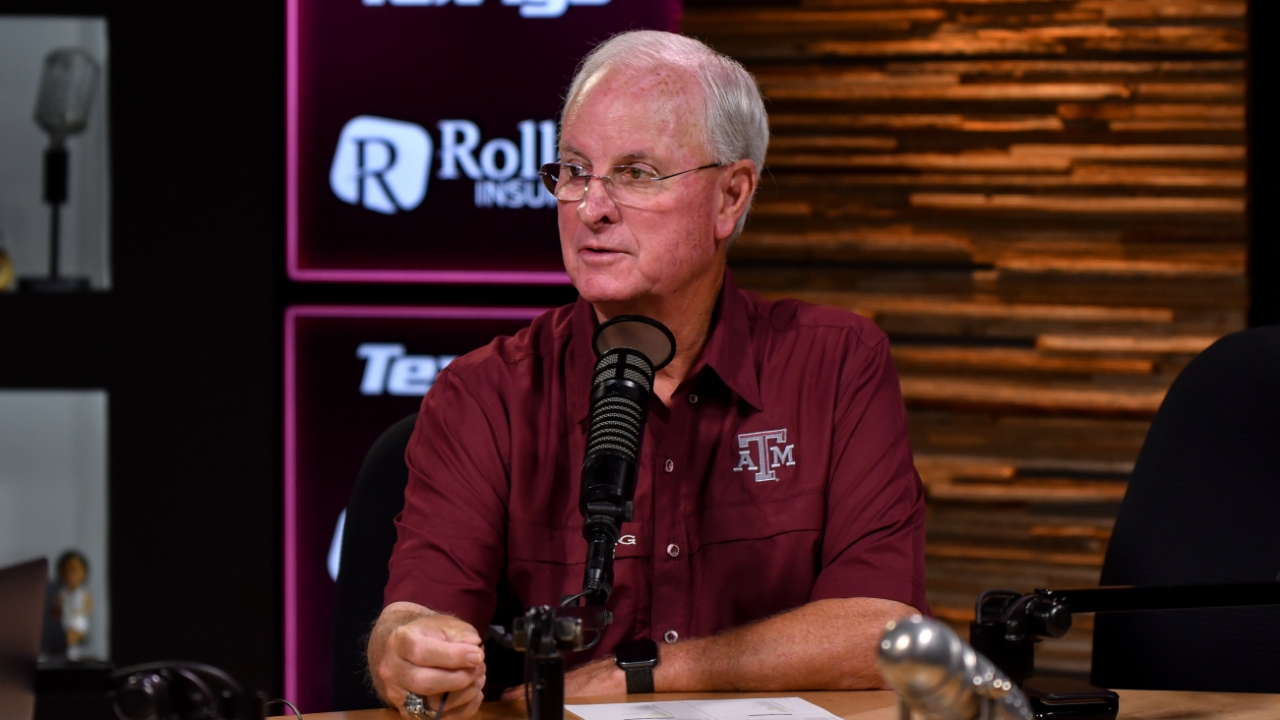 Photo by Jamie Maury, TexAgs
Texas A&M Track & Field
Pat Henry extremely pleased with group heading to NCAA Championships
---
Key notes from Pat Henry interview
We had a good weekend. We advanced almost everybody to the National Championships that had an opportunity. There were two freshmen I thought had an outside shot to go that did not qualify, but they had outstanding seasons.

Whether or not we have a chance to win depends on the quality of people you bring to this event. You need elite people. I've seen the national meet won by a team of just four people who were so elite and won all of their events. We've got some people going that are outstanding, specifically on the ladies side but also on the men's side. We advanced the people that have an opportunity to score.

I think both our men's relay teams are running well right now. In the 4x100m, Jace Comick stepped in and did a nice job. Emmanuel Yeboah, Devon Achane and Lance Broome looked very good. They ran the best time in the west region, but a couple of teams in the east ran better. It'll be interesting to see, head-to-head. The 4x400m is the same. You can go into this meet ranked first or 13th and come out ranked differently. It's about the people being ready on a specific day.

I've told my team just to do what they've done to get there. Repeat what you've done to get here. More often than not, when you do that, you'll do well.

The only people who are continuing to train with us are those who will be with us in Eugene. This is the group. I have some alternates for relay purposes. When I address the group, it's both the men and women. I never distinguish between the two. The individual talks off to the side are probably the most important conversations with the athletes.

Devon Achane has done very well, like we thought he would. He is a great competitor, but he's running in some tall cotton. He has to be at the top of his game and has to do his absolute best on that day. I think he can do it, but he is just a freshman. In our sport, it doesn't really matter if you're a freshman or senior. He's an athlete. You line up. You know what you're capable of doing.

Lance Broome is getting better every time he gets on the track. Almost every time he has run the 200m, he has improved. The time is getting better. He's also a young guy, and I think he's capable of doing it.

Brandon Miller is a freshman who has lined up and run fast every single time. He doesn't respond like a young collegiate athlete. He is very mature in what he does. He's one of those people that steps it up when it's time. Tactically, he has run very, very well. In preliminary rounds, he got boxed in, but other than that, he has run well.

Moitalel Mpoke is a great competitor, and I'll say that about everybody on this list.

Sam Hankins didn't have a great throw in the javelin, but nobody had a good throw in this meet for some reason or another. He's going to the national meet as well.

As a former high school coach and being around athletes my entire life, I think it is essential for great athletes to do more than one sport. The things you learn on the track and on the soccer field are similar, but the opportunity to play and win in both sports will pay off no matter which direction they go.

You got to have a sense to do an exchange. You have to watch the person coming around, and you have to watch your "go" marks. You have to anticipate that next step, and you have to be able to wait. No matter what's happening in lanes next to you, you have to be patient. I could talk for hours about what goes into exchanges.

I'm asked the question about my accomplishments a lot. I am just fortunate to be where I am and have been in the situations I have. I have tried to be fair with young people all the time, and I think that helps them trust me. I've been very fortunate to surround myself with other great coaches. When I hire somebody, I'm trying to hire another head coach, so really, I have about five head coaches working for and with me. It doesn't make a difference between high school, junior college or Division I; it's all about who surrounds myself with.

Both relays on the women's side were spectacular. Athing Mu is out there on an island. She is very good, and we've been fortunate to have her on our team. She is who you want on a team because she is a team person. She did an interview with somebody, and it didn't come across right. She was trying to be sarcastic, and it didn't come out right. In the 4x400m, she got the stick in the lead, so that means three other ladies are running fast too. They have done tremendous jobs. Charokee Young and Tierra Robinson-Jones have been fantastic, and Jaevin Reed is stepping up too.

Charokee Young ran a 50.85. In any other year, she'd be the headliner. Athing is just a bullet out there. Charokee has used Athing to get better. They don't train together every day because Athing trains as a half-miler and Charokee trains as a quarter-miler. They watch each other.

We have good opportunities. Deborah Acquah jumped 45 feet in her first triple jump attempt. Tyra Gittens and Lamara Distin jumped high enough in the high jump to get into the top 12. Tyra is a fantastic athlete, and we're so fortunate to have her.

I've had some good teams over a lot of years, but Athing Mu and Tyra Gittens are special. Athing might be the single greatest athlete I've ever had, but Tyra's abilities are just so special. It's very rare to have two people this talented in the same group.
Never miss the latest news from TexAgs!
Join our free email list