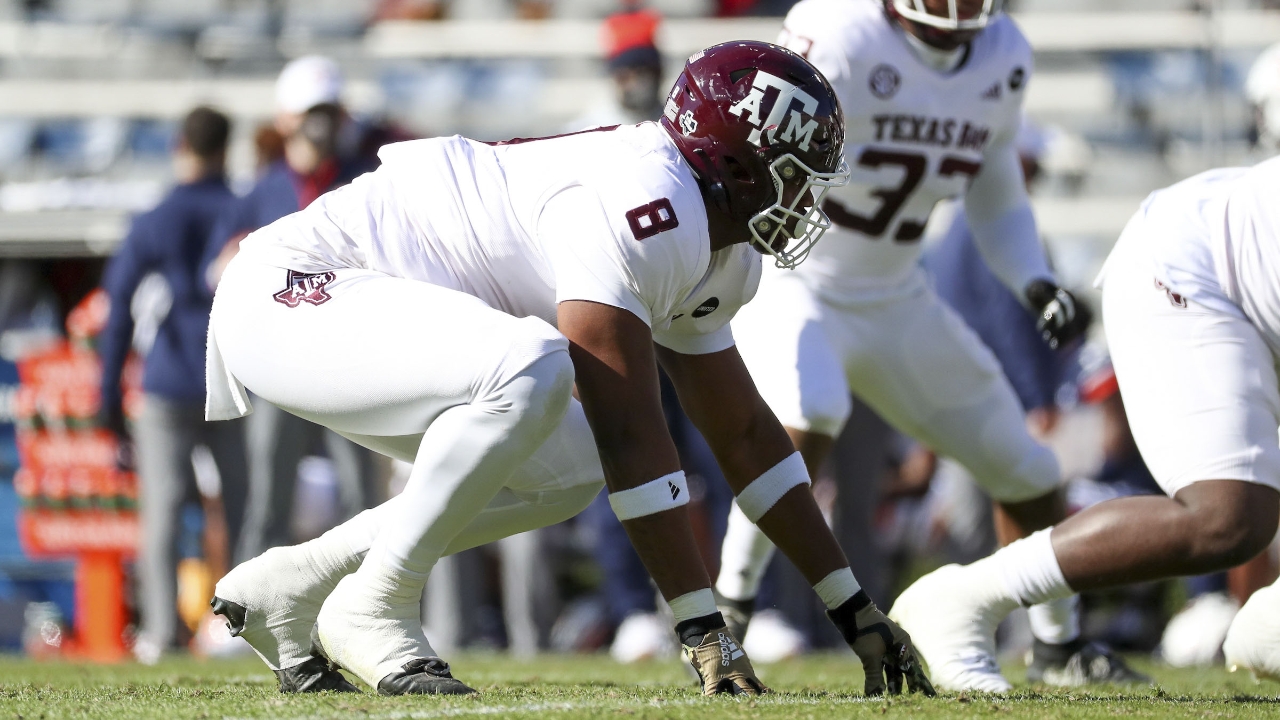 Photo by Craig Bisacre/Texas A&M Athletics
Texas A&M Football
Despite All-SEC snubbing, DeMarvin Leal among league's best defensive linemen
---
Each December, a well-known Christmas carol asks the question: "Do you see what I see?"
Obviously, those casting All-Southeastern Conference ballots last December did not.
Texas A&M defensive lineman DeMarvin Leal incredulously was denied all-conference recognition by the league's voters. Obviously, they did not see what we saw.
Go ahead and blame dull-witted sports writers for that omission. Except, the coaches ignored Leal too.
Interestingly, this spring, Leal consistently appears in the first round of early 2022 NFL mock drafts.
NBC projects Leal was the No. 3 overall selection next April. Pro Football Focus has him No. 5 overall. Sports Illustrated had him No. 4. The website WalterFootball.com ranked him No. 7.
The Athletic's draft analyst Dane Brugler rated Leal No. 11 overall. ESPN's Todd McShay has Leal No. 18. CBS Sports ranked Leal No. 19.
"[Leal] has an unbelievable competitive edge. He learns extremely well. He's a great teammate, and he has all the size, speed and features to be able to execute and play well."
All these rankings were surely based on Leal's performance in 2021. Which begs the question: What did NFL draft analysts and experts see in Leal that SEC voters did not?
A&M coach Jimbo Fisher has seen Leal's greatness for a long time.
"You know what I see? An unbelievable competitive nature," Fisher said when asked about Leal last year. "I don't ever see him loaf for one second. I don't care what drill it is, what we did or how we do it. Those guys change the cultures of an organization because they're great players. They're highly-recruited (players) who play like they have no ability in their effort and their toughness and their ability to play.
"He has an unbelievable competitive edge. He learns extremely well. He's a great teammate, and he has all the size, speed and features to be able to execute and play well."
Still, All-SEC voters were blind to that. You wonder why. You Stevie Wonder why.
The opinion here has always been that SEC voters too frequently forget the conference extends beyond the Sabine. How else could one explain the snubs of Erik McCoy, Kingsley Keke and Ainias Smith, among others?
Some could be debated. Perhaps there was just too much talent at their position.
Last year, Smith was overlooked as an all-purpose player in favor of Florida's Kadarius Toney and Ole Miss' Jerrion Ealy. The first-team receivers were Ole Miss' Elijah Moore and Alabama's DeVonta Smith (no argument there). The second-teamers were Arkansas' Treylon Burks and Toney.
Keke was overshadowed in 2018 by first-teamers Quinnen Williams of Alabama, Jeffery Simmons and Montez Sweat of Mississippi State and Florida's Jachai Polite. No debate there.
Still, a strong argument could be made that he was deserving of second-team mention.
There was no center better than McCoy in 2018. He got hosed.
Leal was similarly hosed because, quite frankly, there were not eight SEC defensive linemen better than him in 2020.
Last season, Leal posted 37 tackles. Seven accounted for losses. He had 2.5 sacks, was credited with eight quarterback pressures, three pass breakups, a forced fumble, a fumble recovery and an interception.
Yet, he was shunned for all-conference honors in favor of Missouri's Trajan Jeffcoat (23 tackles, 6 TFL), South Carolina's Kingsley Enagbare (30 tackles, 7 TFL), Auburn's Big Kat Bryant (17 tackles, 3 TFL), Georgia's Jordan Davis (16 tackles, 1TFL) and LSU's Ali Gaye (32 tackles, 9.5 TFL).
Enegbare, Jeffcoat and Bryant all had more sacks than Leal, but sacks cannot be the only measure by which to judge a defensive lineman.
Leal was excellent against the run, as shown in this clip against Florida.
Sometimes a sack isn't the best play. Against Mississippi State, his pressure led to Myles Jones getting an interception in the end zone.
By the way, on that play, Leal beat Mississippi State tackle Charles Cross, who is projected as a high first-round pick next season.
When Leal did get to the quarterback, the results were spectacular.
Of course, Aggies have frequently seen plays like these. NFL Draft analysts saw them, too.
SEC voters just didn't see what we saw.
Never miss the latest news from TexAgs!
Join our free email list
PRESENTED BY