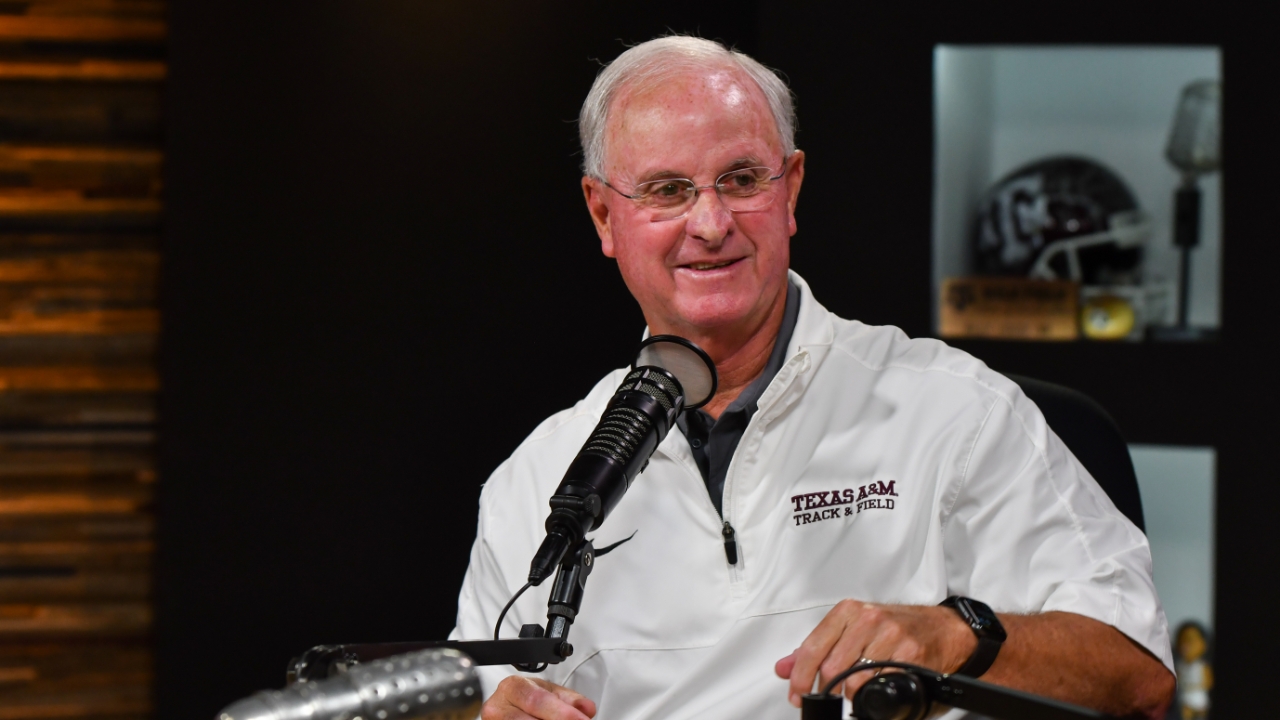 Photo by Jamie Maury, TexAgs
Texas A&M Track & Field
T&F Report: Pat Henry previews NCAA West Regionals at E.B. Cushing Stadium
---
Key notes from Pat Henry interview
It's a busy week for us. We had a team breakfast already this morning and have practice at 11:30 a.m. The NCAA West Regional meet begins tomorrow at E.B. Cushing Stadium. You have 2,000 athletes here, but along with them, 2,000 or more folks are coming with them this weekend. It's good for our community.

Things got busy yesterday. Rain and lightning delays kept things from happening, and there could be some rain today. Rain does not stop events from happening, but lightning does. Our shotput area was a lake yesterday, but our grounds crew worked to get it ready.

Track & field is like baseball, where you play regionals, and then the winners go to Omaha. There are only two regionals: one in the west and one in the east, which is in Jacksonville. We'll run two rounds, get down the 12 best, and those 12 will advance to the finals in Eugene, Oregon.

At this point, alternates are over. We declared last week, and then the NCAA decided how to get the best 48 people here. If an athlete scratches this week, you're out of the entire meet. If you scratch from one event, you can't run in the others you're supposed to do. It's the "honest effort" rule.

Prioritizing your athletes is tough, but it's my job. I look at the quarter milers. If Athing Mu runs this event, how does it affect this other event and our team chances? There is a strategy in how you line people up from a scoring aspect. You have to try and not outguess yourself. I've always tried to do it the best we can without over-extending ourselves. A lot of people will run the 100m, 200m and have them on both the 4x100m and 4x400m relay teams. I've never had that kind of luck. With this meet, you have to respect the competition because it's all quality competition in every event.

I've seen very few people who are very successful and at their best when they run so many events. The level of competition is great. Mu is really good. To win, you have to be great. She makes it look easy. Bryce Deadmon makes it look easy. I assure you that they're working really hard to make it look easy.

As the season goes, we try to teach people to do specific events. Tyra Gittens is a very coachable person. You can't do multi-events that often. She also does the long jump and high jump. We're trying to get her to the point where she can withstand that workload because the multi is extremely taxing. That's why there is no multi in this meet. She'll jump this weekend, but she will not hurdle. We felt that would be too much.

This is about winning and about the team. They've had all year to be an individual. It's the time to run your fastest race, but that doesn't always happen. This is about scoring points for your team.

In most cases, it takes about 100 volunteer people to run a good meet. At high school, that's tough to do. The worst athletic event is a high school track meet if it's run poorly. That's not what our meets are like. We shoot the gun about every two minutes. Our meets are on time. You know when to come and when to leave. We have to kind of facility that allows us to do this. There aren't many like it. Eugene just spent $200M on a facility. Others are nice, but we have a warmup track that many do not.

When they decided to build E.B. Cushing Stadium, the seating was on one side. I reversed the sides because the wind is consistently on one side. I slanted our pole vault runways, so it runs consistent with that wind. If you can see the flags going straight on, it's not a help. The stadium is going to help the home straight away in most cases. We spent a lot of time and got a lot of wind rating people involved.

I want to win the SEC Championship. We're just out-manned. There are reasons for that. Over the years, I have been able to recruit elite athletes, so we've been more successful at the national meet and won more national championships than at the conference meet.
Never miss the latest news from TexAgs!
Join our free email list