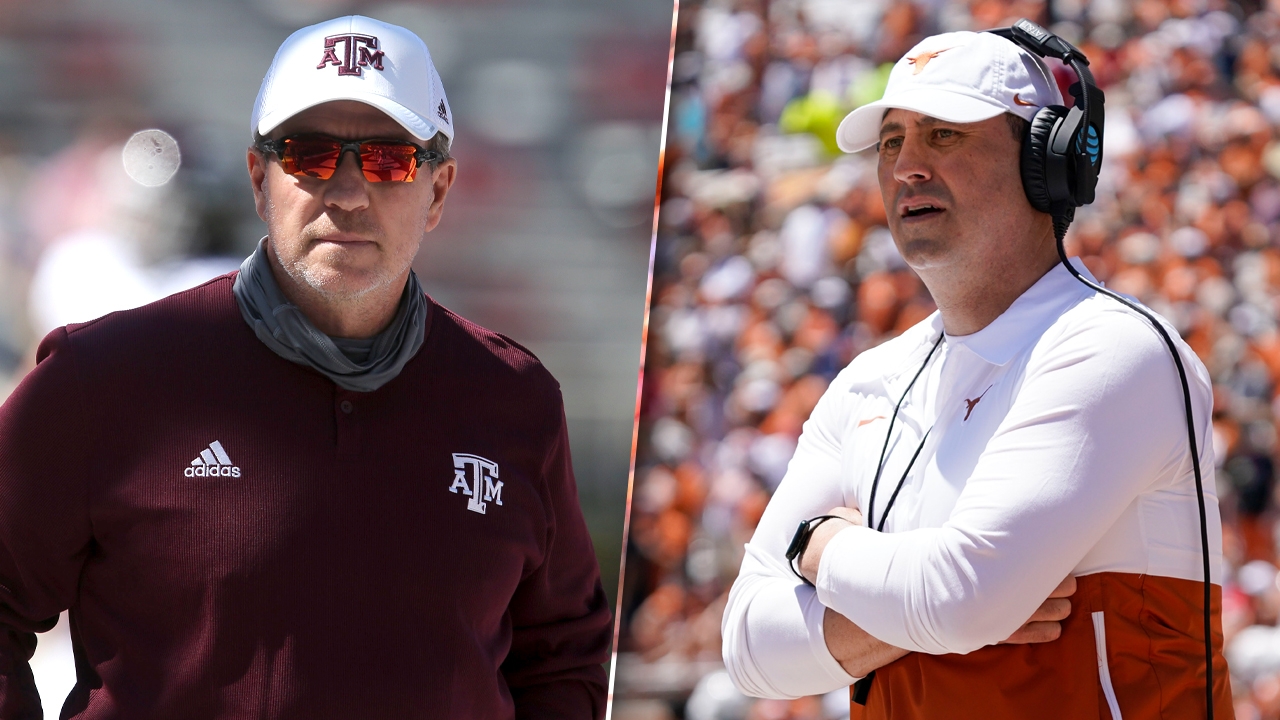 Photo by USA TODAY Sports
Texas A&M Football
Why would it? Don't expect Sark's hiring to alter A&M's recruiting success
---
The Alabama-based radio host asked about Texas A&M's quarterback competition, offensive line situation, and the Aggies' quest to join the elite of college football.
Those answers came easily. The next question was perplexing.
"How would Texas hiring coach Steve Sarkisian affect Texas A&M's recruiting?"
Why would it?
Of course, Sarkisian coached under Nick Saban as Alabama's offensive coordinator. And, of course, Alabama routinely attracts the nation's top recruiting class.
Meanwhile, Texas A&M coach Jimbo Fisher has consistently compiled top-ten recruiting classes. Apparently, the radio host felt that since Sarkisian was part of Alabama's juggernaut, his presence in Austin would negatively impact A&M's recruiting.
Again, I ask: Why would it?
Sarkisian was a good recruiter when he was coach at USC in 2014 and 2015. He had attracted top-ten recruiting classes both years.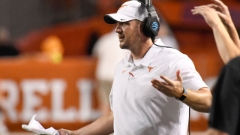 Scott Wachter-USA TODAY Sports
But recruiting is rarely an issue in the state of Texas, which typically produces the nation's most FBS signees. Indeed, under Sarkisian's predecessor Tom Herman, Texas landed top-ten recruiting classes in 2018, 2019 and 2020, according to 247Sports.
Texas' recruiting success didn't damage Texas A&M.
Since, 2019 Fisher has consistently out-recruited Texas. In fact, the only year that Texas has been ahead of A&M was 2019, when 247Sports ranked the Longhorns' class third and A&M's fourth.
But 247Sports did not adjust those rankings even though five-star receiver Bru McCoy, the top-recruit in the class, transferred to USC before the 2019 season began.
By the way, Fisher's 2022 recruiting class is currently ranked seventh in the nation by 247Sports.
There will be claims that this will change.
The Bovine Boys point out that Sarkisian directed the amazing offense that propelled Alabama to the national championship, which will attract a constellation of five-star prospects to Austin.
However, that spin conveniently omits that Sarkisian was working with personnel that went to Tuscaloosa to play for head coach Nick Saban.
Great prospects want to play for great coaches.
Sarkisian was 46-35 in seven seasons as head coach at Washington and USC. That's not bad. Except Herman posted 32 victories in four seasons at Texas and was fired.
The counterargument might be Sarkisian has become a better coach after working under Saban. Certainly, that could be true. It does not guarantee success, though.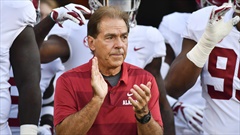 Matt Bush/USA Today Sports
A dozen others who worked under Saban became FBS head coaches. Most failed or are failing.
Will Muschamp was a great disappointment at Florida and South Carolina. Jim McElwain was also fired at Florida. Derek Dooley was a disaster at Tennessee. So was Jeremy Pruitt. Mel Tucker, Mike Locksley and Major Applewhite did not succeed or are not succeeding.
Others like Lane Kiffin and Mario Cristobal have been OK but not exceptional.
Actually, the most successful coach to have once worked under Saban is Fisher. Fisher is 109-33 as a head coach and won the national championship in 2013.
Obviously, A&M has the advantage in coaching. The Aggies have more advantages, too.
A&M plays in the Southeastern Conference, which is unquestionably the most powerful in college football. Fisher can offer recruits the opportunity to play for a national championship coach in the best conference. The best usually want to play against the best.
Also, A&M offers a better path to the NFL. Since joining the SEC, A&M has had 34 players selected in the NFL draft. Eleven of those were first or second-round picks.
Texas has had 24 players drafted. Four were taken in the first or second rounds.
In that span, A&M has posted 77 victories. Texas has 65. A&M has finished in the top five twice. Texas' highest finish was ninth in 2018.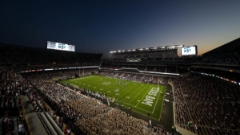 Braden Huggins/Texas A&M Athletics
Further, A&M has superior facilities and fan support. Saban once said Kyle Field was the model game-day atmosphere.
Even Texas' greatest perceived advantage isn't really.
Austin was once a great city. I lived there for 11 years and loved it. I met my wife there. My son was born there. It was cool and hip.
Some will argue, but it has declined.
Traffic is horrible. Cost of living is rising. Tents line the streets downtown. Visitors see rampant homelessness, drug use and human feces on the streets.
Texas administrators privately acknowledged the negative effect the city was having on recruiting. They were hopeful Proposition B, which would ban camping in certain public areas, would pass in a recent election.
Last month, Texas beat writer Brian Davis of the Austin American-Stateman tweeted: "No one at Texas will say this publicly but they want Prop B to pass by a landslide. Like it or not, the image of tent cities everywhere hurts recruiting."
Prop B did pass, but how long will it take for Austin to clean up?
Besides, final college football polls indicate programs in metropolitan areas are at a disadvantage.
Seventeen of the teams in the final 2020 Associated Press Top 20 rankings were located in towns with populations of 132,000 or less.
A&M offers recruits the opportunity to play in great facilities, with fan support, in a college town, in the nation's most powerful conference and for a national championship-winning coach.
That's why Fisher's recruiting won't be affected by a new coach at Texas. Not even one who came from Alabama.
Never miss the latest news from TexAgs!
Join our free email list
PRESENTED BY