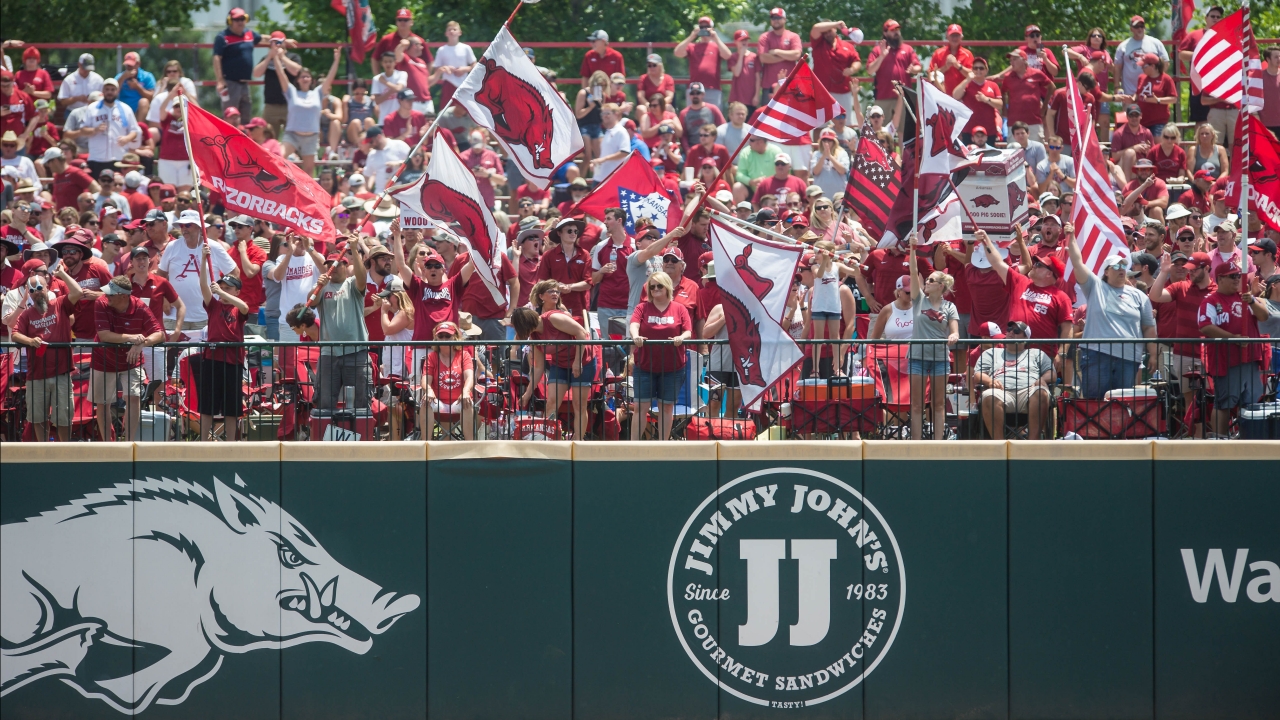 Photo by Brett Rojo-USA TODAY Sports
Texas A&M Baseball
Kendall Rogers previews NCAA's 20 regional site announcement
---
Key notes from Kendall Rogers interview
Looking at the top ten, all of those schools will make this 20-school announcement. They'll all be in there. The question is looking at the bottom for those final few seeds. How does the committee separate the Conference USA trio? What do they do with Pitt, who I think is a slam dunk? What about the rest of the ACC, including Florida State and Louisville, who don't have very good RPIs? How the committee handles those teams is my question.

One of the teams I expect to be in there that many people will raise their eyebrow at is Gonzaga. They've had an excellent season in the WCC. Gonzaga went out and played good teams, won a lot of those games and have a high RPI. If they do not host this year, why would any mid-major ever expect to host? They should be in the mix.

With the SEC, there is not much intrigue outside of South Carolina and Ole Miss. They have pretty good RPIs and some other metrics that stick out. The interesting thing about Ole Miss is that if they're in the 20, the vote was held a couple of days before Gunnar Hoglund was announced as being out for the year, so that won't factor in.

For Florida, Kentucky got hosed on one pitch. If the Gators don't get that call and win that second game against Kentucky, Florida probably doesn't host this year. The margin is so thin for so many teams, and Florida is one of them.

The Big Ten is going to be interesting in the postseason. At D1Baseball, we have five bids for them in the tournament, which might be a little rich. You have to wonder if the committee will try and stick it to them for trying to force everyone else to play conference-only baseball this year. I think the magic number for them is likely four teams in. I do not expect a Big Ten team to be announced as a host tomorrow. Their highest RPI teams are in the 50s and 60s.

I liken Will Frizzell's performance to Zach DeLoach. I was critical of DeLoach for a while because he looked like Tarzan and played like Jane for a little bit, but then he had that big year and got drafted high. Frizzell has always had that big stature and that power bat. He is a totally different dude this year. He is totally locked in. I talked to a couple of scouts yesterday that said he could be a guy who has gone from possibly being lucky to be draft to a guy that could be taken in the sixth or seventh round. Rob Childress told me this week about all the knee injuries he went through, and he's a great story. He almost quit baseball and is now having a tremendous year. My only wish is he got more help around him to get him into the postseason.

There are some good first basemen around the country, but Frizzell has a great shot at being a first-team All-American. He is not on a team that gives him help in front and behind him. Teams have been able to sit on the outside corner and pitch around him, but it hasn't mattered. I could not believe that Taylor Broadway went at him with 93, 94 and went right back at him with the fastball. What are you doing? If you throw him the same pitch three times, it's going a long way. That was a horrible pitch sequence, and I hate to bag on Mike Bianco.

If Texas A&M sweeps the next two weekends, they'd be sitting at 13 conference wins and would only need one or two wins in Hoover to go to the regionals. If you win the next two weekends, you're at 11 SEC wins, so you'd have a shot. Plus, anything can happen in a conference tournament. You need to win two of three from Auburn and play hard for a sweep vs. LSU. If you do that, you could get into a regional with a couple of wins in Hoover. I'd like to see what they could do in a regional. I think they're too talented to be sitting at home in the postseason.

Tennessee and Tony Vitello are hard-nosed. They'll be aggressive. Then you have Arkansas, who doesn't put up with that. It's going to be electric. Tennessee is going to 100 percent capacity, so that series should be electric. The winner of that series has a chance to win the SEC crown. I still like the Hogs, but what a story that would be if Tennessee wins that series.
Never miss the latest news from TexAgs!
Join our free email list