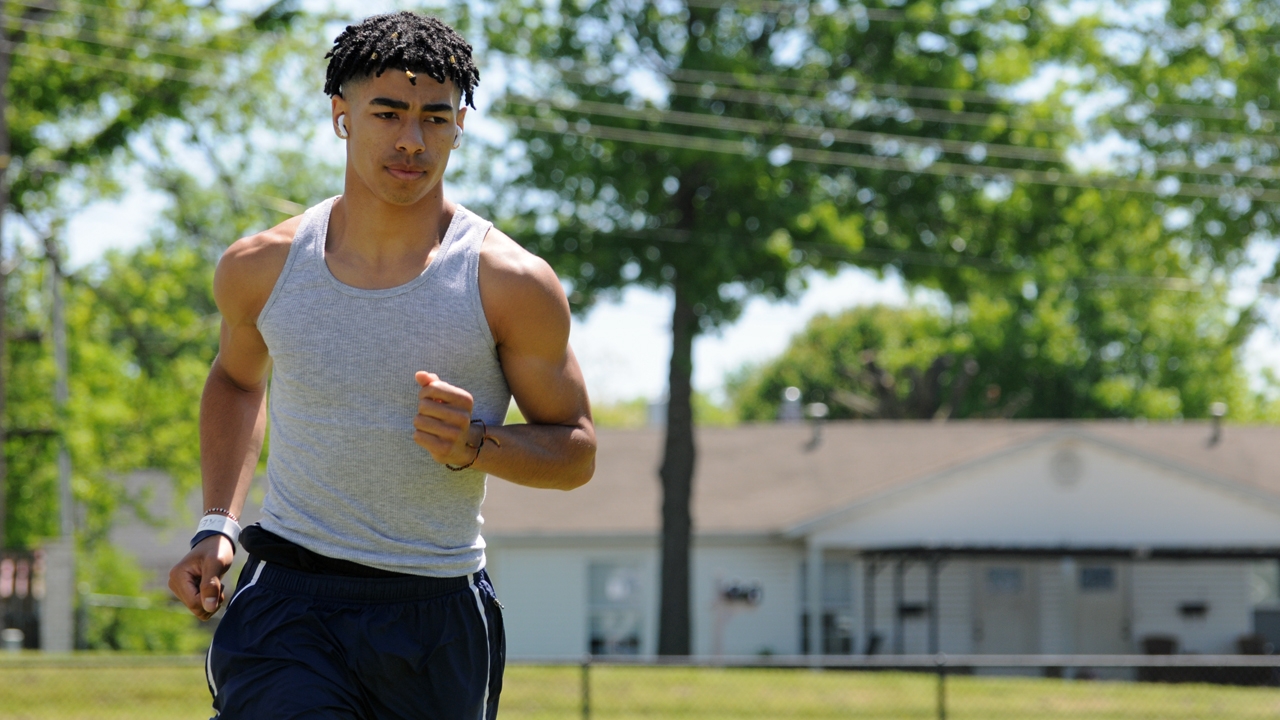 Photo by Jason Howell/TexAgs
Texas A&M Football Recruiting
Blessed with speed, A&M commit Isaiah Sategna aims to make the most of his gift
---
Video (above) produced by Lia Musgrave.
---
His relentless quest to infuse Texas A&M's football roster with blistering speed made coach Jimbo Fisher look to the picturesque Ozark mountains.
There, in Fayetteville, Arkansas, resides Isaiah Sategna‍, a kid with a million-dollar smile, gold medal genes and a God-given gift of speed.
Whether coming down the stretch, coming back from injury, coming to a college decision or coming into the world, he's always been fast.
His mother, Dahlia, a former Olympic sprinter, can testify to that.
"I've heard of women that are in labor all day," she said, recalling a mid-July night 17 years ago. "Not so with Isaiah. At 3 a.m. I started having contractions. I told my husband, 'I think the baby's coming. We need to go NOW. Make sure the anesthesiologist is there. This is going to go quickly. We got to the hospital.'
"Sure enough, the anesthesiologist was there with the epidural. Within the next hour, Isaiah was there."
Isaiah has moved quickly ever since. Aggies, though, are hopeful he doesn't decide he moved too quickly in committing on March 9 to accept a Texas A&M football scholarship offer.
LSU, his parents' alma mater, recently extended an offer. Arkansas, where his father is a track coach, is trying to change his mind.
"He's an outstanding worker and an incredible football player with an elite set of skills."
Fisher and A&M receivers coach Dameyune Craig may have to work diligently to ensure Isaiah doesn't take his elite speed elsewhere.
"Some other schools have picked up their recruitment with me," Isaiah said last Thursday between events at the Arkansas Class 6A state meet. "But I'd still say I'm very locked in at A&M."
The key to that lock might appear to be A&M track coach Pat Henry, who has built one of the nation's elite track & field programs at A&M. Henry also coached Isaiah's parents 25 years ago at LSU.
However, Isaiah said his decision is based more on what Fisher has to offer. The Aggies finished last football season ranked No. 4 in the nation and are trending upward.
"I was making the decision more on football," Isaiah said. "I still valued track, definitely. I wasn't going to go to a school that the track team wasn't one of the best in the nation. That played a big part, but I made my decision more off football."
Isaiah acknowledges that — for now — he's better in track & field than in football. That's because running fast runs in the family.
His older sister, Sydne Fowler, ran track at Texas. Younger sister Isabella is a budding sixth-grade speedster. Cousin, RJ Barrett, plays for the New York Knicks.
Isaiah's father, Mario, was a three-time All-American decathlete and 1995 NCAA champion. His personal-best 8,172 points remains an LSU record.
His mother won a gold medal as part of Jamaica's 4x100 relay in the 1991 World Championships in Tokyo and was tantalizing close to an Olympic medal in Barcelona in 1992.
Dahlia was running the third leg. The Jamaicans, in lane five, were leading halfway through the race. They appeared destined for gold with legendary sprinter Merlene Ottey running anchor.
But second-leg Juliet Cuthbert pulled a hamstring as she approached the exchange zone and could not pass the baton to Dahlia.
"We had the fastest time going into the finals," Dahlia recalled. "It was really heartbreaking."
Dahlia was almost as heartbroken at the Arkansas 6A meet. Isaiah projected as the fastest sprinter and hurdler in Arkansas but was hobbled by a painful sprained left ankle.
"Right now, he's not at his best," Dahlia said before the meet. "His ankle is really hurting. His times are not where they used to be. It's a little painful to watch, but I do know this is a part of athletics. He'll learn lessons now about coming back from adversity."
Isaiah suffered the injury in a 33-27 victory over rival Springdale Har-Ber High School. He returned the opening kickoff for a touchdown, and a minute later, he was back in the end zone, catching a long touchdown pass.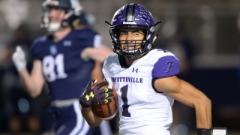 Andy Shupe/Northwest Arkansas Democrat-Gazette
Isaiah came down awkwardly. His left ankle rolled. Pain jolted his body. He had sustained a high ankle sprain. His junior football season was finished.
"It was like a 30-yard touchdown," Isaiah said. "I made the catch over the safety, so it looked pretty nice."
It was just one of many big-time plays he made for the Fayetteville Bulldogs. Last season, he caught 41 passes for 814 yards and seven touchdowns despite missing two games with injury.
"He's an outstanding worker and an incredible football player with an elite set of skills," said Fayetteville coach Casey Dick, a former Arkansas quarterback. "There's just a big difference in the way he explodes in and out of breaks and goes to get the football. He understands how to run routes. He has a high football IQ."
Make no mistake, though. It's the speed that sets Isaiah apart.
"I get double-teamed a lot," Isaiah said. "People play off me, 12 to 15 yards, but I still say nobody in the state can run with me."
Isaiah played his freshman football season in Texas at Austin Westlake, where he caught passes from four-star rated quarterback Cade Klubnik‍, who is committed to Clemson.
Later that year, Isaiah transferred to Fayetteville when Mario accepted a job at Arkansas.
Isaiah set a 300-meter hurdles school record in his first high school meet. He went on to win three gold medals and three silvers at the state track meet.
He was hoping to accomplish even more as a sophomore, but the COVID-19 pandemic forced the cancellation of the outdoor track season.
Then, the ankle injury limited him to just one meet to qualify for state.
Normally, Isaiah glides over hurdles like clean water over rocks. But Fayetteville coaches didn't enter him in those events for fear of aggravating the injury.
"I think the two things he's best in is probably 300 hurdles and long jump," said Fayetteville track & field coach Drew Yoakum. "Because of the injury, we didn't want him to come down and hurt it again because he's rehabbed the last three months."
Some wondered if Isaiah should have competed at all. His left ankle was heavily wrapped. He was obviously hurting.
But Isaiah refused to opt out. Fayetteville had won the team state championship the previous two seasons. He wanted to help make it three in a row.
"I just had to make the best of the situation," he said. "I was at a disadvantage. I know if I was at my true form, there would be no competition. It's good to have a little competition now. It makes me work harder.
"I had rushed into (track) too early. I took a long while off … about two months. I wasn't even going to run. Then my team was supposed to get second place. So then I wanted to run at the conference meet so I could qualify for state and try to put my team in a winning position."
He did.
Isaiah placed fourth in the 200 and sixth in the 100. Fayetteville needed to place at least sixth in the 4x400-meter relay to again win the team championship. Isaiah anchored the Bulldogs to a fourth-place finish.
"I was at a disadvantage. I know if I was at my true form, there would be no competition. It's good to have a little competition now. It makes me work harder."
His plan is to get healthy and come back next year and get the six-pack of gold medals. He could've done that this year.
His personal bests he set as a freshman in the high jump (6-6), long jump (24-1.5), high hurdles (14.61) and intermediate hurdles (37.67) would have won the state championship this year.
His freshman 100-meter dash best (10.8) was two-tenths of a second off this year's winning time. His best 200 (21.93) would have been second this year.
"I'm looking to break some national records next year," he said.
After next year's track meet, he'll focus on Texas A&M football. He smiled at the thought of being on an offense with speedsters Devon Achane, Haynes King and perhaps recruiting targets Brenen Thompson‍ or Chris Marshall‍.
"It would be like having a sprint relay on the football team," he said.
First, he aims to be as adept at catching the football as he is taking a baton exchange.
"My hands aren't as good as I want them to be," Isaiah said. "They're still pretty good. The things I'll work on over the summer are my hands and my route running.
"I feel like once I get into college, coach (Dameyune) Craig can develop me into a great player. The sky is the limit."
Dahlia, a woman of great faith, wants Isaiah looking skyward for other reasons, too. She demands Isaiah comprehends there is more at stake than track medals and football trophies.
"One thing I have always stressed with Isaiah: he is gifted, and it is a gift from God," Dahlia said. "He was given the talent. Now, it's his job to make it better.
"He has to be consistent and do it over and over again for himself and for God's glory. I always try to remind him this talent is not just there to make money and be showy, but for a bigger purpose."
Never miss the latest news from TexAgs!
Join our free email list
SPONSORED BY