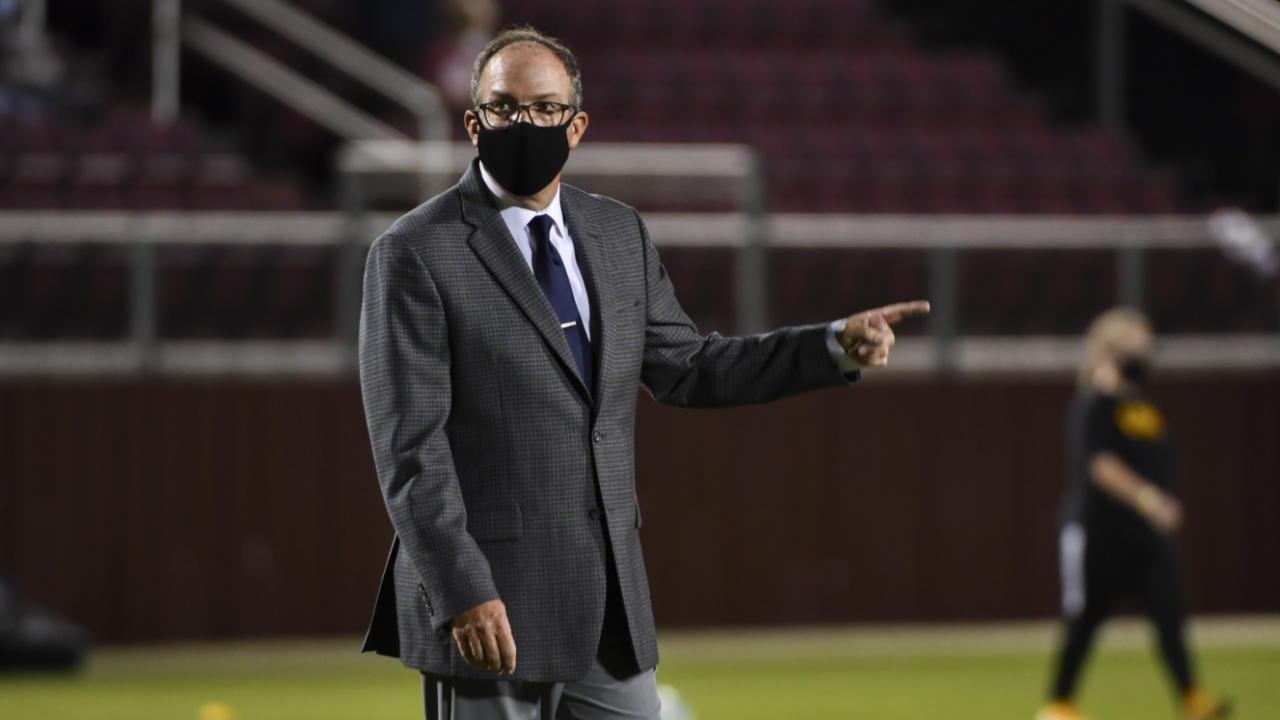 Photo by Jamie Maury, TexAgs
Texas A&M Soccer
Coach G excited for Sweet Sixteen showdown with Oklahoma State
---
Key notes from G Guerrieri interview
Bubble life is not so bad. We're staying at a nice Marriott, so it could be a lot worse.

I think for most of our team, it was their first experience in the NCAA Tournament. They kept their confidence, and we got stronger as the game went on. We didn't play great in the first half. The talk at halftime was that our team was playing fine, and we added some wrinkles.

Special players did special things. Barbara Olivieri scored on a penalty kick, and then she added the insurance goal on a play that included three of our very young players. That was demoralizing for south Florida. We shut them down in the final minutes, and we controlled the final 20 yards of each half of the field.

It's about managing situations and understanding that you don't want to take your foot off the gas but can also move the ball into parts of the field that won't hurt you. Of our starting 11, five are freshmen, and three are sophomores. We've had to stress what we have to do late in games if we're up a goal or down. We're going to play teams that are tops in the country, so it's about being tactical and smart.

We lost more than most. Part of this situation is that our young team doesn't know what they don't know. They go out and play. A senior-dominated team knows what's around the corner, but when you're young, they only see what is in front of them. Right now, that's Oklahoma State. The fact that Jimena Lopez and Addie McCain are playing professionally now is just a fact. We're playing differently without them. The only team that had as much drafted was North Carolina, and they'd be the next opponent if we can survive against Oklahoma State.

Pointing at the leadership, players have a lot of respect for what Kenna Caldwell does in goal. She's very good with her feet, and she can play a pass back to here. We have two of our captains back there in Katie Smith and Karlina Sample, and Karlina has been a lynchpin to our success this year. We have nine shutouts, and Karlina has been a huge part of that.

We know Oklahoma State well, and we've followed them all season long because we're friends with them. Now that everybody is in North Carolina, they seeded everyone correctly, so we're meeting them where we should. They do not give up many chances or goals. They crushed their last opponent, 7-0. I think it'll be a one-goal result one way or the other. The last three times we've played them were draws, so it would not be surprising if this game goes to overtime or penalty kicks.

I'm not going to get ahead of myself, but if we end up playing North Carolina, it will be the hardest game of the season, period. The Final Four is such a tough event to get to. The final sixteen teams are already here on both the men's and women's side, so there is a bunch of good buzz in town about what's happening.
Never miss the latest news from TexAgs!
Join our free email list