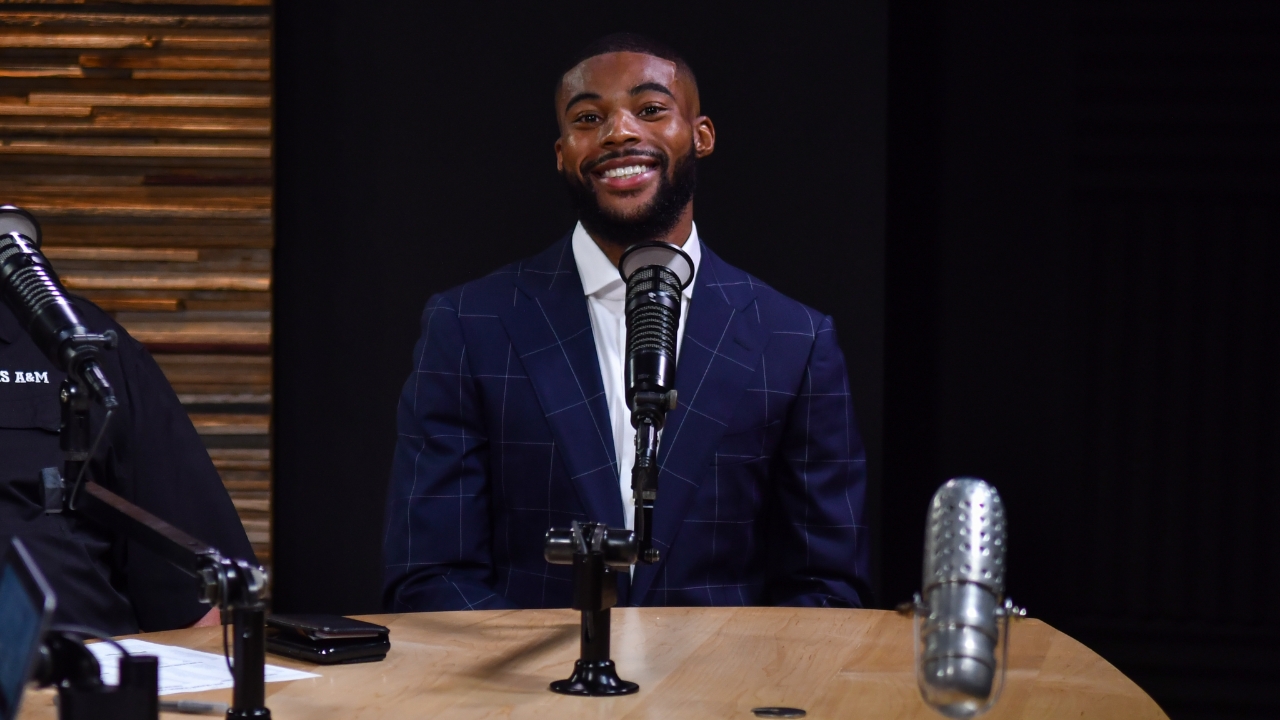 Pat Henry Q&A
Carlton Orange Q&A
Texas A&M Track & Field
T&F Report: Carlton Orange balances track and second degree from Mays
---
Legendary Texas A&M track & Field coach Pat Henry joined Wednesday's edition of TexAgs Radio in-studio to discuss the Aggies beginning a long home stretch this weekend at Cushing. Graduate 800m runner Carlton Orange joined for this week's Athlete Spotlight.
---

Key notes from Pat Henry interview
We're home for a month, and we have four track meets coming up. A lot of track is going to happen here in town, finally. There will be some great competitions with the SEC and the west regional both being here.

Part of the issue with coming to track meets is that the worst athletic event is a poorly run track meet. People have to sit there way too long because there are too many schools, and a lot of schools can't get 100 officials there to run everything. That's not the case here at Texas A&M. We run great track meets. We will shoot the gun every minute or two. There's a ton of action.

Anytime you're on the road, the logistics and everything involved makes things difficult, especially with the situation we're in right now. There is so much that goes into it. Everything is difficult. Transportation and everything else is difficult. When we get on a bus, it's not just a bus anymore. It's three or four buses because you have to spread people out.

We went from running a meet at Baylor that was like running in the Yukon to running in a hot environment in Baton Rouge. That is track. It was great to go to LSU because you know you're probably going to get some warm weather. When you get two or three SEC schools at one site, it makes for one of the best meets in the country. You want to run against the best, and that's what happened.

We're experimenting with people on our relay teams, and we have to. It's about having the right personnel, and that's a challenge right now. There are different individuals getting chances right now. To get the stick around in the 4x100m was good. The ladies won the 4x400m, and the men were second. We barely got beat by the best, and sometimes that's not the worst thing.

Josh Brown won the discus on his last throw. He did not look good up until then. Each one of our meets is a rehearsal, and there is no season count or record. It's about preparing yourself to do it on one day.

Deborah Acquah was already our school record holder. There have only been two people to jump over 22-2 in the United States this year, and she's one of them. She jumped over 22 feet three times in the competition and set the school record this weekend.

Charokee Young ran a great race. It was set up to her disadvantage with a good runner inside of her. Let's say you run 52 seconds and someone else runs 52.2, they're typically on the outside of you. She had to run a great last straight away, and she did to win the race. Much like Athing Mu, she's young and is only getting better.

I think we can put in one or possibly two other people on our best relay group, and we did that this weekend. I missed two ladies that have the potential to run in that relay, but Jaevin Reed stepped up and ran well. This was the first pressure situation she has been in, but she ran a good third leg. We were able to run a good race. To run 3:27 in that relay, we'd be extremely pleased for lots and lots of years. This is a great group, and they've run well a lot this year.

Fred Kerley ran 9.91 in the 100m this weekend. That's a tremendous run. If he's fit and ready for the 400m, he is going to run very, very fast. I look forward to watching what happens in the next few months. He can win the Olympic gold medal, no question about it.
---

Key notes from Carlton Orange interview
It's funny because our 800 group is seniors and freshmen with almost no in-between. It's a great dynamic, and it's one big happy family. We have our own YouTube channel that we all contribute to. We push each other to be our best. One of the things that helped me start the YouTube channel was COVID-19 and wanting to give recruits a chance to see our program.

Athing Mu is a beast. Most importantly, she's a nice and great person. It's exciting to get to see her compete.

My rhythm was completely off the last couple of months. I trained over COVID-19, but I just had to get back into my rhythm. I got my personal record last week at LSU, so now I feel like I can really succeed going forward.

We're going to get every good recruit there is. Our facilities, coaches and medical staff are all tops in the nation. We have heavy hitters on all sides, and that's most important. It's about how much you can improve your academic and athletic performance. Texas A&M hits both of those very hard.

Arkansas was a great school, and I have nothing bad to say about it. However, it wasn't working for me. The training wasn't for me. I reconnected and moved forward. The environment around Texas A&M was a little more serious and focused on winning the national meet. That's the vibe I was looking for and why I chose Texas A&M.

It's hard juggling track and taking classes at Mays. There are some days when I'm studying late at night but have an early, hard practice in the morning, so I'll have to call it quits. Other times my coaches might be frustrated at the same time the real estate program is a priority. It really just comes down to good time management.
Never miss the latest news from TexAgs!
Join our free email list