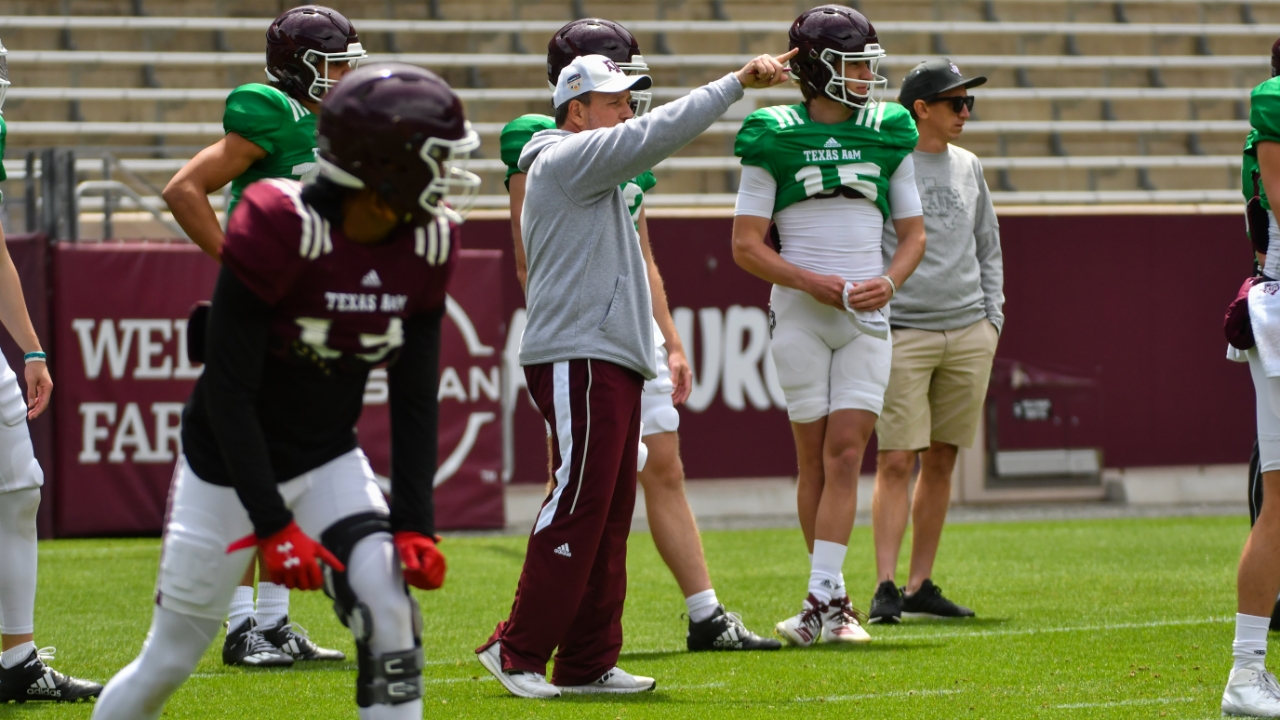 Photo by Jamie Maury, TexAgs
Texas A&M Football
Despite its limits, Fisher values spring camp as a helpful lens for looking ahead
---
Don't expect to see many double-tight end formations in the Texas A&M Maroon & White spring football game on Saturday. In fact, don't expect to see many tight ends at all.
With apologies to coach Jimbo Fisher and his celebrated rallying cry, the spring football game just might be like it used to be.
That is: An offense with no tight ends.
Fisher isn't changing his offensive philosophy. He just doesn't have many tight ends available for the 1 p.m. game at Kyle Field.
"You never get everything you need to see in spring. One, you don't have enough practices. Two, you don't have your whole team here."
Starter Jalen Wydermyer and Blake Smith are sitting out spring drills with injuries. Baylor Cupp's practices were apparently limited (think pitch count) because of injuries in previous seasons, so he won't play. Max Wright has also been slowed by injuries.
"Probably the tight ends are hit the hardest (position). Wydermyer, Blake Smith …" Fisher said during a press conference on Thursday afternoon. "Cupp had some really good practices. We're holding him (out) this last week; just get him healthy from what he was going through.
"We knew there was a limit going in (to spring drills) because some of those guys we limit going into spring. There's a certain number of days we're going to give them to get some work in.
"Max Wright is always nicked a little bit, but I think he may be OK by Saturday."
Fisher said the offensive line is also lean.
A few injuries combined with the fact that a half-dozen linemen won't arrive until the summer leaves the Aggies with only about nine available blockers.
However, Fisher isn't concerned as the number of unavailable players is not unusual.
"I think (we're) about normal where you are in the spring," Fisher said. "You never get everything you need to see in spring. One, you don't have enough practices. Two, you don't have your whole team here."
Still, Fisher does have his full roster of quarterbacks on hand.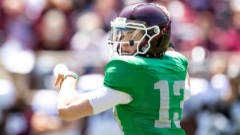 Texas A&M Athletics
Sophomore Haynes King and junior Zach Calzada are the leading competitors to succeed departed record-setting quarterback Kellen Mond. Their spring game performances will be closely watched and analyzed.
"Manage the game. Run the show. Make the decisions you got to run like you have been all spring," Fisher said. "Manage situations. Understand it. Play good football. At the same time, take care of the football. Be intelligent and aggressive on how they play and just control the tempo of the game and momentum of the game."
Fisher indicated he's pleased with what he's seen from the quarterbacks so far this spring.
"Don't let it overwhelm them, which I'd be shocked if they if they do," Fisher said. "They've all done a really good job of that in camp. I've been very pleased with their performance. I mean, it isn't perfect. We've got a long way to go, but they've done a really good job, in my opinion, of some of the situations — in tough situations — we put them in in spring practice."
Fisher said the 15 practices of spring are used primarily to gather information for the fall camp in August.
"What you try to do in the spring is just create the scenarios and evaluate the people so you can make decisions over the summer for fall's camp," Fisher said. "Where to put them. How you put them. Where they fit.
"You've still got to experiment because you have new guys coming in. Plus, you're still going to see how guys have come back from surgeries, come back from things that are not in there right now or have limited participation.
"You can at least tweak and turn and get guys in place that gives you an idea of where you think you want to start when fall camp comes."
Never miss the latest news from TexAgs!
Join our free email list
PRESENTED BY