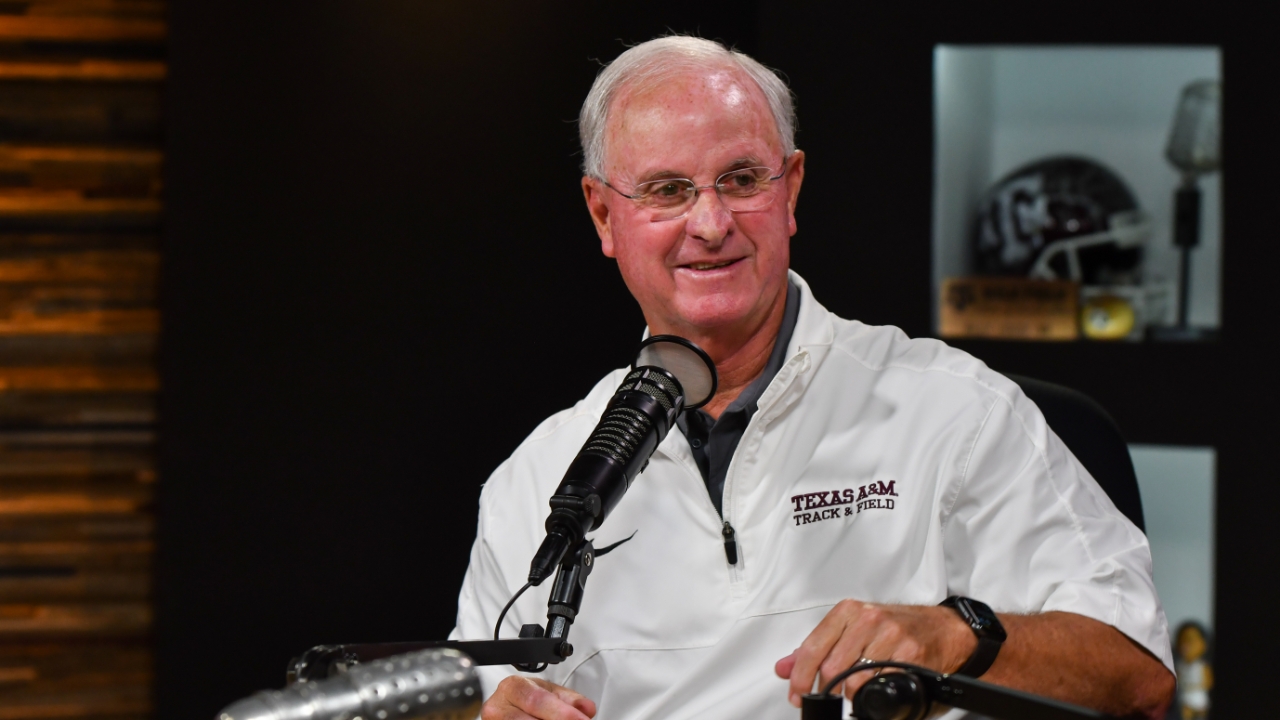 Pat Henry Q&A
Josh Brown Q&A
Texas A&M Track & Field
T&F Report: Pat Henry looks back on Athing Mu's domination in Waco
---
Legendary Texas A&M track & Field coach Pat Henry joined Wednesday's edition of TexAgs Radio in-studio to look back on his squad's performance at the Michael Johnson Invitational in Waco. Senior thrower Josh Brown joined for this week's Athlete Spotlight.
---

Key notes from Pat Henry interview
We had some good things happen in Waco, but it was really cold. The Saturday morning part of that meet was difficult to stand out there. Track athletes stand out in basically their underwear to compete. It was a cold, cold morning but got a bit warmer as the day went on. Because of the training and how things have gone this year, we have to be careful about who we put on the track and when. You must pick and choose. We bailed out of a couple of events because of how cold it was. It affects warm-ups, and people do not warm up correctly when it's cold. You don't do things normally, and as a coach, I have to watch who is warming up correctly.

Athing Mu started that 800m race differently than usual, jumping out to an early lead. It was over after about 200m. She ran a faster second 400m, and that doesn't happen very often. That tells you there is a bit more in the tank. From a pure performance, I have not seen that kind of performance in all of my years from a time and weather standpoint. Mu was also running against the NCAA Champion. 1:57.73 is outstanding. Olympic Standard gets her into the US Championships. You then have to finish in the top three to go to the Olympic Games.

Mu has only run one mile this year, but she's not enthused at running a mile. Right now, she's kind of a half-miler who can step down 400m. She's also a great 400m who can run great 800m. She really wants to run fast 400m races. Everyone expects her to run faster than 1:57 now, but that can't happen all of the time. It's going to take a special situation for her to run faster than that.

Brandon Miller is one of those guys I don't think many people know right now, but they will. He has not run what I think he is capable of time-wise, but he wins races. That's all that matters. He beats people. It was a good field this week, and he ran a 1:47.3, which ranks in the top 10 nationally.

Dominique Mustin keeps getting better. She's just a freshman. She ran 58.48 in the hurdles, and there is more in her tank. She has some good races in front of her.

Moitalel Mpoke is a guy who I don't know what he can do yet. He's so talented. I'm trying to figure out his best event, and I think that will be the intermediates.

Josh Brown has been with us for four years and is a pleasure. He's a guy who works every day and is consistent at competitions. It's very seldom that he has a poor meet. I don't think he's happy about 186 and probably feels like he can throw further. He is a fantastic athlete.

Above 800m, they like colder weather to run in, but the fastest times are run in the heat. Still, it's a little more pleasant to run in cooler weather.

I think Eric Casarez is going to come along. He's our 5K guy. There have been flashes, but there have been signs that he can run very fast. Carter Bajoit, our high jumper, just cleared seven feet. He could come along. On the lady's side, Laila Owens has been fantastic but won't run at the LSU meet. Annie Fuller will be a name that pops up soon as well.

The Big 12 is running good track, and we saw them this last weekend. This next weekend, we'll see LSU, Alabama and some Kentucky runners this weekend. If you see LSU and Alabama, you've seen some good talent in our conference. We saw LSU at the Texas Relays. It's just another challenge for us to continue doing what we're doing.
---

Key notes from Josh Brown interview
COVID-19 killed the attitude last season. Coming into this year, I just wanted to do as well as I possibly could. During the indoor season, I wanted to get that school record, so that was upsetting. My start to the outdoor season hasn't been great, but I think I can get better.

There are technical things I need to work on. That will improve some of the throws and help me in the long run. I think I'll be ready for the SEC Championships. I think I can throw 60m.

The recruiting visit to Texas A&M was amazing. I came to a few games over the years. I had seen some facilities when I was young, but seeing them now is overwhelming. I knew Texas A&M is the place.

My walls growing up were maroon. My bedsheets were A&M. I knew where I wanted to go.

After track, I eventually want to be a graduate assistant for a football program somewhere. I hope to get back into football and start working my way up the coaching ranks.
Never miss the latest news from TexAgs!
Join our free email list