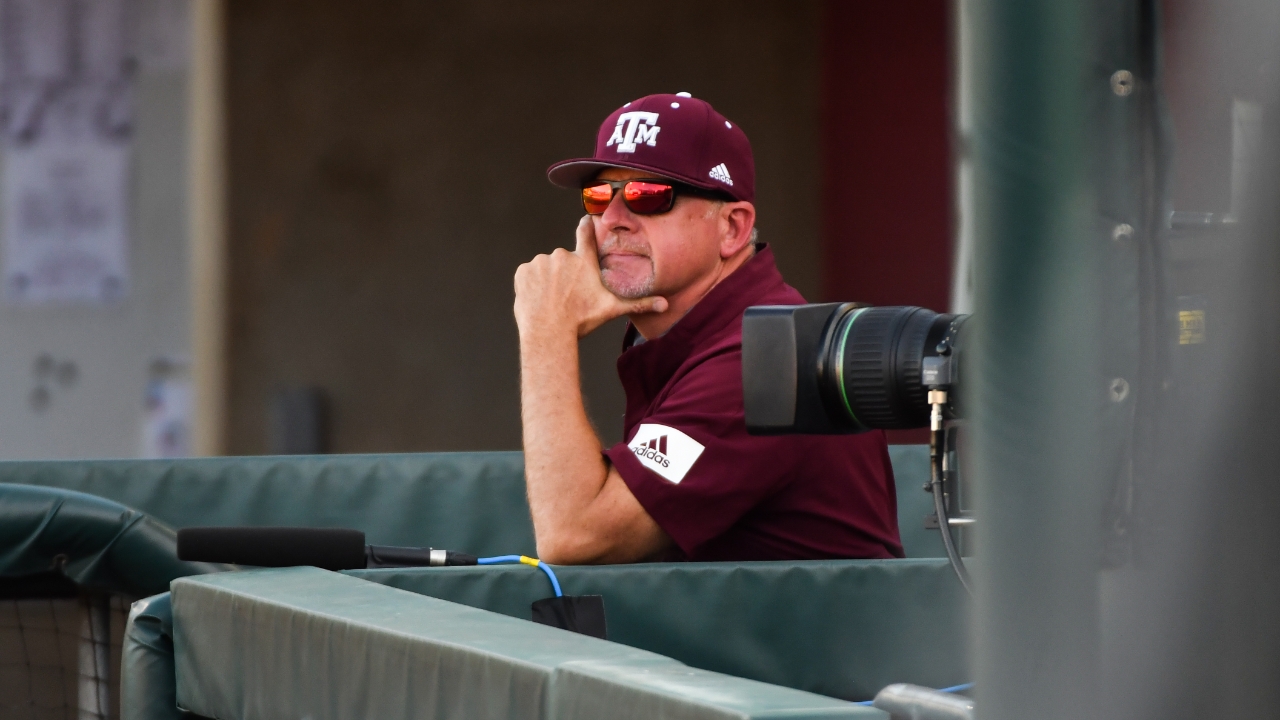 Photo by Jamie Maury, TexAgs
Texas A&M Baseball
Rob Childress looks back on series at Baum, previews set with Volunteers
---
Key notes from Rob Childress interview
I'm proud of the toughness and grit of our team, especially after game one. We bounced back and had a great performance from Bryce Miller and a big showing from Chandler Jozwiak. For the resiliency from our guys to bounce back and find a way to win on Sunday was important. Hopefully, we'll take it forward for a while.

Dustin Saenz wasn't very good and didn't command the fastball or slider to his glove side. We set up some innings for Arkansas. Throughout the weekend, we gave them too many base runners. We ran three guys out of the bullpen, and that first game got away from us. In game two, Miller couldn't have been better. We made a mistake defensively in the 10th that cost us the game.

There is a lot of want-to and a competitive, hard-nosed spirit among our guys. After losing 13-0, it didn't matter to them. They flushed it, and it started with Miller. There were a lot of two-out walks and situations to make big pitches with men on base. Miller did that. Outside of the win on Sunday, he was the biggest takeaway for us from this weekend.

We're just starting the second half of SEC play. We had a nice day on Sunday and had a lot of hits. Logan Sartori was on the bases and created a lot of pressure. We lost a little momentum in the second inning, but we kept punching. Some other guys joined the party offensively. Hopefully, that's something we'll keep rolling in the second half. Our best baseball is in front of us.

Just like where we need guys joining Will Frizzell, we need a couple of guys in the bullpen to join Jozwiak. He is pitching angry, and when he has that energy, he is great. That's the guy I want on the mound with the game on the line. It comes down to having a relationship with your guys and knowing when they're at their best. Jozwiak is certainly a guy that is at his best when he has a chip on his shoulder. He's pitching at a high level, and his numbers are ridiculous. He is going to fit a lot of people's wish lists when it comes to Draft day in July.

The rotation will be the same this week. Those are the right pieces in the right places. We just need them to be what they're capable of being.

Texas Southern is 10-24, and they've gotten most of their wins on the weekend. We're going to have to control their three-hole hitter. Jonathan Childress is starting tonight, and we need to get some length from him to help out our bullpen.

Tennessee is having a great year. Tony Vitello has it rolling. They just lost two of three to Vanderbilt but beat Jack Leiter on Saturday. They don't give very many free passes, so we'll have to do a good job handling a stingy pitching staff.
Never miss the latest news from TexAgs!
Join our free email list