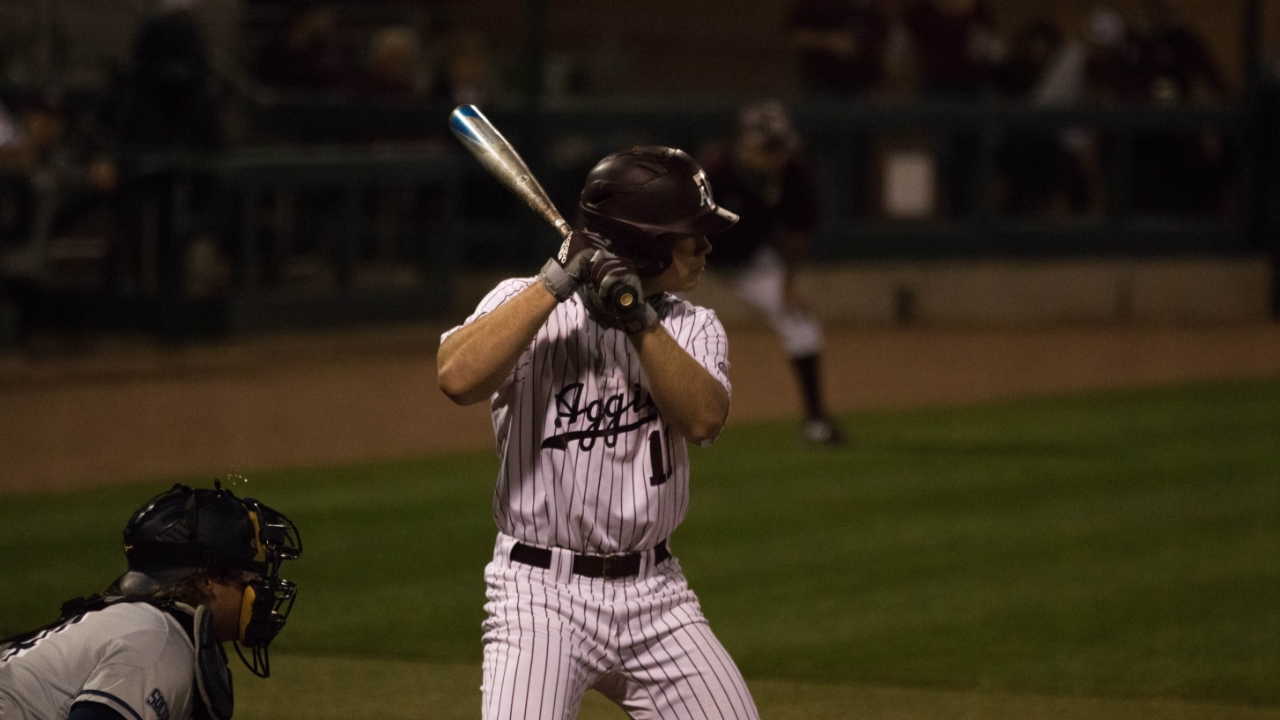 Photo by Angelina Alcantar, TexAgs
Texas A&M Baseball
Baseball Thoughts: Texas A&M 8, Texas State 4
---
Game #35: Texas A&M 8, Texas State 4
Records: Texas A&M (20-15) (3-9), Texas State (15-19)
WP: Alex Magers (2-1)
LP: Travis Sundgren (0-3)
Save: Chandler Jozwiak (4)
Box Score
---
The Texas Aggie baseball team limped into San Marcos for a mid-week battle with the Texas State Bobcats, but a four-run second inning boosted the team to a much-needed 8-4 win. The victory breaks a six-game losing streak. Here are some brief thoughts from tonight's contest.
1) Big second inning sets the tone
The Aggies got things going offensively in the second frame with a lead-off triple by Brett Minnich, who had two hits and drove another ball to the wall. After hitting the ball well the past two games, he likely earned more playing time this weekend against Arkansas. Getting a rare start, Logan Sartori walked and Coleman also took a free pass to load the bases with no outs. Trevor Werner, also getting a rare start, singled to center scoring Minnich. Taylor Smith coaxed another walk from starter Trevis Sundgren to bring home the second run of the inning. Kalae Harrison followed with a two-RBI single to make it 4-0 and chase Sundgren from the game with no outs in the frame. The inning was about to explode, but an Alejo single ended with Smith being thrown out at the plate, and then Will Frizzell hit into a 1-6-3 double play. But those four runs set the tone for the night, and while Texas State put together several threats and brought the tying or go-ahead run to the plate on multiple occasions due to some shaky pitching, the Aggies got the big out when they needed it at almost every critical situation. The Aggies never relinquished the four-run lead generated in that second inning.
2) Pitching did just enough to win; hitting did just enough to win
It wasn't the prettiest piece of work you'll see from Aggie baseball, but they delivered when needed. Jonathan Childress started the game, and he had one of his best outings of the season, pitching three scoreless innings. He lost his sharpness in the fourth frame, and he also lost his composure. Childress walked two batters, threw a pick-off throw into right field, allowed a single, and balked in a run. He was on the edge of imploding but managed to strike out the final two Bobcats and escape a potentially disastrous situation with minimal damage still leading 4-2.
The Aggie bats fell dormant and didn't manage another hit until the fifth inning with two outs, but they made it count in a big way. Austin Bost launched a monster shot into the neighboring softball field past the left-field wall that scored Frizzell after he walked. The two-run shot also directly answered the Bobcats' two runs in the previous stanza. Texas A&M again immediately answered and matched Texas State's single runs in the seventh and eighth innings, which was critical to keeping the pressure off the A&M bullpen that struggled to throw strikes all night. But while A&M relievers Alex Magers, Moo Menefee and Chandler Jozwiak flirted with disaster time and time again, they made the big pitches to end several late-inning threats when it counted.
On offense, the Aggies managed only eight hits but leveraged Texas State's seven free passes to squeeze every run out of those eight hits, leaving only four runners stranded on-base all night. In contrast, Texas State left 12 runners on-base tonight, and that's pretty much why Texas A&M was able to maintain its early lead until the end.
3) Nice to get the win
At this point, a win is a win. Who cares what it means in the big picture? It's just nice to get a win and get the weight of this six-game losing streak off this team's back. The Aggies sit at 20-15 with consecutive weekend series against three of the top five teams in the nation. That tough stretch starts this weekend against No. 1 Arkansas in Fayetteville. Yeah, it doesn't get any tougher than that. On paper, it doesn't look promising, but I'm going to pull out the most used coaching line in all of baseball, "You have to take it one game at a time," do your best, and see where you stand Sunday afternoon. At this point, what does this Aggie team have to lose? It's going to take some head-turning wins and a significant turn-around to sniff an NCAA regional bid. But that's why you play the games. Yeah I know, the second most-used coaching line in baseball. Sorry.
Never miss the latest news from TexAgs!
Join our free email list