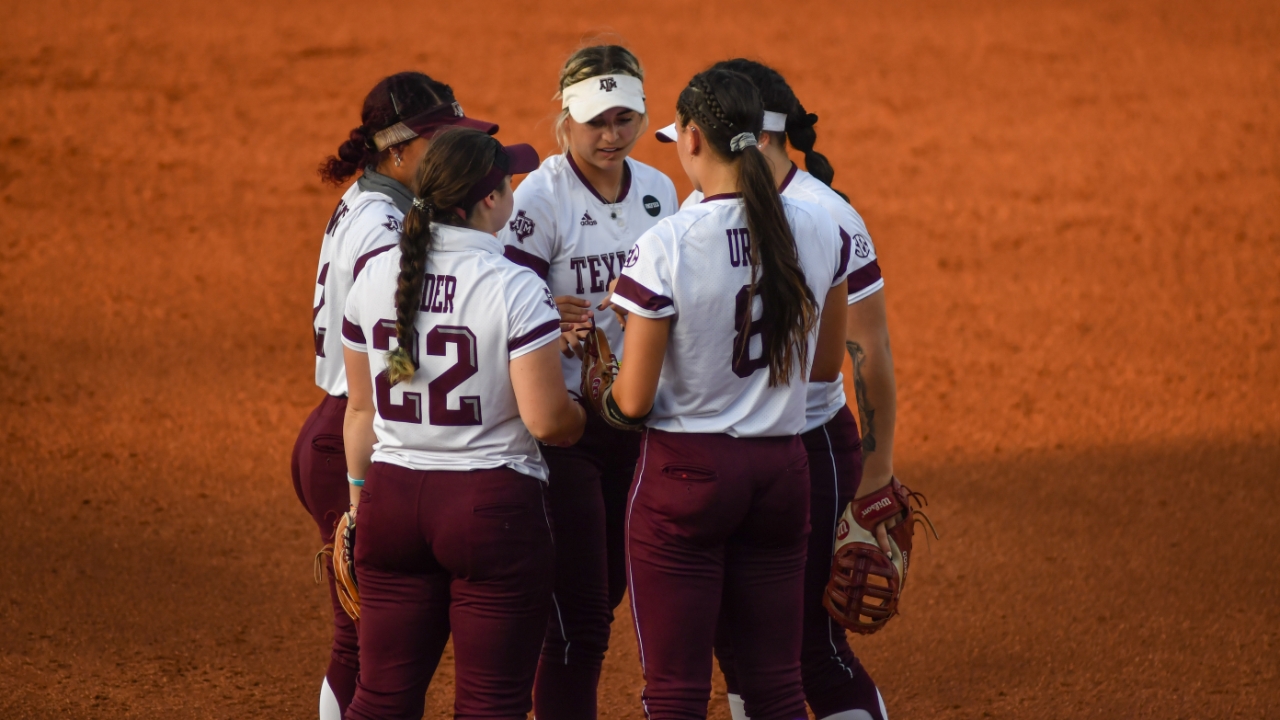 Photo by Jamie Maury, TexAgs
Texas A&M Softball
Offensive woes continue as the Aggies fall to Auburn at home, 6-2
---
Unable to produce any offense until late, No. 25 Texas A&M softball fell to Auburn, 6-2, in Friday night's series opener in College Station.
The Aggies are now on a five-game losing streak after losing to the Tigers, who entered the game with only one win in conference.
Head coach Jo Evans said it was a tough loss for the team.
"Overall, you know, it's tough," Evans said. "We got ourselves behind early. We didn't look great at the plate early on. It is always disappointing to let it get away there at the end."
Auburn jumped out to a dominant start, scoring three runs in the top of the first.
Graduate transfer Kelsey Broadus was inconsistent early in the contest. By the top of the second, Broadus had issued three walks and hit two batters. She was soon replaced by freshman pitcher Grace Uribe.
"We really have to take what comes to us, understand, learn, keep learning and keep getting better."
Uribe was much steadier in the circle and served as a highlight for the Aggies. The Huntington Beach, California native punched out three Tigers and only walked two.
Evans said she saw a lot from Uribe in relief.
"Grace Uribe came in and threw strikes and got us some outs," Evans said. "I thought it was a big deal when she goes out there in that second inning and gives up a hit but doesn't give up a run. I thought that showed a lot."
Despite Uribe steadying the ship, A&M was unable to answer or garner offensive momentum until the bottom of the sixth.
It was then that freshman infielder Rylen Wiggins delivered the first hit of the ballgame for the Aggies with a single up the middle. College Station native and freshman outfielder Bre Warren followed with her second collegiate career home run.
However, the Tigers answered quickly, posting three runs of their own in the top of the seventh.
Although senior outfielder Kelbi Fortenberry and senior infielder Ashlynn Walls each provided a hit in the bottom of the seventh, the Aggies were unable to deliver any additional runs.
Evans gave credit to some of her younger players for giving the Aggies a chance late.
"You look at Rylen Wiggins, Bre Warren and Gracie Uribe, those are all true freshmen out there getting at it," Evans said. "I was pleased to see the way they managed it and give us a chance at the end. That's what you play for."
A&M and Auburn will play the second game of the series on Saturday at Davis Diamond with first pitch set for 4:00 p.m. Evans is hoping to see her team respond to Friday's loss with maturity and resilience.
"What I don't want is our kids to leave here feeling discouraged and feel like we are not good, that is not the case. We really have to take what comes to us, understand, learn, keep learning and keep getting better," Evans said.
Never miss the latest news from TexAgs!
Join our free email list