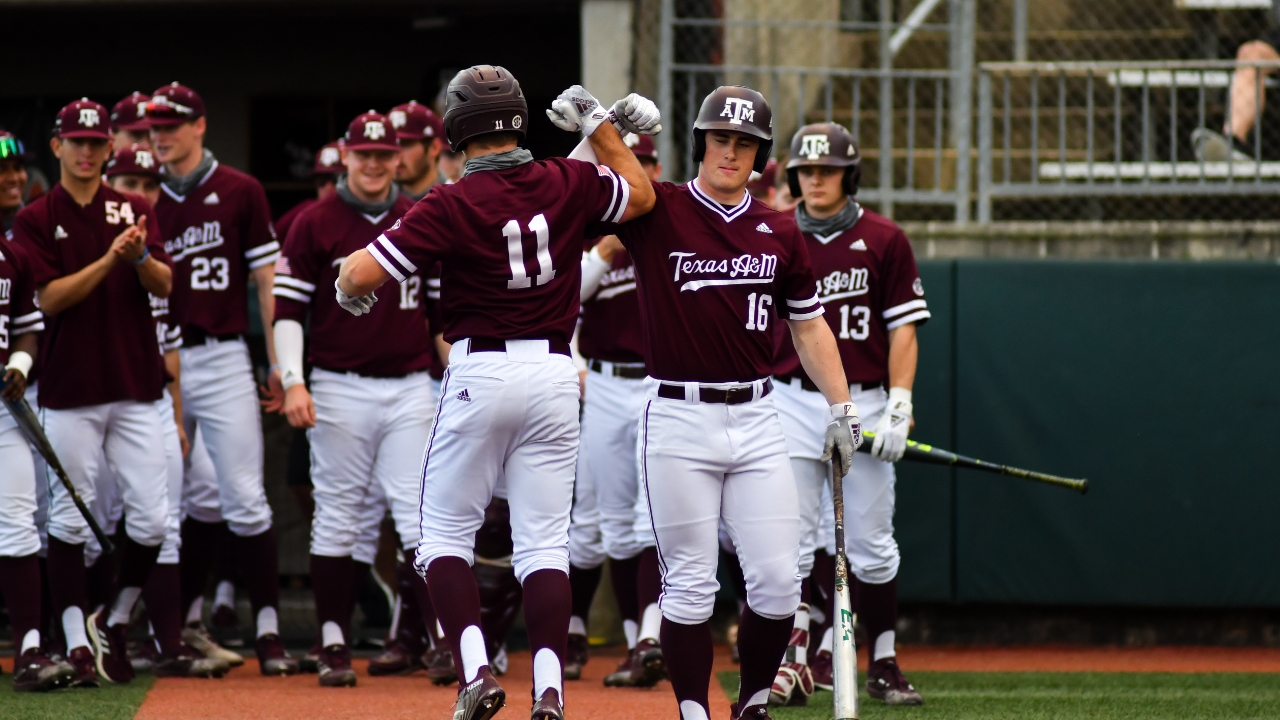 Photo by Jamie Maury, TexAgs
Texas A&M Baseball
Series Preview: Texas A&M vs. Alabama
---
Also included above is Diamond Talk with Gabe Bock, Ryan Brauninger and Scott Clendenin from Friday's edition of TexAgs Radio.
Who: Alabama (16-12, 2-7 SEC)
Where: Blue Bell Park – Bryan-College Station, Texas
When:
Friday: 6:30 p.m. CT (SEC Network+)
Saturday: 2:00 p.m. CT (SEC Network+)
Sunday: 1:00 p.m. CT (SEC Network+)
Pitching matchups
Friday: Dustin Saenz (LHP, 5-2, 2.79) vs. Tyler Ras (RHP, -1, 3.41)
Saturday: Bryce Miller (RHP, 2-0, 2.49) vs. Dylan Smith (RHP, 0-3, 2.20)
Sunday: Nathan Dettmer (RHP, 3-1, 1.77) vs. TBA
Scouting Alabama
The Crimson Tide are a tough opponent to figure out. At first glance, the team's 2-7 SEC record reflects yet another struggling Alabama baseball unit. However, there is a caveat. The poor conference record has come against No. 2 Arkansas, No. 3 Ole Miss and No. 6 Tennessee. Last week, Alabama beat the Volunteers in the series opener and lost the second in extra innings before dropping the finale, 9-8. They also walloped Arkansas, 16-1, in Fayetteville to open conference play. This team has been very competitive against the SEC's best teams.
On the flip side, Alabama can't seem to get over the hump despite being competitive. Their current 19-12 record also includes losses to UT-Martin, Stetson, Southern Miss and the College of Charleston. However, the biggest issue facing the Crimson Tide this weekend is the health of its pitching staff.
Two of their four starting pitchers have been injured, and their status for the Texas A&M series is up in the air. Lefthander Antoine Jean has missed a couple of starts with an undisclosed arm injury, and his 2-1 record and 1.52 ERA would be sorely missed. He's been a bright light at the top of Alabama's pitching staff, limiting opposing hitters to a .185 batting average. The Crimson Tide may be without Connor Shamblin's services as well, who has made five starts with a 2-2 mark and 3.91 ERA. He left last Sunday's game against Tennessee in the second inning with an injury.
If Jean and Shamblin are unable to throw this weekend, head coach Brad Bohannon will be scrambling to piece together enough quality arms to make it through the weekend. The Crimson Tide still have two quality starters that will challenge an up-and-down A&M offense. Righty Tyler Ras is formidable and beat a very good Tennessee team last week. His 4-1 record and 3.41 ERA are solid. Dylan Smith has even better statistics with a 2.20 ERA despite an 0-3 record. His Tennessee start reveals why these two stats are so far apart on the pendulum. Despite working his way out of trouble and keeping the Volunteers scoreless through four innings, he had to throw 92 pitches and left the game. At that point, a weakened bullpen surrendered eight runs over the final five frames, and the Tide lost in extra innings.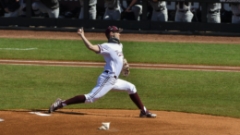 Jamie Maury, TexAgs
Alabama does have a strong closer in Chase Lee, who has two saves to go with his 0.00 ERA while limiting opposing hitters to a .127 batting average. However, if Jean and Shamblin are out as expected, the rest of the bullpen will be a crapshoot. The numbers aren't very good. Over the past two SEC Sunday contests, Alabama has surrendered 20 runs.
At the plate, Alabama isn't remarkable. In fact, the offensive statistics of both teams are very similar. The Crimson Tide is hitting .266 (A&M, .268) with 38 home runs (A&M, 40) and a slugging percentage of .438 (A&M, .441). Peyton Wilson is their top hitter who leads the team in hits (40), home runs (7), runs scored (25) and slugging percentage (.574). William Hammiter leads the team with a .364 average, and Zach Denton is the only other hitter above .300 at .327. The team does have four players with six or more home runs, so there is pop in the middle of the batting order.
Texas A&M storylines to watch
The big storyline for the Aggies this weekend is the revamped starting rotation. Bryce Miller is expected to return after missing the past two weeks to COVID-19 protocol. His absence has been costly with the pitching staff faltering in critical must-win games against lower-tier SEC competition, leaving A&M in a very precarious position in the SEC standings. With the veteran returning and head coach Rob Childress elevating promising freshman Nathan Dettmer into the weekend rotation, all eyes will be on the starting rotation this weekend. Will this be the spark that gets this train back on the tracks and on the road to redemption, or will we see similar results to what we've seen in the rotation the past two weeks? Also, the changes turn an all-lefty starting rotation into a more right-handed group.
The moves also shift veterans Jonathan Childress and Chris Weber to the bullpen and provide greater numbers along with Chandler Jozwiak, Alex Magers, Mason Ornelas and Joseph Menefee. Frankly, nobody in the bullpen is throwing well of late. At least with the increased numbers, the staff can have a quicker hook and try to find the hot hand. With Miller out, that flexibility wasn't available. Still, if this team hopes to climb out of this 3-6 hole, at least a couple of consistent bullpen arms must emerge. The keyword there is consistent. The talent and potential are there with all six pitchers mentioned, but they've all been hot and cold throughout the 2021 campaign.
Consistency has also been a common theme for the Aggie offense. Will Frizzell has been the only consistent, productive asset in the batting order. He's been a rock since day one, not only with his power (9 HRs) and average (.351), but he's been very patient at the plate and takes what the opposing pitcher gives him. He's drawn 20 walks. Not very often in college will you see a team's leading power hitter also lead the team in on-base percentage (.446).
The biggest recent development has been Ray Alejo's emergence, who has been on fire in recent weeks, raising his batting average to a team-leading .366. Since the Georgia series, Alejo has looked more comfortable at the plate and is willing to punch line drives to the opposite field on pitches on the outer half of the plate. If A&M can get Bryce Blaum on-base more at the top of the order and get either Austin Bost or Logan Britt into a hot streak, this offense can start to damage and challenge some of the better pitching teams left on the daunting SEC schedule that awaits. Blaum still leads the team in walks (21), but he has been less selective in recent weeks and has struggled to reach base consistently. Just in the past couple of weeks, he's dropped to fourth on the team in on-base percentage. To be an effective lead-off hitter, he needs to raise that on-base percentage.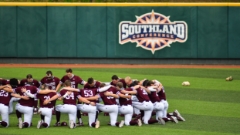 Jamie Maury, TexAgs
The other storyline is philosophy. The staff seems to be going back-and-forth with a few players vacillating between having a better bat in the lineup or a better glove. It will be interesting to watch which direction the coaches go in this series. I really like the starting rotation this weekend, and I think they can establish the upper hand against an average Alabama offensive lineup and keep runs to a minimum. We've also seen defensive miscues cost this team several runs in the past two weeks. A young guy like Ryan Targac (who is not a natural outfielder) hit two home runs on Tuesday. Do you insert him thinking maybe he's starting to figure out college pitching as a true freshman? However, by doing so, you are committed to playing a defensive liability in left field (Targac or Bost) as well.
The key this weekend is for the veterans Blaum, Alejo and Frizzell at the top of the order to be patient at the plate, elevate the opposing pitcher's pitch count, coax a walk or force the pitcher into a mistake pitch that can be driven. Basically, they need to be tough outs. Set the table for guys like Austin Bost and Logan Britt and, in the process, try to get into Alabama's very thin bullpen early in the series. If they can do that, the Aggies can win some games in this series.
What's at stake this weekend
For the past couple of weeks, I've been saying that the time is coming if this team wants to be serious about making a run at an NCAA Regional bid. Well, that time is here. Actually, that time was here last weekend. I think we know at this point, the Aggies' backs are against the proverbial wall. This 3-6 trend has to stop now, or the hole will be too deep to survive. I think we are all realistic here. Something significant has to change. A couple of hitters must emerge from dormancy, and a handful of pitchers must suddenly rise to the occasion and become consistent stoppers. Those kinds of changes usually don't happen past the mid-point in the season. But that kind of turn-around has happened in baseball, and that's what this team has to hang their hat on, remain optimistic and continue to work hard to figure this out. That is what sports are about. You continue to work hard and improve, and as a team find areas where you have strengths and leverage those strengths. Right now, those strengths are a very capable and talented weekend starting rotation and two hot veteran hitters (Frizzell, Alejo) that others behind them in the lineup can leverage to see better pitches to hit. This team still needs to grind and figure it out. There's no other option.
Never miss the latest news from TexAgs!
Join our free email list
PRESENTED BY