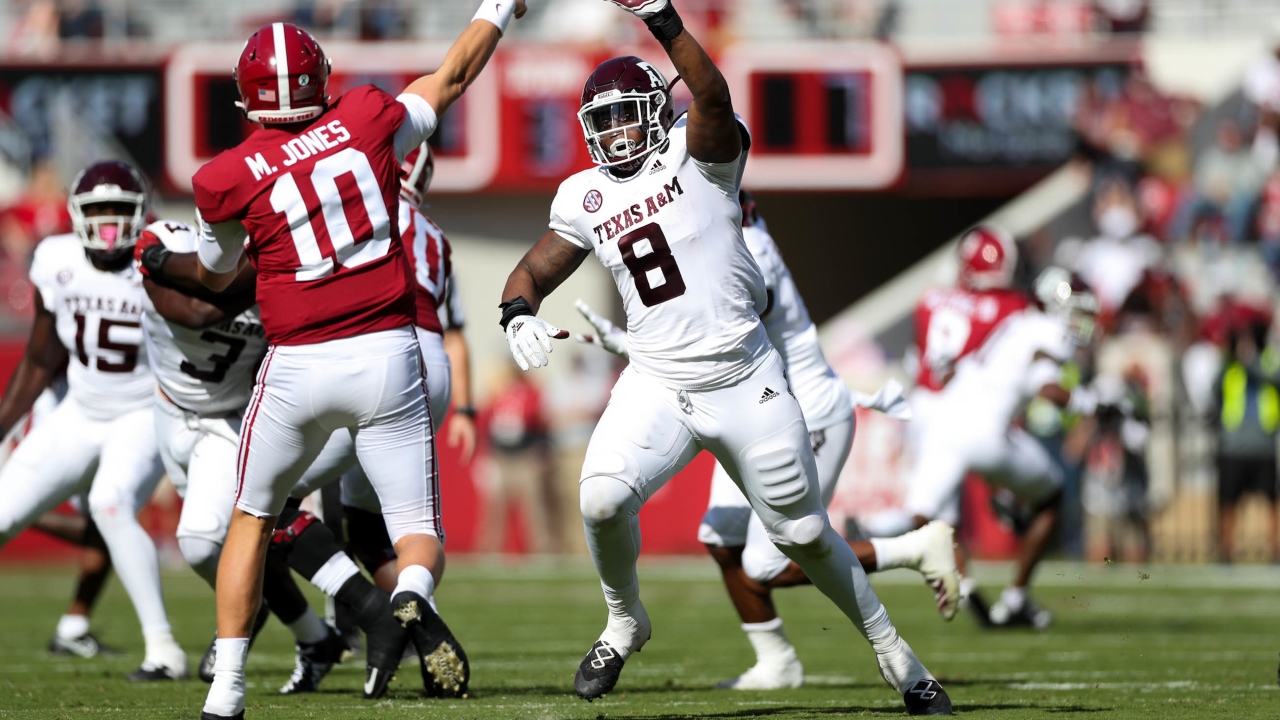 Photo by Craig Bisacre
Texas A&M Football
Aggies eye defending champ Alabama in setting 2021 championship goals
---
Three weeks of spring football practices, six months and five regular-season games must elapse before the biggest clash of the 2021 football season arrives.
However, it was clear on Tuesday that October 9 is on the minds of Texas A&M players. That's the day the Aggies play host to defending national champion Alabama. By then, Alabama likely will come to Kyle Field riding the crest of a 19-game winning streak.
"It's going to be a good game," junior offensive lineman Kenyon Green said. "We're going to go out there and give it our all. I just want my team to get something from all the work we put in. Hopefully, we can go out there and get a win. That's the main thing. I can't wait for that game. It's going to be a good one."
Though A&M fell to Alabama 52-24 last season, the Aggies went on to post a 9-1 record, win the Orange Bowl over North Carolina and finish No. 4 in the final AP rankings.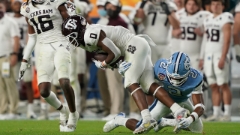 Jasen Vinlove/USA Today Sports
Some in media think A&M has surpassed LSU as Alabama's chief threat in the Southeastern Conference West Division.
A&M, of course, would rather surpass Alabama as national champion. That would require defeating the Crimson Tide, which the Aggies have not done since 2012.
But with nine starters from the SEC's premier defense and an arsenal of skill players returning, perhaps the Aggies can close the gap with the Crimson Tide. They're certainly taking that approach in spring football drills.
"We're not putting pressure on ourselves," said defensive tackle Jayden Peevy, who opted to return for a 'super senior' season. "We just have a standard in this program now that we want to be the No. 1 team in the nation. We're going to practice like that. We're going to play like that. Every day we're coming out there with that mindset to be the No. 1 team."
"You have to have the mindset every day. Even the coaches are coming out there saying 'Hey, you wanna win? This is what we're going to have to do.' They're giving us the right strategies for it."
Alabama has had significant losses from its national championship team. Among those losses are quarterback Mac Jones, Heisman Trophy-winning receiver DeVonta Smith, cornerback Patrick Surtain, receiver Jaylen Waddle, center Landon Dickerson, defensive lineman Christian Barmore, running back Najee Harris and tackle Alex Leatherwood, who are all projected as first or second-round picks in recent NFL mock drafts.
Of course, the Aggies also have holes to fill, especially in replacing departed quarterback Kellen Mond — a projected second-round pick — and four starters from one of the nation's top offensive lines in 2020.
"I feel like this program is making steps toward a big-time program, we're going to see this season if we can beat Alabama."
As A&M begins the process of filling those holes this Spring, some of the veterans have been encouraged by newcomers.
"It just impressed me how freshmen, young guys… how they came in determined to learn and know what defense they're walking into," Leal said. "To try to build a relationship with us older guys just like we're trying to build a relationship with them. They're open to that. It's just the mindset. I loved it."
Will that mindset spur the Aggies on to another stellar season in 2021? Could it lead to an elusive victory over Alabama, the gold standard of college football?
"All I can say is I can't wait for the Bama game," Leal said.
Peevy echoed that sentiment.
"I feel like this program is making steps toward a big-time program," he said. "We're going to see this season if we can beat Alabama."
Never miss the latest news from TexAgs!
Join our free email list
PRESENTED BY