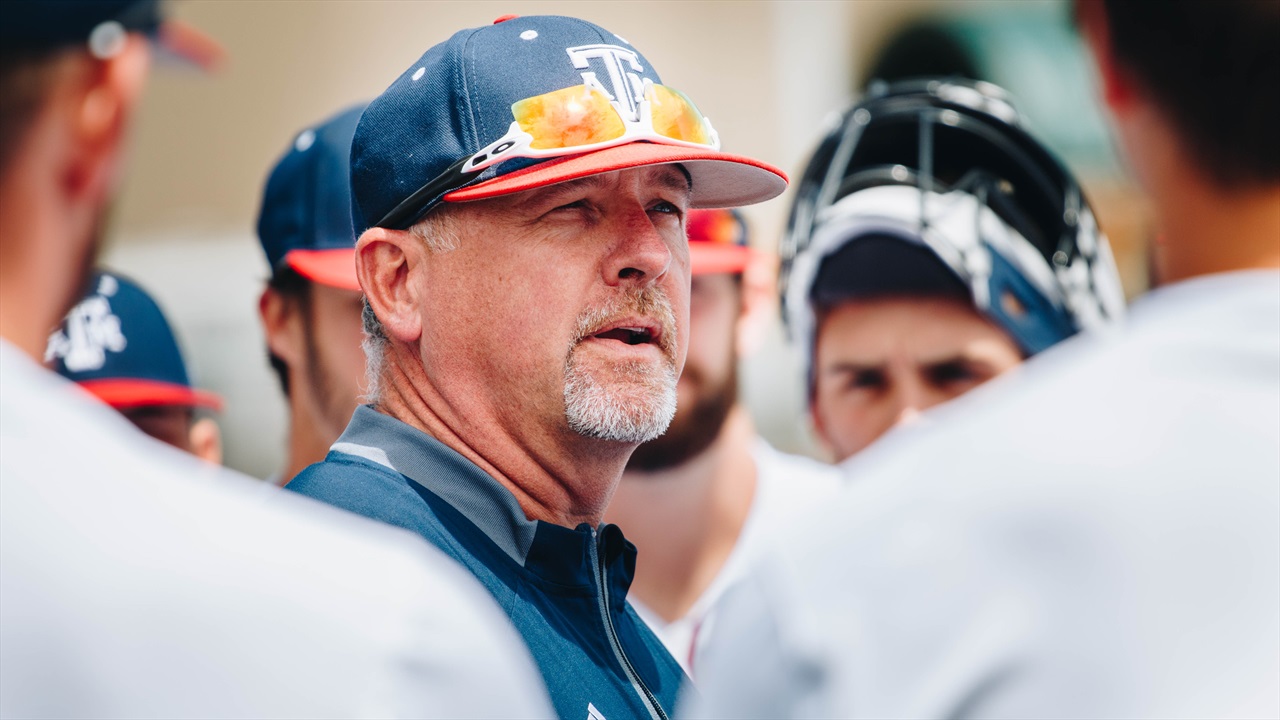 Photo by Rey Romo, TexAgs
Texas A&M Baseball
Rob Childress on shaking up A&M's rotation ahead of Alabama series
---
Key notes from Rob Childress interview
Having Cliff Pennington has been a true blessing with us. He got a COVID year like all of the student-athletes, so he was allowed to come back as he wraps up his undergraduate degree. He is a great father, husband and coach. He wants to be a college baseball coach. He is a teacher. He has a gift and has a passion for being around the kids. He is an outstanding member of our staff.

Based on the level Kalae Harrison has played as a true freshman, Pennington has helped him exponentially. He helps Harrison with all of the idiosyncrasies that go into playing shortstop.

Sam Houston State got off to a rocky start, but they've won eight of their last nine. They are in the middle of conference play, and the Southland has decided to play four-game sets. The two straws that stir the drink are Jack Rogers and Colton Cowser. They're two big left-handed, physical bats. We'll have to do a good job at slowing them down.

Nathan Dettmer will be limited tonight. We will bring him back to start again Sunday vs. Alabama. We will have some guys available out of the bullpen to chase him tonight.

Dettmer was great for us in the fall and even better in January. He was rocky out of the bullpen, and he's more comfortable starting. He was fabulous vs. Texas last week. He is rested and ready to go. He deserves to be in the weekend rotation, and that's what our team needs at this point. Jonathan Childress and Chris Weber will be a big part of our success moving forward as well.

We thought we were heading in the right direction and were going to bottle up that momentum. We were rolling, but then we lost the momentum and couldn't get it back. We were in the bullpen in the fourth inning on Friday night. We got ramped up at the plate. It was lost and we didn't get it back in game three. There are two types of people in this world: Those who have been humbled and those that are about to be.

Leading into SEC play, Jonathan Childress was as hot as anybody. I thought in the last couple of weeks; he has not been the aggressor. Maybe he's dealing with a bit of a dead-arm right now. It might be good to get him some rest. He will pitch out of the bullpen as long as he's available and feels good.

Alabama's talent and depth have increased exponentially since Brad Bohannon has gotten there. They have had their chances just like we have. I know they are very well equipped. One of their superstar pitchers has been out for a while. We're at home and need to take care of business.
Never miss the latest news from TexAgs!
Join our free email list