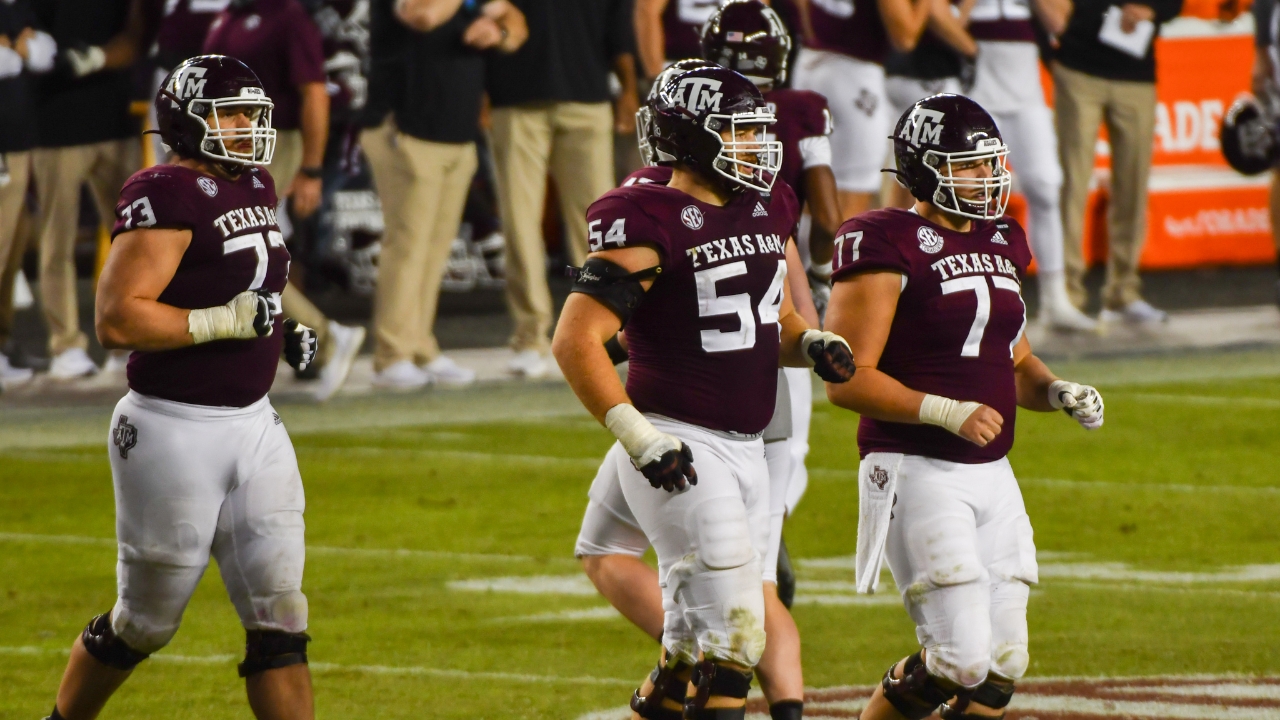 Photo by Lia Musgrave, TexAgs
Texas A&M Football
Trio of Aggie linemen prepared for next step, beginning with Pro Day
---
Three members of Texas A&M's celebrated 2020 offensive line on Monday talked about taking the next steps to take the next step.
Tackle Carson Green, guard Jared Hocker and center Ryan McCollum expressed some regrets about ending their Texas A&M careers, but the trio has worked diligently over the last three months to prepare for the NFL draft.
They hope to demonstrate the fruits of their labors on Tuesday at Texas A&M's Pro Day workouts.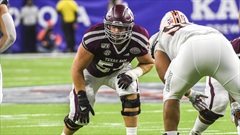 Lia Musgrave, TexAgs
"It's very important (but) just another job interview," said Green, who started three seasons at right tackle. "The biggest thing right now is they want to see if we've been working hard."
They all said they've been putting in the necessary work. Green and McCollum have been training in Frisco. Hocker trained in Irvine, Cal. with new mentor Joe Staley, a former San Francisco 49ers offensive lineman.
"(Staley has) been an extreme help in this whole process," Hocker said. "You know, just going over how he went through the process 13 years ago and what to expect to the next level, and you know, he has really helped me sharpen my game since the season."
The Aggies' line was especially sharp last season. A&M allowed only seven sacks while leading the way for the A&M running game to average 205.1 yards per game — the second-highest average in the Southeastern Conference.
A major reason for that success was the play of McCollum. He was slowed most of the 2019 season with a back injury but responded with an outstanding 2020 campaign.
The back injury and the pandemic limited McCollum's opportunity to increase his lower body strength. NFL scouts have told McCollum his lower body strength is their primary concern.
However, McCollum said he has made significant gains in strength since the season ended.
"I always ask (scouts) what do they think my pros and cons are, and they're the same thing. My pros are my football IQ, and my weaknesses are my strength and power."
"I always ask (scouts) what do they think my pros and cons are, and they're the same thing," McCollum said. "My pros are my football IQ, and my weaknesses are my strength and power.
"I've been focusing on that. That's been like my point of emphasis. And so I'm going to continue to do that up until the draft and until I leave to go to whatever team I end up at. I've definitely gotten more powerful and stronger."
Aggies would have loved the stronger McCollum to return to A&M for a super senior season. He considered coming back but is comfortable in his decision to leave.
"I definitely thought about it even like until like the week after the (Orange) bowl game," McCollum said. "Basically, just me and my wife sat down and talked about it and decided that it was best for me to go.
"It's unfortunate that I can't play in Kyle Field anymore, and like they say, we didn't have a senior night. ... I mean, our last season was at percent capacity, so that's unfortunate. But it is what it is. I'm excited for things going forward and excited to go to the next chapter in my life."
McCollum promised that the A&M offensive line would be exciting moving forward with center Luke Matthews, guard Layden Robinson and projected tackle Kenyon Green leading the way.
"I think the offensive line is in good shape," McCollum said. "You got good leadership with those three guys. I know Luke hasn't taken many game snaps, but I consider him to be like a veteran in this room. He's definitely one of the leaders in this room, and Kenyon's a stud, so he's gonna have everybody playing up to this level."
Never miss the latest news from TexAgs!
Join our free email list