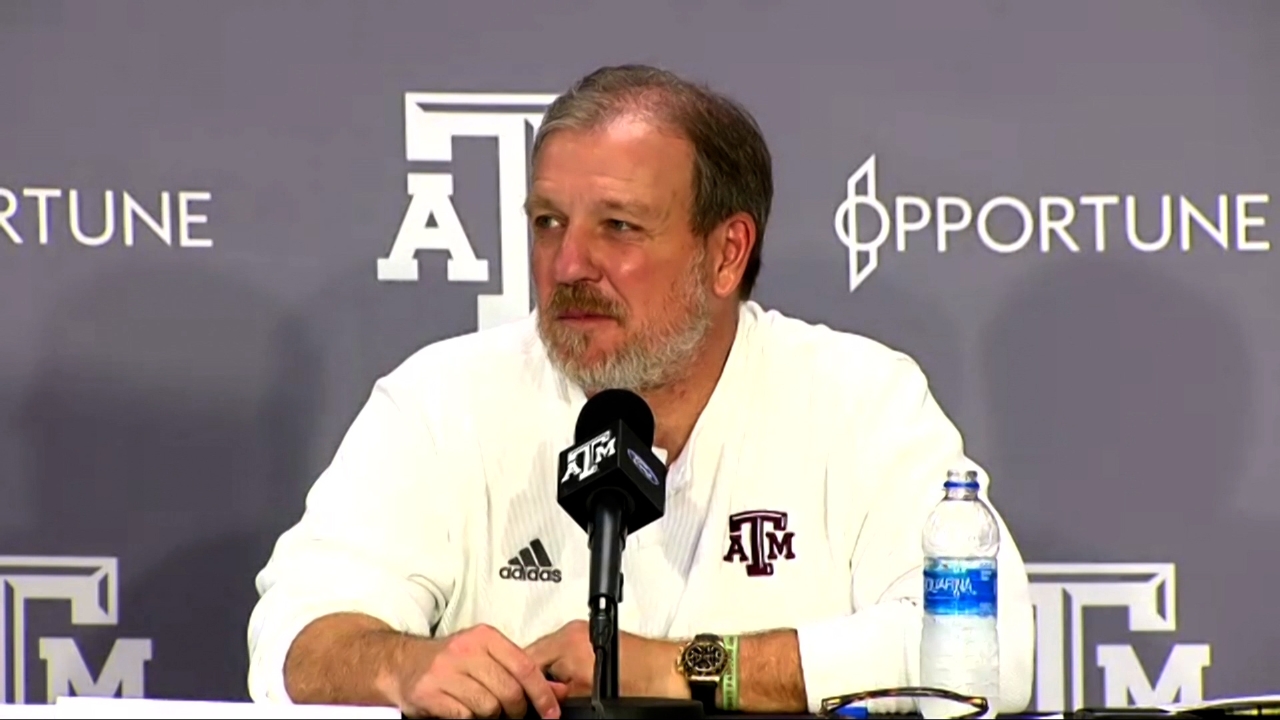 Texas A&M Football
Press Conference: Fisher, Aggies begin spring football on Monday
---
After a 9-1 season in 2020, Texas A&M football returns to the practice fields next week as the Aggies begin spring camp. Ahead of Monday's first practice, Jimbo Fisher spoke to the media about the latest news from within the program.
Video courtesy of Texas A&M Athletics.
---
The following are live, paraphrased notes from head coach Jimbo Fisher's media availability on Thursday.
Before we get going, I want to congratulate Gary Blair and the Aggies on the win. That was an incredible performance by the ladies last night. When you pull those games out, that's how you go on a run. Also, congratulations to Pat Henry and his ladies team for finishing second in the indoor season. They set some records and had some tremendous accomplishments.

It's good to be back and talking football with you. We're introducing our freshmen, and it has been a tremendous transition. The older guys are helping out and working hard. They understand the expectations and understand that this is a brand new football team. We need to develop a work ethic and a standard. Each team is like a child. You got to get everybody on the same page, and that's part of the leadership and culture of us as coaches. We hope they will develop a tremendous attitude and work ethic. A lot of sweat, guts and hard work is what championships are made of. You have to grow as a person, and hopefully, those traits are developing. We're excited to get them out there.

Defensively, a lot of guys are back. Experience is one thing, but we need to be better. Offensively, there are more holes to fill. We're excited about the young guys we have there. At quarterback, we have some guys who can take over for Kellen Mond, a three-year starter. At receiver, there are a lot of young guys and guys who have had success pushing them. Our specialists are all back too. I thought we did a nice job in the kicking game last year. We need to keep expanding on that. We need to be good in all three phases.

Nothing is concrete. We will try different things and put guys in different roles. Hopefully, we'll get better in our fundamentals. We're excited to be there, and we're looking forward to it.

Guys that will be out for the spring will be Caleb Chapman. He will be healthy by the end of it. Grayson Reed. Blake Smith had some issues. Jalen Wydermyer cut his hand in a freak-off field injury. He will be good, but he can't take any hits on it right now.

Green will play guard, tackle and center too. Kenyon is a guy who can do it all, and not every lineman you have can do that. We will see where he fits best for him and our team.

Demond Demas was suspended by the school, and that has nothing to do with us. Once that gets cleared up, he will be back with us. Whether that's before or after spring ball is still to be determined.

There are so many young talented players on the offensive line, and I'm excited to see how they fit together. The talent is there, but experience is another thing. You have to mix and match because you have to find who can play. Luke Matthews is doing well, back from a shoulder injury. He has really grown in his understanding of the game. He has developed physically too.

Devon Achane will be in meetings and things, but we will work with Track & Field. If he's having success, we will not do anything that keeps him out of meets. Track is very important to him. We have worked with other sports in the past. If he's scoring points and having success, like he did last week, we won't interfere. He will be part of spring meetings and stuff to make sure he knows what's going on here.

You have to be able to play multiple positions now. It has become a matchup game like basketball. You'll see different stuff depending on situations and where guys are. You're constantly changing. It's important to find out if they can play a different position and for the players to understand what the guy beside them is doing. The inter-matching and intertwining don't always mean that's what you're going to be, but it will make a big difference.

The quarterback position is an open competition. Let things play out. Your actions speak so loud that I can't hear what you're doing. Give each guy a fair chance to do it. Quarterback is important, but getting all 11 guys to work is key. Tom Brady is the greatest because of his team aspect. He gets the guys to rally around him offensively and defensively. Guys change and grow. What I saw in the fall might not be what I see in the spring. It's exciting. There is no set pattern. They will all get the same number of reps, and we will see who we think will give our team the best chance to win.

You've got to go back to fundamentals in spring ball, but you do add other stuff. The offense has to get educated during the spring, and there will be things we will take from what we have scouted from our opponents. You can't assume certain things are right and wrong. You have to keep doing the things you do well and then expand as you need to.

Having Micheal Clemons and Myles Jones is big, as are Jayden Peevy and Aaron Hansford. It shows their maturity. They want to get to the NFL, but they want to stay there. Where you go into the league matters. When you're drafted high, guys spend more time with you. When you go low, they don't. They understand they can help themselves and grow. If there was nothing they could get better at, I would have told them to go to the NFL.

Andre White played a lot for us last year, and he could be the answer to replacing Buddy Johnson. Still, he has to go out there and play. Nothing is set in stone.

With Achane, his ceiling is what he wants it to be. He works hard. He has a chance to be an excellent player, and we're just scratching the surface on what he could be. He is a football player who runs track. He is under control and understands he's a natural runner. Another thing he does well is that he'll block you. That sucker will put his nose on you. We got two little guys, him and Ainias Smith, who will go out and hit. It's very, very impressive. We will see how versatile he becomes. He's very capable of stepping into a role like Ainias; there is no doubt.

The best players I've ever had do well academically. You might not like school as much as you like ball. I didn't, but you have to understand the balance. You have to do both things well. The key to that is prioritizing, not sacrificing. One day, the air will go out of that ball. Still, you see a correlation between great players, and they do everything well. When you get good at things you don't like, it's amazing how much better you get at what you do like. You will grow as a man.

Kids do have to be focused. The one thing that the coronavirus has taught is self-responsibility because you're on your own so much. Online learning is much harder than in-person learning, but it has made them better. Hopefully, it will pay off.

In the quarterback meetings, all three guys are doing well. King is really getting it. I think Calzada really has it right now. Eli Stowers has picked it up quickly. He understands it. From an intelligence and learning standpoint, I'm extremely pleased with their understanding of the passing game, protections and running game. I'm pleased with all three guys. Until you understand it, your physical skills cannot be shown. It has to become second-nature. I'm anxious to see these guys compete.

I think Jayden Peevy made a tremendous decision to come back. He has really come out of his shell and has become a leader. We have high expectations for him, and we think he can be a key contributor to this football team.

I think all of the quarterbacks have multiple good traits. There isn't just one thing they do well, which is good. It's hard to be successful if you only do one thing. I'll wait and see. I've never seen Eli practice, and I'm interested to see how much King and Calzada have grown.

The great defenses I've ever been a part of, the one thing they all did was the ordinary things better than everybody else. Doing those things consistently makes them successful. They're also physical and put as much of that on you as they possibly can.

I hope the guys at Pro Day perform very well because they're getting their shot. Don't look at the scoreboard; keep preparing. Don't worry about those things, and just let your natural instincts take over. I think we'll have a lot of guys do well.

I think Mond helped himself greatly in the Senior Bowl. The teams got a chance to see how he interacts with teammates and how he reacts. There are so many things as a quarterback that you can't get an opinion on it until you see it. He did that. His knowledge of the game is off the charts. It doesn't translate from college to pro for a lot of guys because of how things are organized. He feels very good about those things, and he said his interviews went very well. Hopefully, he gets drafted very high.

Expect the unexpected. Don't let things bother you. Control what you can control. One of the things we learned last year, and you'll see it this offseason and going into camp, is having days off. A longer camp with more days for meeting days and rest is helpful. I really liked the way those things went last year.

I'm anxious to see what the capacity limits. I think I saw something come out that will be us setting the limits. The more, the merrier. It's one of the great experiences being here at A&M is playing at Kyle Field. I'm anxious to have all of the fans back.
Never miss the latest news from TexAgs!
Join our free email list