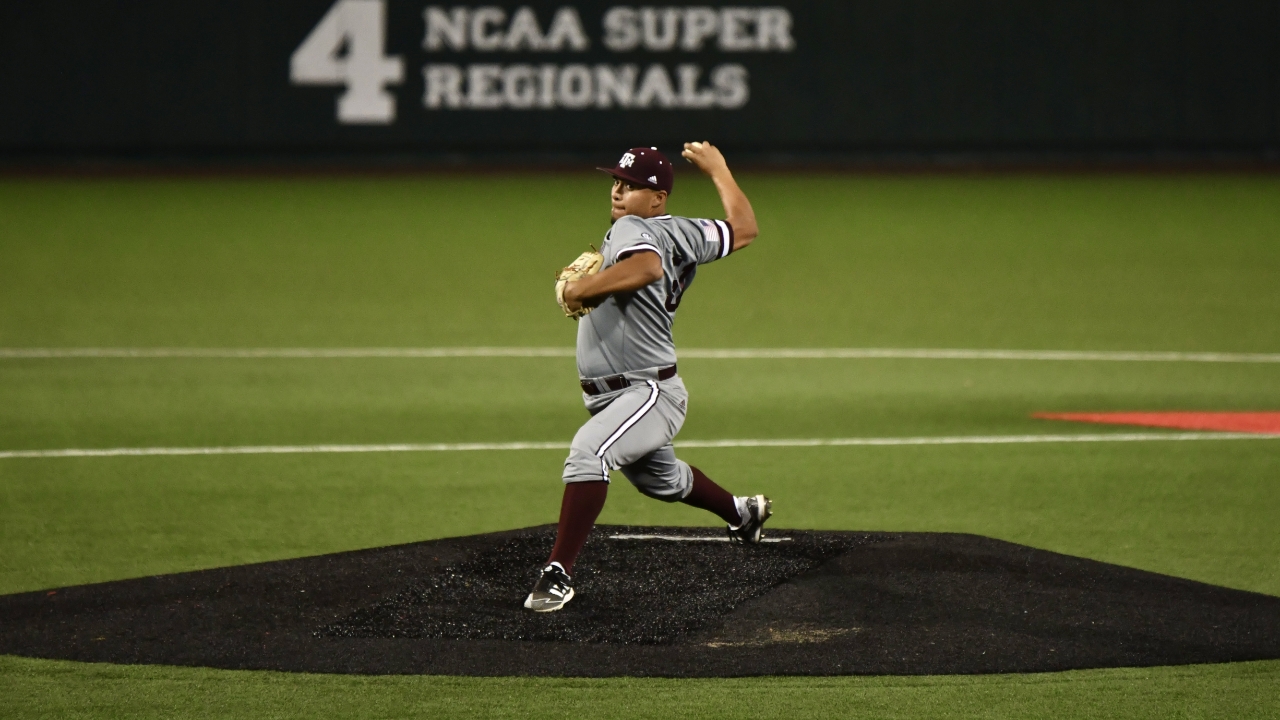 Photo by Jamie Maury, TexAgs
Texas A&M Baseball
Kendall Rogers reacts to Aggie baseball's rough start to SEC play
---
Key notes from Rob Childress interview
I watched the highlights of Texas A&M women's basketball's win over Iowa State. I didn't realize the game was on until the final two minutes of overtime. I put on those last two minutes. It was extremely exciting — what a win.

If you take that Florida-Texas A&M series from Game 1 to Game 3, even in the opener when it was close, you felt like Florida was in control the entire time. Looking at the body language and Florida's reactions, you felt they were going to sweep the entire thing, and they dominated.

Last weekend was a combination of things. Florida is finally playing like the No. 1 team in the country, which was their preseason ranking. Then there is A&M's offense and the concerns you have there. That offense has a long way to go, and they did not do it against elite pitching. Another thing is Dustin Saenz's stuff is not overwhelming, and he did not command the strike zone. They made him pay for it.

A&M looked outmatched in every facet. It was not a very good weekend for the Aggies.

Hunter Coleman has four home runs in 10 at-bats. He's better than whatever alternative the Aggies have right now. He might hit .250, but he's going to get you a few bombs. At this point, with how bad this lineup has been, it wouldn't hurt to put him in there consistently. In week five or six, it is not a good thing that you're trying to figure out who your four-hole hitter is. It does not bode well for the rest of your season.

This series with Georgia should be an even weekend. Both of them matchup from a rotation standpoint. Jonathan Cannon is similar to Saenz in that he doesn't have overwhelming stuff. The offenses aren't overwhelming. It is a coin-toss, but I'll side with A&M being at home.

After the weekend A&M had, to have one hit against the worst Rice team I've ever seen; it's concerning. If you're this offense, you want to go out and prove that you're not just a run-of-the-mill offense. I don't care who it is, but you have to find a guy who can interject some passion and a spark into this offense.

Vanderbilt's lineup is pretty good. They have a nice top-third. Until somebody can beat Kumar Rocker and Jack Leiter on the weekend, the Commodores are the best team in college baseball, in my opinion. I do think Arkansas has dropped a bit since the first couple of weekends. They're not playing quite as well as they have been, but they'll get things back together. Mississippi State is another team that could have a chance to prove they should be No. 1. Those three teams are at the top for me, in any order.
Never miss the latest news from TexAgs!
Join our free email list