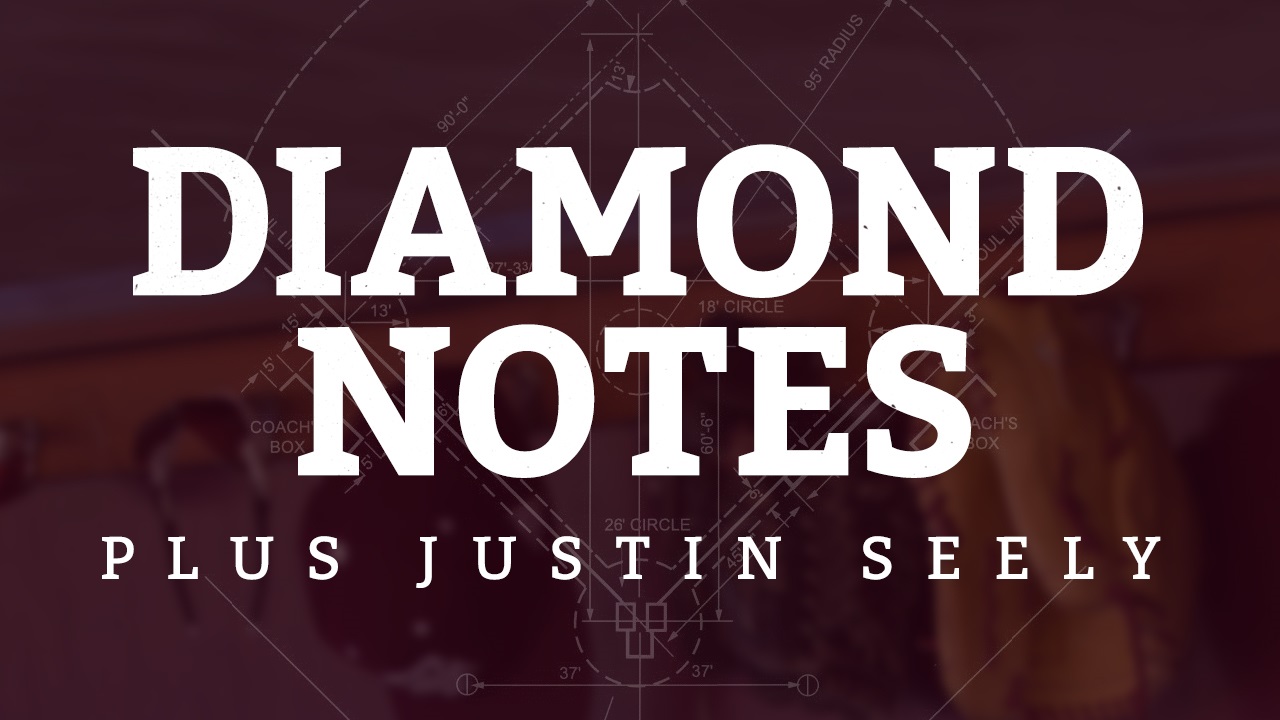 Diamond Notes: Texas A&M stays hot, extends win-streak to 10
---
Don't look now but the Aggie Baseball team is absolutely ROLLING as it heads into SEC play starting this Thursday with a three-game series at No. 5 Florida. The Aggies (14-4) have won 10 games in a row and are coming off of a 5-0 week in which they outscored their opponents by a combined 65-9. The pitching has been very good dating back to the second weekend of the season in Round Rock, but the bats have come alive in a big way lately, averaging 13 runs per game in the five games last week.
Of course, the competition level is about to pick up in a big way this week, with a road trip to Houston (10-5) on Tuesday and a Thursday-Saturday trip to take on the 13-4 Gators. We will learn a lot about this team coming out of this upcoming week as the competition level rises exponentially moving forward. But credit head coach Rob Childress, his staff and especially the players for figuring it out and working to find solutions after the 1-3 start to the 2021 campaign.
Each week, we look back on the week that was with a "Good, Bad and Ugly" spin-off and breaking it down in four categories: Good, Average, Bad and Excellent.
Here is this week's G.A.B.E. looking specifically at the three-game series sweep of Samford...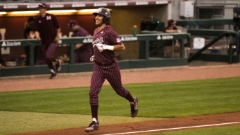 Angelina Alcantar, TexAgs
Good
Ray Alejo in the leadoff spot. The sixth-year super senior went 4-for-12 in the Samford series, blasting his first homer of the year in game three, driving in three and scoring three runs. Alejo is settling in nicely in that leadoff spot, and his skill set reminds you of the old school leadoff man with his ability to get on and cause havoc on the bases. Alejo's success in the one-hole has made the move of Will Frizzell to the two-hole look smarter and smarter because Alejo's ability to get on base forces the first baseman to have to hold the bag and that creates a wider hole between first and second for Frizzell to pepper hard line drives and ground balls through the infield and into right field.
Spots 3-5 in the lineup. If you remember back to last week's column, I pointed out that 3-5 in the lineup was a combined 2-for-31 in the New Mexico State series. Well, that all changed in a big way against Samford. The trio of Austin Bost, Logan Britt and Ty Coleman combined to go 15-for-31 (.484) with two doubles, a triple and two homers, both off the bat of Bost in the Friday night game. Huge, huge improvement behind the Alejo-Frizzell duo at the top.
Taylor Smith. The third-year sophomore and transfer from Grayson College opened the week hitting .000 (0-for-13 with 11 Ks). But he doubled in the A&M-CC game and homered nearly off the Rec Center vs. PVAMU. That seemed to wake him up in a big way, leading to an impressive 4-for-5 showing on Saturday, including a double and two long home runs way over the left field wall. Smith went 1-for-4 in game three and the average has suddenly reached a respectful level at .269. Add options like Smith, Zane Schmidt and Hunter Coleman (hit two home runs in game two vs. Samford) around the six-hole and roll with Bryce Blaum, Mikey Hoehner and Kalae Harrison and A&M suddenly has added quite a bit of length to its lineup as it heads into SEC play.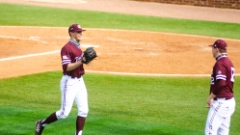 Travis Whitesell, TexAgs
Chandler Jozwiak. The fourth-year lefty worked three scoreless innings in the game two blowout of the Bulldogs, giving up just 2 hits and no walks while fanning five. Get this: Jozwiak has now struck out 35 hitters in 18.1 IP (17.2 Ks/9). Even more impressive is the fact that Joz has walked only one hitter all season, and that one came in the season opener. That's now six consecutive appearances without issuing a free pass.
Average
Defense. A&M continues to make great plays and have nice moments flashing the leather, but the Aggies also committed five errors in the series against Samford. That's too high. You don't want to have more than one E per game on the board and the defense – particularly on the dirt – will need to pick it up a few notches as the competition level increases this week.
Bad
The nine-hole. Freshman shortstop Kalae Harrison is going to be a special player at Texas A&M and will likely eventually grow into a top-of-the-order guy as a sophomore and beyond. And while he's had some very bright moments hitting exclusively in the nine-hole, the Hawaii native is struggling with the bat of late and suffered through a hitless series against Samford. Harrison went 0-for-10 with three strikeouts in the series. A&M doesn't need him to hit .300 as a freshman, but he had been flirting with that neighborhood before the rough weekend. The average has now dipped to .254 and he leads the team in the dubious category of strikeouts with 20 in 59 at-bats.
Excellent
The Long Ball. A&M blasted a whopping 11 home runs in three games vs. Samford. That included two dingers apiece from Will Frizzell, Austin Bost, Taylor Smith and Hunter Coleman and one each from Ray Alejo, Mikey Hoehner and Jordan Thompson. The Aggies now have 25 homers in 18 games and boast a team OPS of .777. Pretty salty.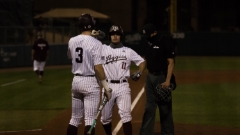 Angelina Alcantar, TexAgs
Situational hitting. Chad Caillet's A&M hitters were excellent against the Bulldogs in critical moments. I have the full numbers below in "The Five Factors," but what stands out most is what the Aggie bats did with runners on base and in scoring position. A&M hit .388 with runners on base and .353 with runners in scoring position. You do that in any weekend series and you're going to win a ton of baseball games. On the season, the Aggies are now sitting at .304 with runners on and .298 with runners in scoring position. Big improvement in these critical areas over the last couple of weeks.
Saenz and Childress. A&M got off to a great start in the Samford series behind an absolute gem from fourth-year junior Dustin Saenz. The southpaw allowed just four hits in eight scoreless innings on Friday night, walking just one and striking out 14. He located all of his pitches very well and had his full mix of pitching working to support his mid-90s fastball. Saenz's spin rate gets a lot of swing-and-misses, and it's nearly impossible to produce big innings against him when he's pumping in strikes, which he did at a 70.8-percent clip. Meanwhile, Childress stayed on fire in start number four to close out the sweep of the Bulldogs. The third-year freshman lefty worked a perfect game into the seventh inning and was untouchable throughout his incredible outing. Samford got to him in the 8th for a run but that's all he allowed in 7.2 IP, giving up just 3 hits and no walks and punching out 13. Childress's strike rate was just a tick below Saenz's but still a highly impressive 68.3-percent.
The Five Factors: Offense
Here's a look at what the Aggie bats did in five critical situational areas in the win over A&M-CC:
Two-outs: .200 (2-for-10)
Runners on: .304 (7-for-23)
Runners in scoring position: .375 (6-for-16)
Leadoff OBP: .500 (4-for-8)
Two-out RBI: 2
Here are the five key split stats in the win over Prairie View A&M:
Two-outs: .417 (5-for-12)
Runners on: .385 (10-for-26)
Runners in scoring position: .364 (8-for-22)
Leadoff OBP: .667 (4-for-6)
Two-out RBI: 9
Here are the five key split stats in the series sweep over Samford:
Two-outs: .342 (13-for-38)
Runners on: .388 (19-for-49)
Runners in scoring position: .353 (12-for-34)
Leadoff OBP: .417 (10-for-24)
Two-out RBI: 3.0 PG (9 total)
Here are A&M's updated season totals to this point in all five areas:
Two-outs: .285 (57-for-200)
Runners on: .304 (100-for-329)
Runners in scoring position: .298 (65-for-218)
Leadoff OBP: .436 (65-for-149)
Two-out RBI: 3.2 PG (57 total)
The Five Factors: Pitching
Here are the raw numbers from what the Aggie pitching staff did in five critical situational areas vs. A&M-CC:
Two outs: .100 (1-for-10)
Runners on: .100 (1-for-10)
Runners in scoring position: .000 (0-for-5)
Leadoff OBP: .222 (2-for-9)
Two-out RBI: 0
Here are the five key split stats vs. PVAMU:
Two-outs: .222 (2-for-9)
Runners on: .200 (2-for-10)
Runners in scoring position: .286 (2-for-7)
Leadoff OBP: .429 (3-for-7)
Two-out RBI: 2
Here are the five key split stats vs. Samford:
Two-outs: .229 (8-for-35)
Runners on: .233 (10-for-43)
Runners in scoring position: .208 (5-for-24)
Leadoff OBP: .296 (8-for-27)
Two-out RBI: 1.3 PG (4 total)
Here are the updated season totals for Aggie pitching to this point in all five areas (last update post-NMSU):
Two outs: .201 (39-for-194)
Runners on: .188 (49-for-260)
Runners in scoring position: .185 (30-for-162)
Leadoff OBP: .354 (57-for-161)
Two-out RBI: 1.2 PG (22 total)
Parting Shots
The lineup is rolling more than it has at any point this year and it couldn't happen at a better time, as A&M heads into a four-game road swing and the start of SEC play. So many bats got it going in the Samford series and that makes it very intriguing to see, generally, what the order looks like this week. I'd go something like this, based on whether there is a lefty or right-hander on the mound...
vs. RHP:
1. Alejo - CF
2. Frizzell - 1B
3. Bost - DH
4. Britt - RF
5. Ty Coleman - 2B
6. Schmidt - LF
7. Blaum - 3B
8. Hoehner - C
9. Harrison - SS
Vs. LHP:
1. Alejo - CF
2. Frizzell - 1B
3. Bost - LF
4. Britt - RF
5. Ty Coleman - 2B
6. Smith - DH
7. Blaum - 3B
8. Hoehner - C
9. Harrison - SS
You could also catch Smith in a game or two and keep Schmidt or Targac in the lineup. Or with the way that Hunter Coleman swung the bat Saturday against Samford, I could see him get a real look this week in that DH role. But I would be quite surprised if Smith were not in the lineup in at least 2-3 games this week to ride out the hot streak.
Rob Childress's pitching staff boasts 7 arms with an ERA under 2.00, 9 pitchers with a 3/1 K/BB ratio or better and 12 arms with an opponents' average under .233.
You can't say enough about how dominant the pitching staff has been since the trip to Round Rock. Looking at it By The Numbers, here are some impressive stats for you:
2.35 ERA
.208 opponents average
123 hits allowed in 161 innings
232 strikeouts and 53 walks (4.4 strikeout-to-walk ratio; 13.0 strikeouts per 9 innings)
24 extra-base hits allowed (6 home runs) in 18 games (1.3 XBH allowed per game)
Just incredible numbers no matter how you look at it. Rob Childress's pitching staff boasts seven arms with an ERA under 2.00, nine pitchers with a 3/1 K/BB ratio or better and 12 arms with an opponents' average under .233. All but three pitchers who have gotten into action this season have fewer hits allowed than innings pitched. And they're doing it a year after losing their all-time highest-drafted player (Asa Lacy No. 4 to Royals) and two pitchers selected in the top-two rounds (Christian Roa in the second round to Reds). It's been a great, great start on the mound and I can't wait to see how this group responds against SEC hitting.
We'll have much more on the series at No. 5 Florida as the week progresses, including a full breakdown during a Thursday edition of Diamond Talk on TexAgs Radio and an in-depth preview of the series from David Sandhop. Plus, remember to keep it locked to TexAgs for full in-game and post-game coverage of all four games this week.
---

Key notes from Justin Seely interview on TexAgs Radio
It was a good weekend, for sure. We have played more games than anybody in the country, and it felt so good to get that day off yesterday after we've run off 10-straight wins.

It starts with Dustin Saenz. What he has given us on Fridays with his consistency and strike-throwing ability, he sets a great tone for us. We're also playing better defense through our last 10 games.

Offensively, we're doing what we're supposed to. I think we're leading the country in walks, and we're slugging like we're capable. I don't expect us to hit 11 home runs every weekend, but we are capable. We're going to walk, but we need to get some hits in between and we need to slug. We did that this weekend.

From a coaching standpoint, we have to get those middle-of-the-order guys in a position they need to. We're getting close to solidifying the personnel we're going to use, which is close to what we used on Opening Day, but we've figured out where they need to be in the lineup. We're in a much better place mentally and physically with them in the right spots.

With Ty Coleman, there were some issues with him coming into the season, so we had to get him up to speed. He was not the "third-string" second baseman. Once he was off and going, he handled everything fantastically. Hunter Coleman has just been awesome. He's great in the dugout. I like him coming off the bench. He's so much more relaxed and more himself when he comes off the bench. Sometimes he puts too much pressure on himself when he starts. If you leave something over the plate, he's going to hit it a long way. They're both unbelievable kids.

Taylor Smith has been working on this the entire time. There was a reason he was hitting fourth on Opening Day. That 0-for-4 start was a blow, mentally. We made some physical adjustments with him and got him back to a spot where he felt comfortable. When he swings the bat, bad things are going to happen for opposing pitching. Is he going to strikeout? Yes, but he's going to walk and hit doubles and homers too. The defensive part of his game gave him the opportunity to get back in there.

When Ray Alejo got here, he had a huge leg-kick. He has evolved his game where he can cover the plate and use the entire field. He ran into a home run on Saturday, and I was so excited for that ball because of the adjustments that went into it. He has been in and out of the lineup because of his health, and we've tried to manage those hamstring issues. Casey Meyer has done a great job of making sure he's in a position to play. He is a grown man, and he is here for the team to win. Alejo will put the team first in everything he does.

I'm excited to get on the road. I thought our guys handled Round Rock well on the road. We get to see Houston on the road before we fly to Florida. It's always a fun series with the Gators, and we'll get to see their new ballpark.
Never miss the latest news from TexAgs!
Join our free email list