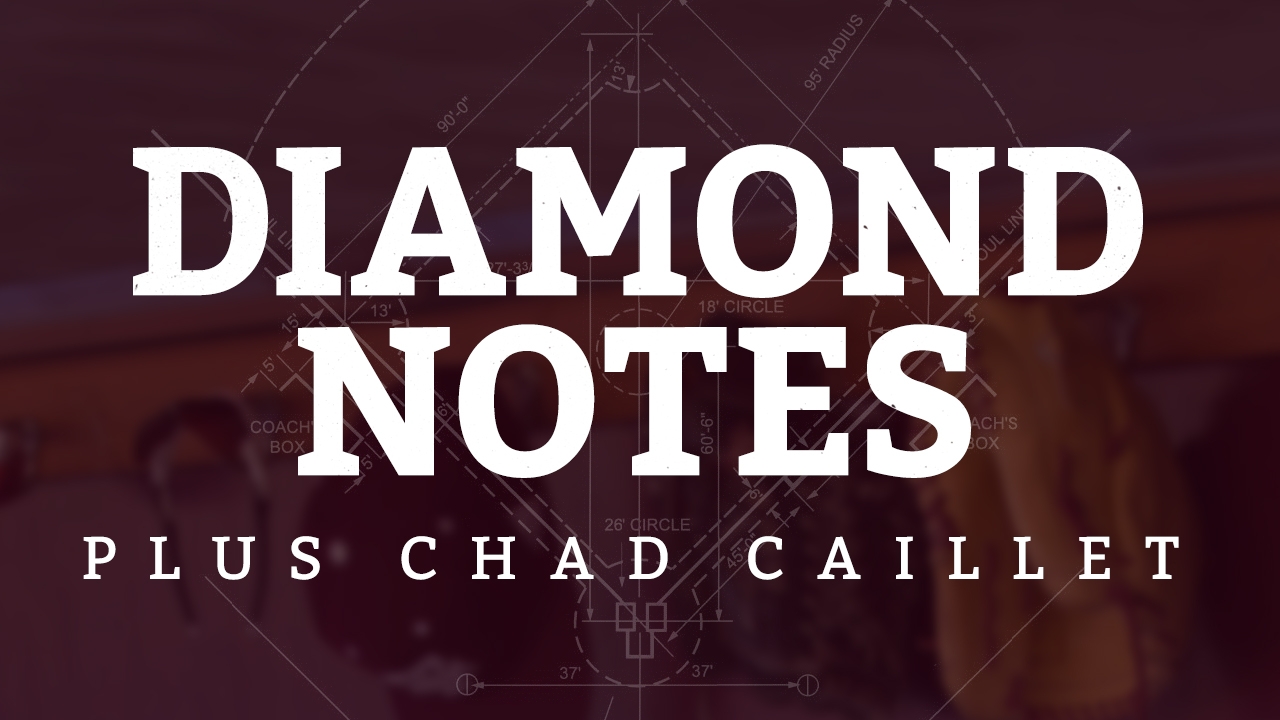 Texas A&M Baseball
Diamond Notes: Texas A&M posts five-win week, capped by sweeping NMSU
---
It could not have been a better week for the Texas Aggies.
I get it; A&M played a game against HBU and Incarnate Word and three games against New Mexico State. It's not exactly the 1927 Yankees, 1976 Reds, 1989 A's or 2020 Dodgers, but you take positive results any time you can get them.
The pitching was absolutely brilliant in the last week, giving up six runs in five games, with four of those runs coming in one inning off your No. 5 starter on Wednesday night.
On Friday afternoon, New Mexico State had to walk more than a mile to the stadium — carrying all of their equipment — after their team bus collided with an 18-wheeler on the corner of Wellborn Road and Southwest Parkway heading to the ballpark. That was a sign of things to come for NMSU as their bats were overwhelmed for 27 innings by A&M pitching. I'll dive deeper into the numbers in this week's G.A.B.E. segment, as the overall pitching effort will certainly show up in the "Excellent" category.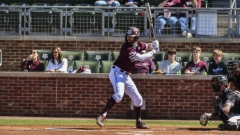 Jamie Maury, TexAgs
The hitting wasn't tremendous but got better as the weekend progressed. A&M had some nice individual performances at the plate, but hitting is certainly a work in progress moving into week number four of the 2021 season. Overall, I find myself far more encouraged sitting at 9-4, having won eight of the last nine than I thought we would be after this team opened the season 1-3. Still a ways to go, but there is reason for hope.
Each week, we look back on the week that was with a "Good, Bad and Ugly" spin-off and breaking it down into four categories: Good, Average, Bad and Excellent.
Here is this week's G.A.B.E., looking specifically at the three-game series sweep of New Mexico State...
Good
The leadoff spot. The combination of Bryce Blaum and Ray Alejo got on base nine times in the series, sufficiently setting the table for Will Frizzell in his move to the two-hole. Alejo went 2-for-3 with a walk and two runs on Friday in his first in the leadoff role this season. He followed that by going 1-for-3 with two walks on Saturday while playing at 80-percent, according to A&M assistant coach Chad Caillet. Alejo did not play on Sunday, and Blaum got another crack at the leadoff spot, delivering a 2-for-4 afternoon that included a walk and a run scored. Moving forward, I would love to see Alejo and Blaum hitting one and two — especially against left-handers — with Frizzell moving back to the third spot in the order.
Spots 7-9 in the lineup. That bottom third of the A&M lineup delivered in a big way against NMSU with 12 hits on the weekend, including a 7-for-14 output on Sunday. Logan Britt continued his recent surge, going 3-for-5 with four RBIs in game three. Don't look now, but Britt is emerging. He is up to 11 RBIs in just nine starts despite slashing just .212/.257/.394. Britt is only one behind Frizzell for the team lead in RBIs, and he has 22 fewer plate appearances than Frizzell. Letting Britt play right field while hitting him around the five-hole in every game will allow him plenty of at-bats to continue his emergence as a second-year college player.
Defense. A&M committed two errors on Friday but went error-free the rest of the series against NMSU. A&M looked as good on the dirt as they've looked all season. Kalae Harrison is now making the routine plays and sprinkling in enough "wow" plays that get you excited for where he's headed as a shortstop. Frizzell and Ty Coleman have been solid on the right side, and the turnstile at third base seems to be holding up just fine with the glove. A&M is up to a .969 fielding percentage. A .972 clip is considered good, and great fielding teams are over .975. It's not all the way there yet, but it's headed in a much better direction than what we saw in the first few games.
Average
Hitting in key situations. A&M still isn't getting it done at the plate in key moments as much as they would like through 13 games. Despite getting the leadoff man on base 54.2 percent of the time against New Mexico State, A&M managed a subpar .277 average with runners on base and hit .263 with runners in scoring position. With two outs, the Aggies hit just .259. Considering the level of competition — something that will increase exponentially shortly — you would love to see these numbers above .300 for a weekend series sweep.
Bad
The middle of the A&M lineup. It's counterintuitive to look at a box score and see the bottom third of the lineup hit lights out and the middle-order production was, frankly, in the dumps. With so many advantages at their disposal due to how good 7, 8, 9, 1 and 2 men hit in front of them, spots 3-5 in the order could not have been worse than they were over the weekend.
Rotating several names, looking for middle-order production, that group combined to go 2-for-31 with one RBI and 11 strikeouts. Breaking it down by game, 3-5 in the lineup went 1-for-9 on Friday, 0-for-11 on Saturday and 1-for-11 on Sunday.
Not much analysis is needed here. It. Was. Ugly. With Zane Schmidt banged up and questionable for a few games, there is a gaping hole immediately behind Frizzell in the lineup, and it's been musical chairs in those all-important three slots in the order thus far. You'll continue to see a rotation in those slots until guys jump out and grab those spots.
Excellent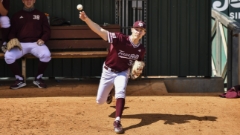 Jamie Maury, TexAgs
The Pitching. All of it. I've seen A&M play a bunch of bad baseball teams, as they did this weekend. However, I've never seen the Aggies pitch as well in three games vs. a bad team as I saw this weekend against NMSU. What does that mean? Maybe nothing. Still, I continue to be more and more encouraged by what I see on the mound.
Here is a breakdown of the numbers and what the Texas Aggies accomplished on the mound in this series...
Two runs allowed (just one earned run)
Four walks
43 strikeouts (ridiculous 10.75 K/BB ratio)
Limited NMSU to 1-for-22 with runners on base and 0-for-13 with runners in scoring position
That's about as good as it gets in a three-game stretch.
When you look at this pitching staff on the whole in 2021, the overall numbers are staggering. The staff has a 2.59 team ERA with just 41 walks and 174 strikeouts, limiting opponents to a measly .217 average. Eleven of the 15 arms that have entered a game have an ERA of 2.70 or lower. All three weekend starters — Dustin Saenz, Bryce Miller and Jonathan Childress — have an ERA under 2.50 and boast a combined 3.8 K/BB ratio and a combined 12.7 strikeouts per nine innings.
Every pitcher who has thrown at least two innings outside of Chris Weber (13 Ks and seven walks) has at least twice as many strikeouts as walks. Six guys have a 4/1 or better K/BB ratio, led by ridiculous numbers from Mason Ornelas (12 Ks and one BB), Moo Menefee (19 Ks and two BB) and Chandler Jozwiak (24 Ks and one BB).
Will Frizzell. The big fourth-year lefty bat is finally healthy and has finally become the hitter that he was recruited to be. Frizz went 7-for-12 with four RBIs and two runs scored on the weekend, including an impressive 5-for-5 performance in Saturday's win over NMSU. That's so impressive but even more astounding considering how rough of a weekend it was for the hitters immediately behind him in the order. Without any help at all behind him, #50 crushed baseballs all over the field. Even his outs were incredibly loud rockets into the glove of a defender. Coach Caillet said that he could count 10 outs that were absolutely barreled up and smoked off Frizzell's bat this year. That's impressive, considering he currently leads the SEC with 21 hits. He's slashing .420/.508/.760, and those numbers could be a lot better with just a little luck.
The Five Factors: Offense
Here's a look at what the Aggie bats did in five critical situational areas vs. HBU on Tuesday...
Two-outs: .200 (2-for-10)
Runners on: .200 (2-for-10)
Runners in scoring position: .167 (1-for-6)
Leadoff OBP: .625 (5-for-8)
Two-out RBI: 3
Here are the five key split stats vs. Incarnate Word on Wednesday...
Two-outs: .200 (2-for-10)
Runners on: .222 (4-for-18)
Runners in scoring position: .286 (4-for-14)
Leadoff OBP: .500 (4-for-8)
Two-out RBI: 5
* Here are the five key split stats in the series vs. New Mexico State...
- Two-outs: .259 (7-for-27)
- Runners on: .277 (18-for-65)
- Runners in scoring position: .263 (10-for-38)
- Leadoff OBP: .542 (13-for-24)
- Two-out RBI: 2.7 PG (8 total)
Here are the updated season totals in all five critical situational areas...
Two-outs: .264 (37-for-140)
Runners on: .277 (64-for-231)
Runners in scoring position: .267 (39-for-146)
Leadoff OBP: .423 (47-for-111)
Two-out RBI: 2.8 PG (37 total)
The Five Factors: Pitching
Here's a look at what the Aggie pitching staff did in five critical situational areas vs. HBU...
Two outs: .100 (1-for-10)
Runners on: .000 (0-for-12)
Runners in scoring position: .000 (0-for-8)
Leadoff OBP: .333 (3-for-9)
Two-out RBI: 0
Here's a look at what the Aggie pitching staff did in five critical situational areas vs. Incarnate Word...
Two-outs: .111 (1-for-9)
Runners on: .364 (4-for-11)
Runners in scoring position: .429 (3-for-7)
Leadoff OBP: .333 (3-for-9)
Two-out RBI: 2
Here's a look at what the Aggie pitching staff did in five critical situational areas vs. New Mexico State...
-Two-outs: .129 (4-for-31)
-Runners on: .045 (1-for-22)
-Runners in scoring position: .000 (0-for-13)
-Leadoff OBP: .222 (6-for-27)
-Two-out RBI: 0.0 PG (0 total)
Here are the updated season totals in all five critical situational areas...
Two outs: .200 (28-for-140)
Runners on: .183 (36-for-197)
Runners in scoring position: .182 (23-for-126)
Leadoff OBP: .373 (44-for-118)
Two-out RBI: 1.2 PG (16 total)
Parting Shots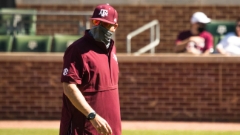 Angelina Alcantar, TexAgs
Before I forget, big congrats to A&M head coach Rob Childress for picking up win No. 600 on Friday night. All 600 Division-I wins have come as head coach of the Aggies. That's quite an accomplishment and something I did not want to gloss over in this piece.
What's your best lineup right now moving ahead in the short-term (and with Zane Schmidt likely out of the lineup for a little bit with a nagging injury)? Without getting into the weeds based on lefty-righty matchups, here's generally how I would run 'em out right now...
1. Ray Alejo - CF
2. Bryce Blaum - 3B
3. Will Frizzell - 1B
4. Austin Bost - DH
5. Logan Britt - RF
6. Ty Coleman - 2B
7. Rayn Targac - LF
8. Mikey Hoehner - C
9. Kalae Harrison - SS
I feel like we now have a good idea how the A&M pitching staff is set up for the here and now. This is the final five-game week of the regular season, and all signs point to freshman RHP Nathan Dettmer holding on to the fourth starter spot after looking more comfortable starting vs. coming out of the bullpen. I think we'll see the rotation remain the same this week (Saenz, Miller, Childress, Dettmer). The important long-relief role will continue to be manned by lefty Chandler Jozwiak and a combination of righties Mason Ornelas and Alex Magers. Chris Weber will also factor into the bullpen situation after this week. Talented second-year guys Will Johnston and Trevor Werner will continue to get opportunities to allow their ability to come to the surface. It all funnels into Joseph Menefee in the back end. That's a solid 11-man unit with a lot of depth and strong left-right balance. Again, pitching is not the issue. It hasn't been in a long time and won't be as long as Childress is in Aggieland.
It's the final five-game week of the regular season. The Aggies host system schools Texas A&M-CC and PVAMU in the midweek before welcoming Samford — Jimbo Fisher's alma-mater — to Olsen Field at Blue Bell Park for a three-game set this weekend.
TexAgs will have full in-game and postgame coverage of all five games, so keep it locked right here for the most complete coverage of Aggie baseball throughout the 2021 campaign.
---

Key notes from Chad Calliet interview on TexAgs Radio
It's easy to be the offensive coach when your pitching staff puts together a performance like that over the weekend. What we just watched this weekend was something special. That was probably the best outing I've ever seen from Bryce Miller. I applaud him, and hopefully, we can carry that forward into SEC play.

Will Frizzell had a terrific weekend. He's actually had a little bit of misfortune, hitting some rockets right at people in the field. He is our best hitter. He can run it out of the park, but his plate discipline is among the best on the team. Will has one of the best offensive packages of any player in college baseball. He's finding the barrel consistently, which helps contribute to his ridiculous start. It doesn't surprise me one bit... I've seen this from him since I stepped on campus. It's not just what he's doing in the game, but he's also been a terrific leader for the young guys. I cannot say enough good things about Will Frizzell.

Ray Alejo at the top of the order can definitely have some legs moving forward. Speed is one of his greatest tools, and he can wreak havoc on the base paths. He and Bryce Blaum have both done a good job leading off, but Ray gives us a few more options with that speed. Over the course of the season, leading off is just going to give them more at-bats. We need to get Ray 100-percent healthy. If he gets healthy, he will be a dynamic weapon for us.

Logan Britt is just like any other young player and needs at-bats. The numbers don't give his performance justice right now. Being a freshman, he hasn't seen a ton of right-handed sliders, so he really needs those reps. He's learning on the job, and he has an excellent collection of tools to work with. That seventh-spot in the lineup is a great sport for him to work out of. Then you have Mikey Hoehner hitting eighth, who is just a real grinder. Mikey will always help you by getting the lineup turned over. Kalae Harrison batting ninth is the guy I'm most worried about because he is not accustomed to the five-game weeks. However, Kalae is coming along great.

The middle of the order needs some work, and it's musical chairs right now. I think we have the top, and we have the bottom. We now need to sort out the middle. The biggest thing we need is someone who can hit behind Will Frizzell to offer him some protection. We feel like the pieces are here, but we need some guys to step up.
Never miss the latest news from TexAgs!
Join our free email list