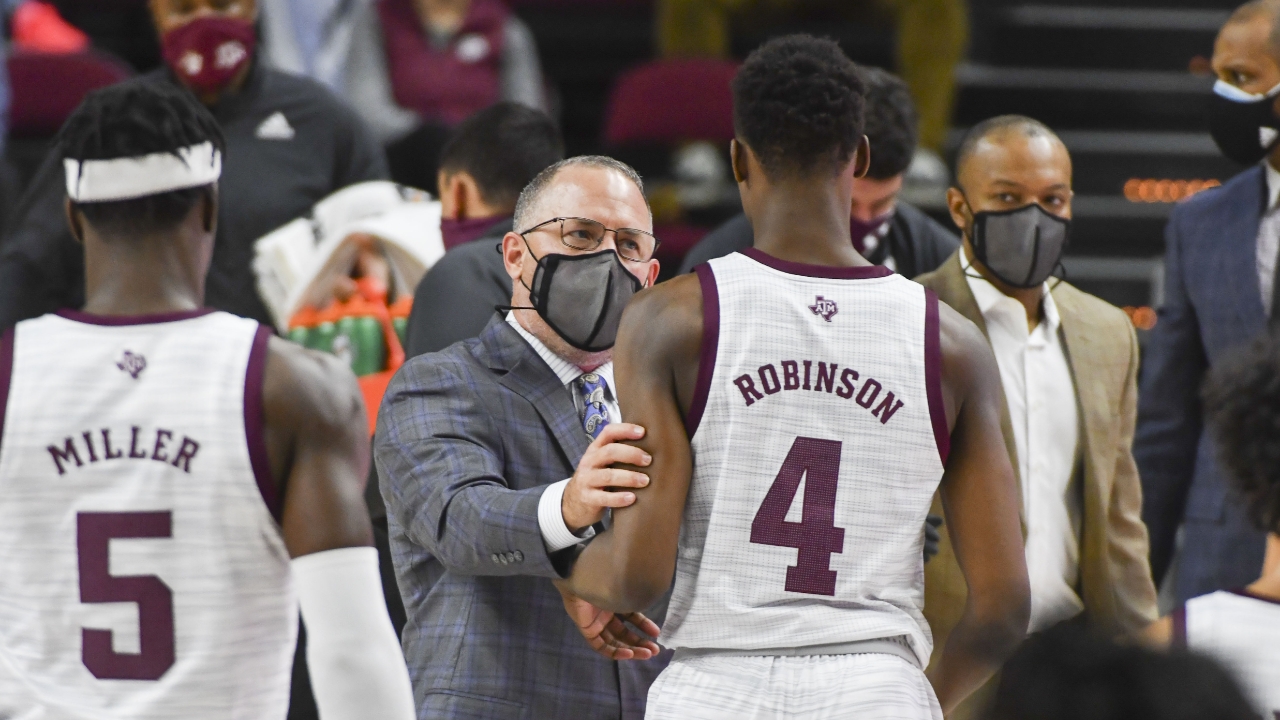 Photo by Lia Musgrave, TexAgs
Texas A&M Basketball
Buzz Williams recaps A&M basketball's return to action, previews Vandy matchup
---
Key notes from Buzz Williams interview
I think the team's response, despite the results, was better than any of us could've expected. This was the first time any of us have gone through something like this. I thought we did a good job controlling the things that we can control on both Wednesday and Saturday. I hope we can continue along that same trajectory on Wednesday in Nashville against Vanderbilt.

What's been so hard to articulate is that what we're doing now is unlike anything we've done since I've been here. We had practiced with only four to six kids... That's unheard of. We were going to play against Alabama with six or seven guys, so we had to figure out a way to play differently. The guts of our guys in adapting to this new way of playing is great to see. It's all brand new; what we're doing both offensively and defensively.

The thing that hurt us on Saturday against Arkansas was too many turnovers. That led to too many points off of live-ball turnovers; that was the bigger issue. We also fouled too much, which led to too many easy points at the line. Despite that, we were in a one-possession game with a really good Arkansas team on the road.

I'll be close with these seniors for the rest of their life. What they've been through and how they've responded, I have so much respect for them. Regardless of your age, after all that has happened, it is very easy to pack it in. I think you've seen a lot from many people in our program giving their all despite the situation.

When you can make a shot with a consistency like Emanuel Miller has done since the return, that helps his game immensely. His ability to either hit the 15-footer, or draw a foul, or kick it to an open teammate for an uncontested shot. That's just added another dimension to his game. I think he is on the right path, and he is giving the effort to be the best player possible.

I still have a lot to do in preparation for Vanderbilt. Because of the things we changed, it takes a different kind of game study. I'm a little slower in studying these teams in comparison to the way we're playing right now. Scotty Pippen Jr. is one of the better under-6'1 guards in the country. There a set-heavy team when it comes to scoring the basketball, and those sets involve a lot of movement to get Pippen open. We need to do a great job on the glass Wednesday. It's all about trying to maximize our possessions and limit their possessions to one shot per trip.
Never miss the latest news from TexAgs!
Join our free email list