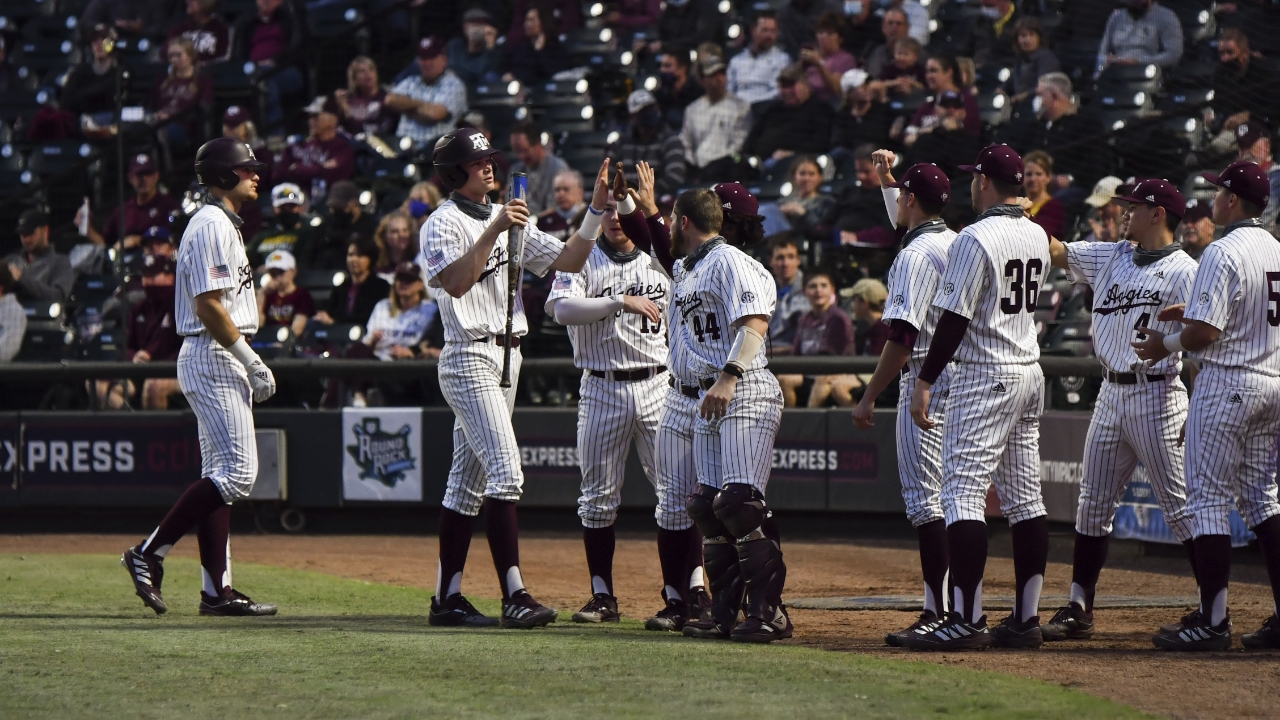 Photo by Jamie Maury, TexAgs
Texas A&M Baseball
Kendall Rogers discusses the elite levels of depth around the SEC
---
Key notes from Kendall Rogers interview
I think when you look at the start of this season, there were six top ten teams at Globe Life. What a way to start the season! They had great crowds, and it felt pretty normal. Normal is good these days. It's good to turn on the Ags on Watch ESPN and see the old traditions even though Olsen Field at Blue Bell Park isn't packed.

This is not going to be a normal year. You're going to have teams lose to teams they shouldn't. It's going to be a topsy turvy year across the nation.

I think experience plays into this odd start. On paper, you're going to see a couple of teams in Omaha that you didn't foresee at the beginning of the season. Look at the past mid-major national champions. Coastal Carolina had a ton of seniors. That experience is so valuable, and that's why you're seeing more of this in the early part of the year. It's going to be a wild year, and I'd call it the golden year of college baseball. Strangely, the one team that didn't benefit from getting a year back is Texas A&M.

With A&M, I think this team boils down to the pitching. When you look at this lineup, it is not one that you foresee going into SEC play and hitting .295. They might surprise me, but I don't see it. Logan Britt, Zane Schmidt, and Will Frizzell are some nice pieces.

Still, it comes down to pitching. Bryce Miller was much better in Round Rock. I feel good about Jonathan Childress. I thought he'd have a tough time getting into the rotation, but he has really impressed. I was wrong. We've been waiting to see Dustin Saenz turn it on. I liked his stuff and his poise in Round Rock.

The big development for me is Joseph Menefee. I watched the end of the game last night. He is thriving in that role, and his development could be huge for this team. I've always liked him. Stuff-wise, it's a change-up, slider, and fastball. His fastball jumped on right-handed hitters last night. He is a key seasoned veteran. As a&M finds its way in the bullpen, Menefee is a big guy.

Deep down, I think Rob Childress wants to find a place in the rotation for Mason Ornelas, but with how guys are pitching in that rotation right now, he's going to be a key piece in the bullpen as well.

The one guy that I'd love to see take a step forward is Trevor Werner. He is the way you draw up prospects as a scout. He hasn't found a grove, and his command has been all over the place. He could be the X-factor if he can figure things out, and we know Rob Childress seems to always help them figure things out.

The SEC is as good this year as any. This league is better in baseball than it is in football. Auburn didn't play well in Round Rock but controlled A&M on Sunday. Those two teams are in the 9-10 range in the conference. There are so many extremely talented teams, and this is an incredible league this year. Four of the top five teams are from the SEC. That gives you a taste of what to expect this year.
Never miss the latest news from TexAgs!
Join our free email list